If you're anything like me, anxiety, insomnia, and related problems like depression can come to feel very normal. Life is stressful, so why wouldn't we deal with anxiety? We've always had trouble falling asleep, so we always will. Change is way too hard or complicated for people like us.
I disagree.
Look:  anxiety is common. I think our society churns out anxious people. I don't think anxiety is a moral failing or a sign of weakness.
But I don't think it's inevitable. Don't just take my word for it–the Anxiety and Depression Association of America says that anxiety is highly treatable.
That is true for me. I still deal with anxiety, but instead of it feeling like it's driving, it now feels like it's in the passenger seat.
And the most important moment in changing my anxiety has been deciding to do something different.
Not blindly, not out of shame, but taking an intentional step to handle the problem proactively.
If you'd like to make that shift from trying to erase your anxiety to actually dealing with it, I've made something for you.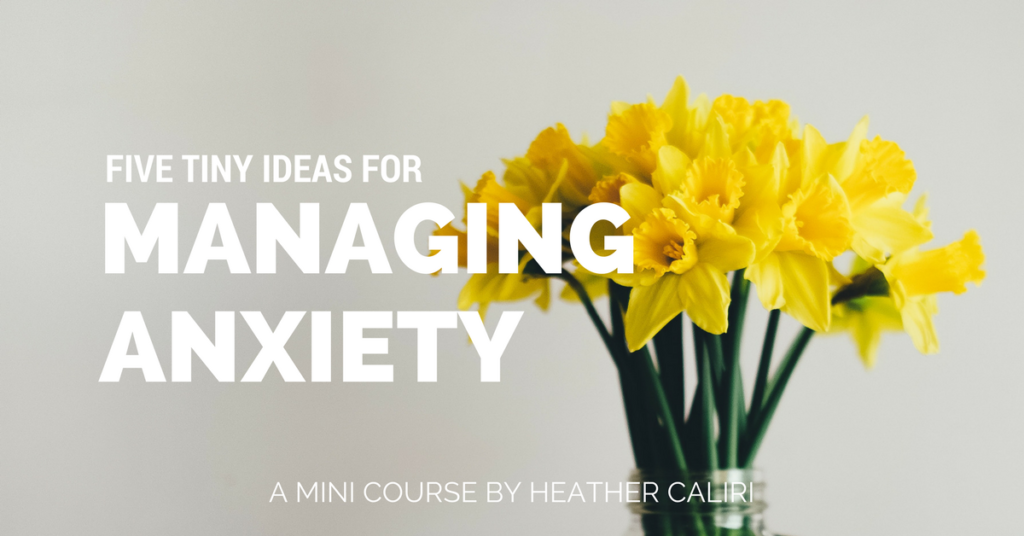 I created a five-day mini-course about anxiety called Five Tiny Ideas for Managing Anxiety. In it you'll learn:
The mental shift from 'fixing' to 'accepting' anxiety's presence in your life.
The strange lesson hidden in your anxiety.
The lie that keeps you from changing how you deal with anxiety.
Two guidelines that help you learn to address anxiety with kindness.
It also includes a list of self-care strategies from me and my friends, along with some suggestions for finding free or low-cost effective therapy.
This course is free for subscribers. Just fill in this handy-dandy form! The first part of the course will arrive in your inbox immediately.