How to Become Braver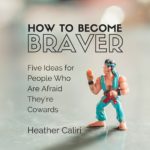 Think bravery is for other people? I beg to differ. Even if you're sure you're a coward, I'll show you on the very first page of this book that you already have one super-important quality that will help you make real, courageous changes in your life.
The e-book includes five exercises to help you practice little bits of bravery, and a downloadable worksheet. $4.99.
The Word Made Art: 52 Projects for a Scriptural Encounter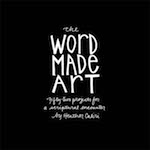 Do you long for a new way to encounter the Bible that's creative and unexpected? Do you wish you could explode the tired ways you were taught to study scripture? The Word Made Art will help you deconstruct a copy of the Bible: cutting, pasting, decoupaging, and glittering your way through 52 projects. You'll destroy your old copy of the Word–and rediscover it at the same time. (PDF ebook) $2.99
What people are saying:
"I see…layers of meaning in the projects…"
–Kelly
"My gears are churning! You need NEED TO CHECK THIS OUT and buy the book!!
–Joy S.
Unquiet Time: A Devotional for the Rest of Us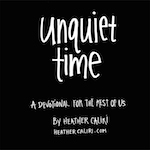 If the word "devotional" fills you with anxiety, this is a short, freedom-filled paperback journal to explore. It's filled with aching questions instead of fill-in-the-blanks. It also includes honest quotes from Christian notables that will upend your preconceptions about how "Good Christians" read the Word. Its simple illustrations and warmth help you be honest with God about scripture for the very first time. Available on Amazon.com for $4.99.
What people are saying:
"This is not your youth pastor's devotional. Really lovely."
–Joy
"This devotional rocked my world! I'm one of those people who is always trying to work my way to a better relationship with God, but never feeling like I could do it right. This devotional gave me the freedom to let God do the work instead, guiding me into a relationship built on His strength. 
–Diana
Dancing Back to Jesus: Post-Perfectionist Faith in Five Easy Verbs
For the longest time, I thought connecting to God came through one pathway—trying harder and ignoring my errant heart in favor of what I thought God's Word was telling me.
That approach me gasping and depleted, filled with shame, and no closer to the God I longed for.
Dancing Back to Jesus: Post-Perfectionist Faith in Five Easy Verbs describes a radically different approach to God. It's a faith journey rooted in giving up, playfulness, and joy.
Dancing will give you some practical but unlikely pathways to start resting in God's embrace instead of scrabbling for his approval. (PDF e-book) $4.99
What people are saying:
The words came off the page and came to life in my heart!! What JOY.  
–Lizzie
Your book has inspired me to get open and honest before Jesus about all my fears, my shortcomings, my struggles.
—Amber