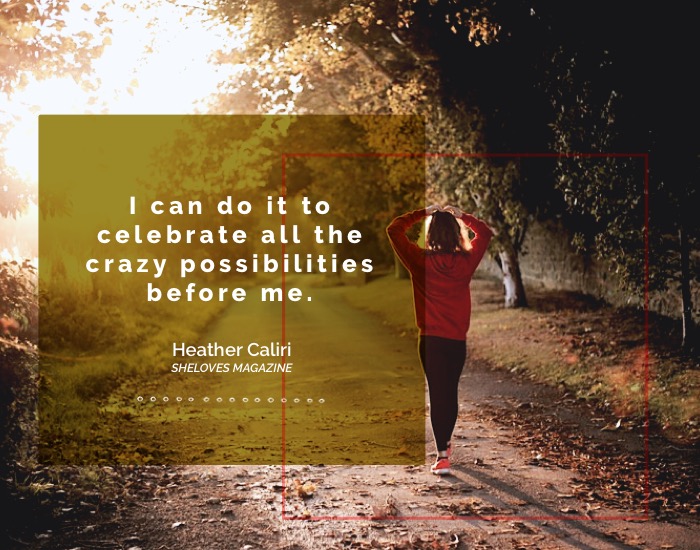 Last night, I told my husband I was going for a walk. I put on my athleisure shoes and set out into the darkness of our street. When I got to the corner, I paused for a moment and then—feeling a little ridiculous—I started to jog.
I'm not a runner. I ran in high school for PE, and then felt relieved when teachers stopped demanding I circle a track.
But at the same time, I admire runners—the solitary dedication, the strength, the perseverance. I'm a sucker for a challenge. And also: runner's high.
So one summer not long after I got married, I decided to try. I ran every day for six weeks, gradually increasing the amount I could go without stopping. I tried to be gentle. I tried to be faithful.
Though I felt pleased by my perseverance, I was taken aback by how hard it still felt to barely go a mile. Also, I could tell the practice was hard on my body—my joints, especially an old knee injury, felt irritated.
At the end of those six weeks, my husband decided to go with me. He played soccer growing up, but had not run regularly since high school. After half a block, he asked if it was okay if he went ahead, and then he proceeded to power through the entire course I'd been struggling to work up to. He ran about twice as fast as I did, with half as much puffing.
I had to ask myself: if running is this hard, and it doesn't feel so great, is this the best form of exercise for me?
I stopped, a little relieved.
But you know, I didn't stop admiring runners. My writing buddy friend Rachel runs regularly. My friend Derek told me how much he enjoyed training for a 5k. And last summer, I realized I missed the feeling I had in high school, when I was training to be a dancer. A feeling that I could ask almost anything of my body and do it.
Of course, "anything" means something radically different now that I'm forty instead of sixteen. Still, though, I wanted to push myself in a way I haven't really wanted to for a long time…
I used to tell myself I was not-a-runner, and lately I have begun to question why I am not, if the idea attracts me.
I'm over at SheLoves Magazine today, talking about identity, and challenges, and trying new things. Join me there?