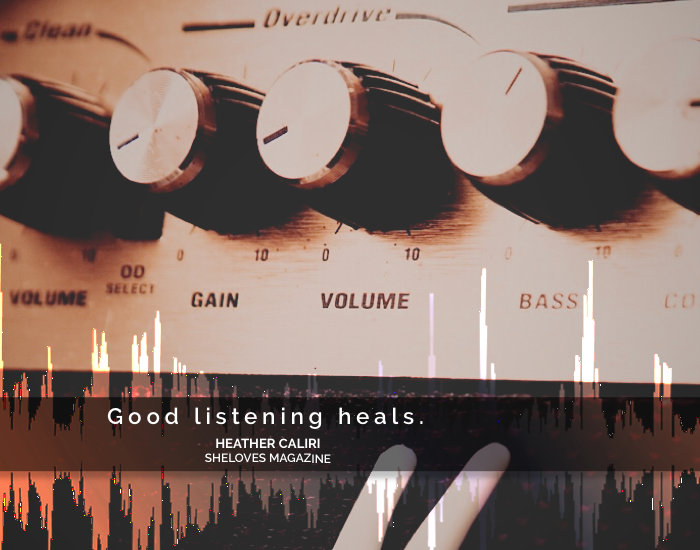 Not long after my husband Dyami and I got married, he bought a subwoofer. For those of you not conversant in audiophile jargon, a subwoofer is a speaker "dedicated to the reproduction of low-pitched audio frequencies known as bass." The subwoofer was about the size of a large end table, heavy as all get out, squat, aggressively black.
Basically, it looked like it belonged at a Metallica concert.
When Dyami told me, face alight, that he'd purchased said subwoofer, and it would be delivered quite soon, I hesitated, because truly, the excitement in his eyes was infectious.
But I did not think that subwoofer would exactly fit my decorating aesthetic, even though, at that point, I had no idea what said aesthetic was. I just knew it wasn't heavy-metal.
We didn't have a lot of furniture back then. No coffee table, no side table. Just a white couch and, after the delivery, a giant black box in the middle of the floor that made the walls move when you turned it on.
Dyami came by his love for low frequencies honestly; he played bass in our church's worship team. For a while, going on church housebuilding trips to Mexico, dubbed "Homes for Hope," he'd joke about starting an offshoot, "Home Theaters for Hope," which would give needy suburban families access to surround sound.
I fell in love with him on stage in church services when I sang on the worship team, with him sitting behind me, holding his guitar. He would make quiet jokes, deadpan, while I tried not to snort audibly into my microphone.
Writing these words, I went upstairs to ask him about the white (well, black) elephant that sat awkwardly in our living room for years, until—you guessed it!—we had kids.
"What was the subwoofer for again?" I asked, meaning its function.
He looked at me, his face wistful.
"It was for happiness," he said.
But honestly, the subwoofer and I never really got along…
I was so pleased to be over at SheLoves this month sharing a bit about navigating marriage over the long haul. Won't you join me there?