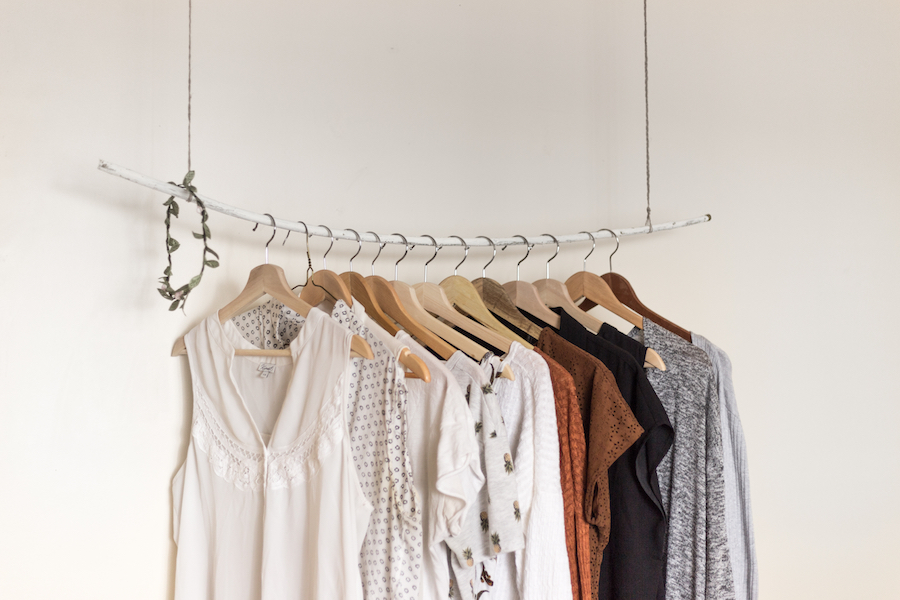 Guys, anxiety is just weird.
I want it to pop up in seeming worthy places: race relations! Politics! Finding my passion and deciding who I am in this world!
And I do get anxious about those things. But I also get anxious about ticky-tack stuff like what book to read next, whether the necklace I'm wearing is too loud, and why I buy clothes that I don't end up wearing.
Clothing, dude. Clothing is stressful.
In Which I Count the Ways Clothing Is Stressful
Financial guilt: Am I really going to spend money on clothes when there's a civil war in Syria?
Feminist guilt: Why should I have to care about clothing at all?
Do-gooder/Christian guilt: Did I enslave someone because I bought a cheap Target dress?
Minimalist/socialist guilt: Isn't shopping supporting a corporate, capitalist behemoth that's pillaging the earth?
Issues from my childhood: Gah.
Body image: how much cleavage do I show, fat-phobia, being okay with my muffin-top, etc.
Addiction: When I go shopping I want to keep going shopping.
Style phobia: Is the clothing/accessory too loud, to big, too strange, too tight, to revealing, too whatever?
In Which I Write About Clothes, Dammit
I wrote on SheLoves in April how I'm trying to overcome my fear of big jewelry. But that smaller story about a necklace took place within a bigger shift about how I wear clothes.
Full disclosure: I feel like clothes are not a Serious Issue, and I hesitate to write about them (Yes, I'm probably a snob! Also, you probably like clothes like most women, and this will become a viral post. Or something.)
So I will stretch to keep lightening up and talking about all the areas of freedom in my life, not just the depressing ones.
So here's a brief overview of my relationship with my closet.
In Which I Check Out Stitch Fix
I love blogger Kristen Howerton. She's stylish and powerful, and so when she did a video about different clothing delivery services, I checked it out. But as I watched, I realized that StitchFix et al weren't for me.
I loved the ease of the idea, but the sheer volume of clothing I'd receive didn't feel like me. I also tend to shop consignment stores, not new (Anxiety points 1, 3, and 4).
I experimented with a tiny wardrobe while we lived abroad (more on that later) and it demonstrated that I do better and feel more stylish with very few, carefully selected items of clothing.
In Which I Remember My Tiny Argentina Wardrobe with Nostalgia
Moving abroad in 2013, I knew I'd have limited space. Back then, I researched capsule wardrobes (Tiny Twig had great resources) and created a wardrobe that mixed and matched with fewer pieces.
I expected to merely endure having a tiny wardrobe. To my surprise, I loved it. For once, everything I owned worked with (nearly) everything else. I felt more put together, since I considered outfits instead of just throwing on one of a thousand t-shirts with jeans.
Looking at Stitch Fix, I realized something. I want another capsule wardrobe, I thought. Not a shopping service.
In Which the Internet is Awesome
After watching Howerton's video, I googled "Capsule wardrobe", and discovered a helpful iPhone app: Outfits by Cladwell.
Here's how Outfits works. You input all the items in your closet, tops, bottoms, dresses, and shoes only. You choose rough equivalents, not exact matches, so it's not hard to set up. Each day it gives you three outfit options from your available items. It makes suggestions about other pieces to buy that will have the most possible combinations with other pieces. It also shows you every item in your closet, which is helpful in stores.
(Cladwell also has an app that helps you create the actual capsule in the first place. I had done it successfully before, so that app didn't seem necessary for me. Creating outfits though?  I needed help.)
The biggest struggle I had with my first capsule wardrobe was being brave enough to wear every piece regularly, and really work the wardrobe well. The app meant I'd do just that. It's $5 a month which I don't love, but I'm using it every day, so for me, it's worth it.
You could also DIY this by coming up with your own outfit plans each month. I keep toying with the idea, but it sounds like more work than I want at this moment. I could imagine doing it at some point, since I love me an organizational challenge.
In Which I Capsulize My Closet and Dresser
Oh, man, I tossed a lot. I had accumulated a lot of clothing I didn't like that much and that didn't go with anything else.
I bought some new pants, a cardigan and military jacket to layer with, a few tops, and some new shoes. I felt guilty spending money, but I bought clothes used (I have trouble finding used shoes I like, so those were spendy), and also knew I'd wear everything. That helped.
A few days later, I realized I wanted to consider accessories. I had a lot of scarves that didn't match my wardrobe, and my jewelry felt like a collection of aspirations I never got around to wearing.
I purged scarves and jewelry. And I made a deal with myself: I had to wear everything left. No more saving stuff just for church or fancy occasions. The app doesn't tell me how to accessorize, but with three scarves and limited jewelry, it's not hard to keep track in my head.
I'll admit: Shopping is fun. I'm having trouble stopping (point 7)…it's sort of fires a lot of brain receptors to buy things. I've pledged to keep my closet count under 40 to keep that impulse in check.
In Which I Give You Statistics
All told, not counting accessories, minimal workout gear or camisoles/bras/underwear, I have 38 pieces of clothing. Cladwell estimates there's 677 outfits possible with my wardrobe, not counting accessories. And over the last month I've worn every item I own. All those pieces that intimidated me because they looked fancy or fashionable? I'm wearing them regularly, and getting used to the feeling.
The app isn't perfect—I wish it suggested skirts and dresses more often (the randomness favors separates), but overall, I am probably wearing dresses more often, so I'm cool with it.
How Changing My Clothing Habits Changes Me
If I need to wear clothing, why not enjoy it? Why not feel more beautiful and stylish if I can? I'm lucky enough to generally like my body, have enough money that buying clothes is not a financial hardship, and enough spare time that doing a bit of organization is possible.
Every morning, I look forward to choosing an outfit with ease. Every time I wear something that makes me feel slightly self-consciously stylish, I feel braver. I'm giving myself permission to be seen, permission to rock my own style,  and permission to dress how I like.
In the past, I've felt as though fashionable, put-together women knew something I didn't, as if looking cool was a club I couldn't join. I felt terribly intimidated.
But honestly, a lot of this process is just organization. Figure out colors and patterns and silhouettes that go together, and layer things in different ways. It's not rocket science, and it's completely in-reach for many of us (if you have time, money, and the ability to find clothes that fit your body).
I've stopped feeling intimidated. Suddenly, I look at women who look put-together and I recognize some of the lessons I've learned. I notice how they achieved their beauty, and realize that they can teach me new skills with their savvy.
Feeling feel less-then when I look at confident, beautiful women is not an awesome place for my heart. I'd rather feel kinship with them, wearing what I want for my own reasons, with integrity.
It's crazy to realize how long I've felt kind of lousy about clothing when it really wasn't necessary. It's crazy to realize how much power I have, each day, to turn small anxieties into practical blessings.