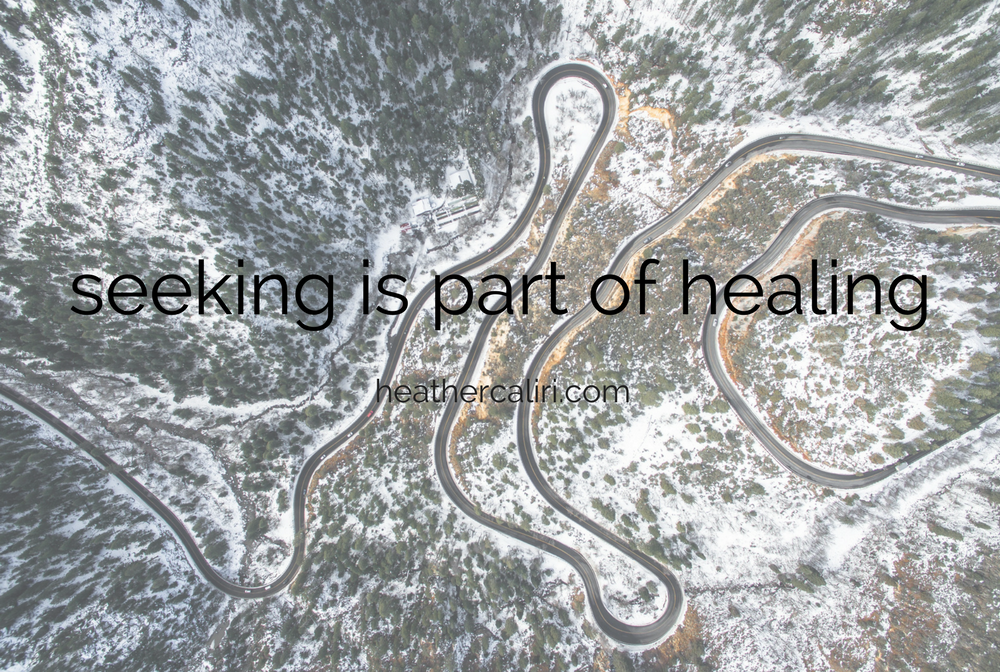 Not long ago, a reader (I'll call her K) asked if I thought she should get my new anxiety course for a friend. K thought her friend could really use it. But she worried that getting it would seem pushy, since on other occasions, the person didn't seem open to K's help.
I told K I thought she shouldn't mention the course if her friend wasn't actively looking for K's help.
"Her seeking is part of her healing," I told her. In other words, K's friend needs to find her own solutions, in her own timing.
As I wrote it, I thought Right. I need to remember this too.
Here's how this works in my case.
I assume if I'm struggling or at sea, I'm doing something wrong.
I get angry when I don't go directly from point A to point Z in my growth.
And I really hate it when other people try to decide for me how best I can heal. Funnily enough, those people rarely listen well to what I'm actually going through.
Our muddled searching is important. Our confusion, our struggle, our desperate search, our wrong turns—all of that is essential. It's part of how we grow and learn and heal.
When I shame myself for not immediately being great at every new life skill, I'm discounting the hard work I'm doing to heal. When other people try to do the work for me, they're actually telling me I'm not competent on my own.
Here's what struggle does for us:
When we face our fear of failure, we gain courage.
When we realize we don't know what we need to do next, we practice discernment.
When we have to ask for help and advice, we grow our community.
When we keep going after screwing up, we develop grit.
When we face down obstacles, we learn creativity and perseverance.
When we make a wrong choice, we learn humility.
And most importantly:
When are desperate enough to keep going despite the risk of failure, we will actually be ready to start.
True change—whether it's healing from anxiety, or seeking forgiveness, or pursuing our passions—will only happen if we're desperate. If something is nice to have we just won't get over our inertia.
Only if we're desperate—to heal, to find peace, to create—will we actually do something.
Only if we're desperate will we really be honest with ourselves. Only if we're desperate will we be willing to face our fears.
It's only when we're willing to embarrass ourselves, upend our life, offend people we love, or ask a question that terrifies us that we begin to change our lives.
Blessed are the desperate—because they're finally willing to do anything to seek wholeness.