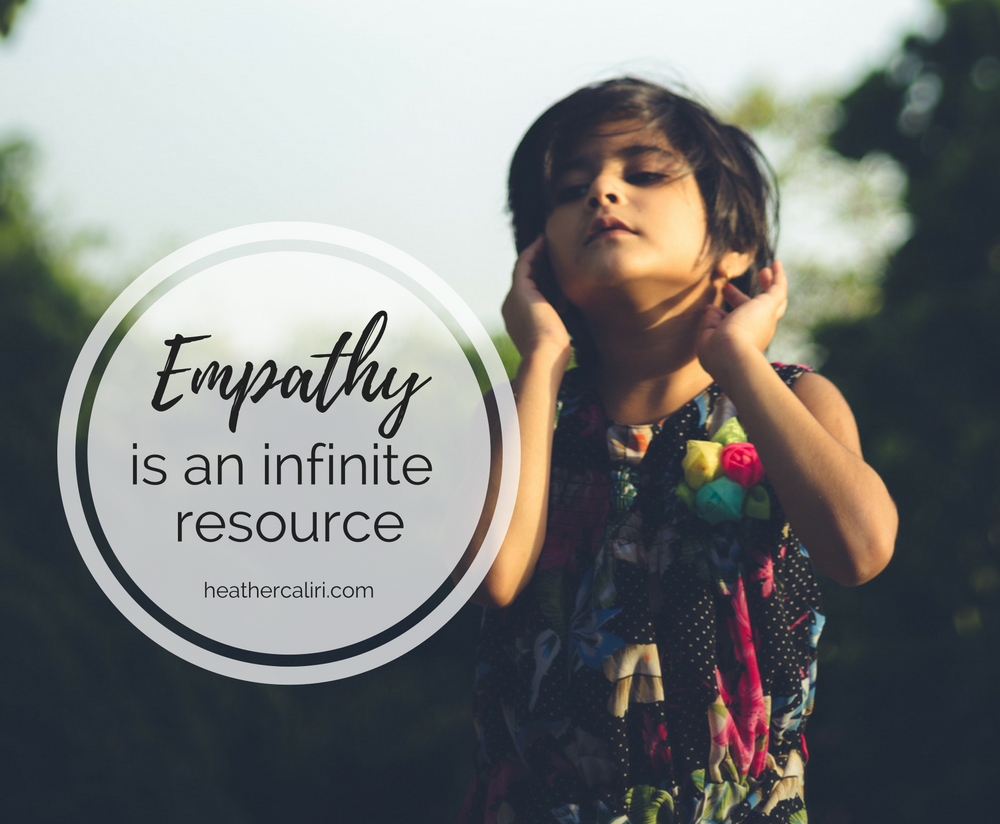 Every so often, I get into an awkward discussion about race with other people, usually white people. Look, race is a tricky subject, and so is politics. It's hard to hear each other well when the stakes are high. But I've noticed a pattern about some of the responses I get when I talk about racial inequality in the United States, especially against African Americans. People say,
"But what about Asian people, or Irish people? They experienced oppression, too."
"Well, I suffered a lot as a kid."
"So much suffering is happening around the world right now. We need to move on from the past."
Basically: If I pay attention to that suffering over there, it makes me less able to pay attention to suffering here.
In other words—I have limited empathy. I should be careful about caring too much.
Empathy is Infinite
But in my experience, empathy isn't a finite resource. In fact, it's the opposite—just as with love, as you feel empathy, you increase your capacity to understand others.
I found this out viscerally when I started seriously asking questions about my childhood. As a kid, I got treated very differently from my brother and sister. Though I knew my parents explanations for that discrepancy, I felt a lot of shame and guilt about the unfairness.
Still, though—when my brother and sister brought it up, I got physically uncomfortable. They knew the explanations too—why did they keep harping on it? Why did they insist on complaining and going over old history? Wouldn't we all be better off moving on, instead of opening up old wounds over and over?
Really listening to and addressing their complaints felt like a zero-sum game. If I identified with my brother and sister's suffering, wouldn't I feel more guilty and ashamed? It would also create upheaval and discomfort in our family, which was already full of problems.
But it turned out I was wrong.
Look, when I started seeking deliberately to relive and reevaluate the past, I did feel overwhelmed, and it did cause a lot of upheaval.
I also increased my feelings of grief for my siblings as I'd expected.
But I felt surprised to experience deep grief for myself. When I stood aloof from my brother and sister's suffering, I assumed only they'd suffered. But when I got closer to what they'd been through, I also realized I had also suffered.
Not nearly to the same extent, no. But I hadn't acknowleged any of my own pain before.
It was as if, when going to visit someone in the hospital who'd broken every bone in their body, I realized that I had an unaddressed fracture.
When I denied my brother and sister's pain, I also denied my own.
The Only Way Out Is Through Discomfort
Yes, white people who grapple with their buried feelings about race will feel uncomfortable. But it's like detoxing—we'll finally get rid of shame that poisons us.
At first, the interconnectedness of all this stuff might overwhelm us. When we acknowledge the historical and current oppression of African-Americans, we also start grappling with the treatment of Native Americans. Discrimination against Asian-Americans. Hostility towards Latinos. The current demonization of Muslims.
anBut in addition, we also discover how poor white people have been manipulated and condescended to. And we realize how systems of oppression, though on the surface benefiting white Americans, produce shame, isolation, anxiety, and lower our resilience. Poor white people aren't doing well right now in America–this should alarm all of us.
In her amazing book, The Warmth of Other Suns, Isabel Wilkerson notes how the brutal segregation in the South mostly impacted African-Americans—but it left everyone less free. White people had to fit in the boxes deemed 'okay' by the caste system. In faith, in business, in politics. Step out of line, and there would be serious consequences.
The more we develop empathy for other people, the more we see we're all impoverished by an unfair system.
What Are We Defending Against?
The biggest sign to me that white people suffer from shame about racial inequality? The defensiveness I hear when anyone mentions race. What, exactly, are we defending ourselves against?
I wonder if our shame at the horror of the South's response to Civil Rights collectively imprinted itself on us—so we ran away from 'racism'. We are so wary of the word "racist"—so afraid of letting it touch any part of us—that we viscerally protect ourselves from any mention of that word.
Really listening to these stories will cause us discomfort. Yes, we'll have to grapple with our defensiveness, our shame, our fear. But pushing away shame because it scares us isn't a helpful long-term strategy. Shame doesn't' go away with defensiveness. We just shove it further down.
What if instead we could be free of it? What if we didn't have to erect defenses any more?
We're afraid we'll lose ourselves in others' stories. But listening well to others is the only way to find ourselves.