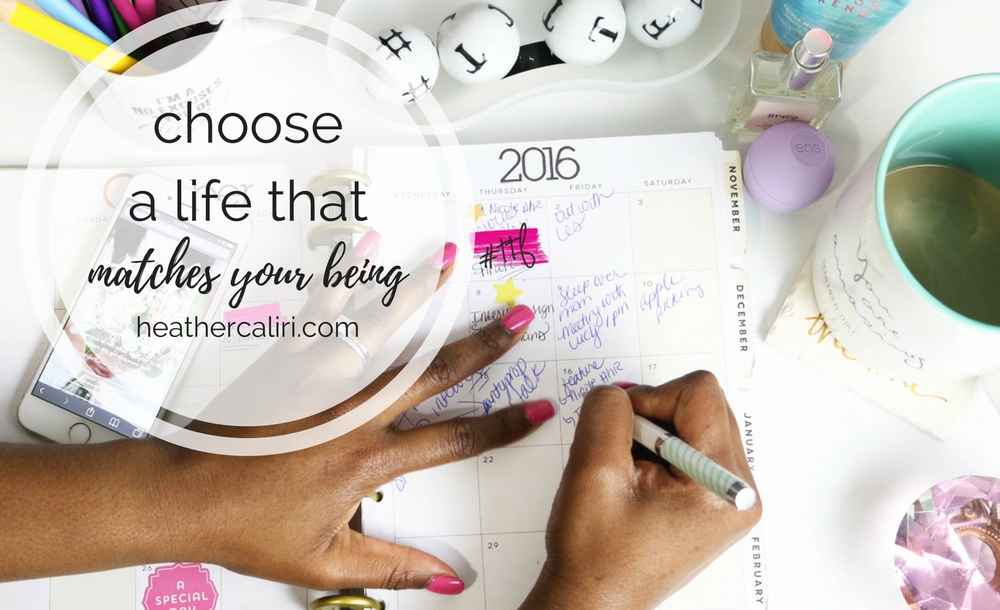 Back when I had preschoolers, I used to get all judgy about overscheduling.
People throw their children into too many activities, I sniffed. Those poor kids.
And then my daughters hit elementary school and wham, I realized how exponential family time commitments were. If we say yes to two things, suddenly our calendar feels overfull.
It's incredibly hard to not get overscheduled in our culture. It's easy enough to tell ourselves not to do it, but the reality is if you blink, it happens.
However, my site is all about tiny practices that bring joy. Fighting over-scheduling is a big, big part of that. How can you have the energy and time to be brave, joyful, or intentional if you're always frantic?
Every fall, the packed calendar overwhelms me. The sudden influx of new commitments, time constraints and activities is both exhilarating and exhausting. I also feel this heavy yoke: if my children don't do that practice or that group, am I shrinking their horizons?
So is the only answer to just accept over-scheduling?
No.
My friend Osheta posted about five emails she's preparing to send to make her kids' experience this year better. They range in seriousness from addressing school supplies to protecting her kids from teacher bias. Reading her post, I thought, what are the practices and intentions I can set to be intentional about the whirlwind of busy this school year?
Here are a few ideas.
Take the responsibility for your kid's life off your shoulders.
I'm preaching to myself here, because this is excruciatingly hard when you homeschool. But I hear every parent struggling with the burden of responsibility.
Do we have influence over our children that we need to carefully steward? YES.
Is everything up to us? HELL, NO.
Ultimately, God and your kid have much more say in how her life goes than you do.
If this is a hard thing to remember for you, get a piece of paper and write in big letters: I HAVE INFLUENCE OVER MY KIDS, NOT ULTIMATE RESPONSIBILITY. Or draw a picture of yourself taking the burden of ultimate responsibility off of your shoulders. Even if you can only manage stick figures, it's a powerful way to visualize setting down that yoke.
Then remember you can only do your best, and your best is absolutely enough.
Think about your values.
Write down your top three priorities for your kids, you, and your family. Be honest with yourself. If you have to choose between two conflicting activities, what value should be your first priority?
My very top priority for our family life is generally peace. Busyness is a peace-killer for me, so if any activity makes me or my kids harried, I will be pretty ruthless in eliminating it. But as this school year approaches, I'm feeling a pull to also stretch us as a family more than I have before.
For you, emphasizing community, or education or family time might be your top priority. Only you can say. But if you make a schedule without considering your values first, your way of life will conflict with your way of being.
Get real about your commitments.
Before you pay deposits, or let yourself or your kids get their hearts set on a new activity, take a hard look at your calendar.
Draw up a week's calendar with every family commitment you're considering on it. Block out time for everything—including commutes, school, volunteering, homework, meal prep, whatever. Make sure you block out some time for rest. Does your child have any time to be bored? Do you have any time to do frivolous stuff? Our culture is lousy at resting, so if you don't intentionally plan for it, it won't happen.
Look at the calendar. Does it make you feel insane? Do you want to feel that way every day? No?
Then you're ready to make some hard choices.
Involve your kids.
Talk to your kids about their priorities and their commitments. Which of their proposed activities are most important to them? What would really make or break their return to school? What worked or didn't work from last year? How did they feel about the schedule and pace from 2015?
Your kids may struggle to answer these questions—but posing them helps everyone get on the same team. It also helps them understand there are trade-offs with every choice.
Say no and abandon should.
Be willing to reevaluate every single part of your schedule if it isn't serving your top values. For instance, my church has a really lovely small group program—and there's quite a lot of emphasis on everyone joining in. I like the idea, but a weekly all-family commitment would probably be too much for us. Oh, well.
So many "shoulds" are actually quite optional. If homework has killed your family joy in past years, come up with guidelines (there's research to back this up) and talk to your teachers. If a travelling sports team kills high-priority family time, have a conversation with your kids about hard choices. Or, perhaps, your top priority is joy, and the way your kids' face lights up when they play makes the time commitment worth it. Only you guys can decide.
Yes, people will get mad at you or be disappointed. Yes, you will feel awful saying no to lovely activities. But saying hard noes is always really a yes: to freedom, letting go of resentment, and to choosing the stuff that actually brings you joy.
When life gets hard, remember why you chose thusly.
I so respect Kristen Howerton's honesty about how her kids' sports teams have been a mixed blessing for her family. They value time together, and the teams make togetherness difficult. However, for now, they choose to put up with it because it's such a life-giving activity for their sons.
It's a lot easier to live with hard stuff if you're actively choosing to do so. It's even easier if there's a strong value behind the choice.
Martyrdom doesn't suit any of us. If you really can't live with something, say no. And if you can, and you know there's good reason to do it, then accept the hard circumstances as a learning experience, and make the best of it. Let your yes be YES and your no be NO.
This is a process.
Honestly, I'm not quite sure how our family's fall schedule will play out. On paper, I'm a bit worried that the busyness won't be peaceful, especially for my very introverted child. But she's getting older, and she's actively choosing the activities. Given our other value of challenging our kids, I want to give it a shot, even though that amount of busyness makes me a little itchy, too.
I'm guessing that a month into the school year, she and I will have more conversations about how things are going. Together, we can make adjustments.
The point is not to make the perfect schedule or have zero friction or struggle. There is no such thing. The point is to actively engage with your own life and make thoughtful choices about how you and your family spend your time—and teach your kids to start doing the same thing.
It's hard to make your life fit your family's heart. And it's entirely worth the effort.