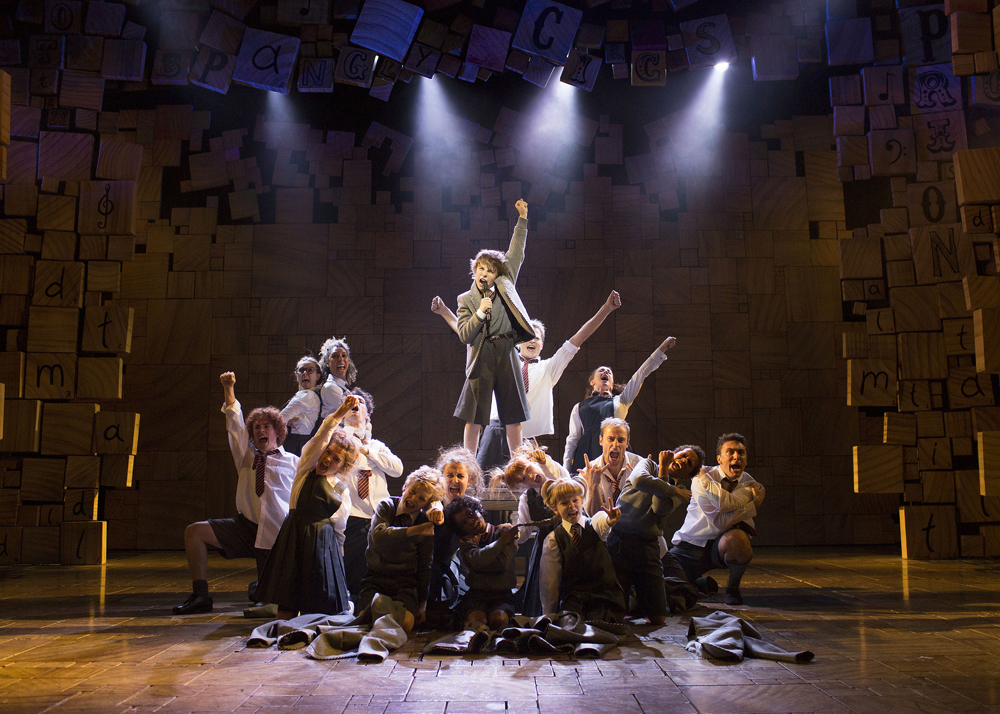 In April, my family and I went to New York City for a week. It was pretty epic. We went to the Statue of Liberty and Ellis Island, clambered over giant boulders in Central Park, ate amazing ramen, pizza, and pastries, and (so lucky) we saw Matilda on Broadway.
I loved Roald Dahl growing up, but some of his charm waned as I got older. Dirty tricks don't seem as funny to me as they did when I was little. So I read the book to my kids with only mild enthusiasm.
So I wasn't sure if I'd like the musical version.
I was so so wrong. The musical was amazing. The writers took the basic storyline—a girl who faces down bullies with cleverness—and created a profound meditation on what a life-giving, brave response to abuse might look like.
In Matilda's words, "I wonder why they didn't just change their story…/sometimes you have to be a little bit naughty."
You go, girl.
But honestly, I didn't really identify most with Matilda. My MO at her age was to go hide and read, not seize fate in my hands and demand justice (Or to move objects with my mind).
No: I identified more with Miss Honey, Matilda's kind, loving, but meek teacher.
When I began reading the book, I disliked Miss Honey. She does nothing to stop the abusive principal at the school where she teaches.
Get a backbone, you nincompoop, I thought.
Near the end of the book, though, you find out (spoiler alert) she also experienced serious abuse as a child at the principal's hands.
When I discovered that, I thought, ohhhhhhh.
The fear you learn as a kid doesn't magically go away. The ways you survive childhood turn into unhealthy coping mechanisms. It's all well and good for Matilda to wonder why others didn't just change their story. But it's harder than it looks. 
In the musical, the abused kids sing about when they grow up, they'll find courage. And then Miss Honey comes on stage and sings the same lyric:
when I grow up
I will be brave enough to fight the creatures
that you have to fight beneath the bed
each night to be a grown-up!
But in her hands, the lyric turns bitter and ashamed. She is grown up. And she's still afraid of the monsters in her life.
I wept for her—for all of us who feel like Miss Honey, sure we're pathetic, sure we're at fault, sure that we'll never have the balls to change things.
It's in loving Matilda that Miss Honey finally finds the strength to be brave. And her bravery starts with a tiny little knock on the door.
A little yes.
But it's worth noting she doesn't feel brave at the time. She tells herself her terror about her brave act is pathetic.
Often times, our sense of self-loathing takes a while to recede. It might take a while to feel brave, grown-up, strong, and like we have changed our story. That doesn't mean we're not capable of doing it.
Do you feel like the hero of your story? Or do you tell yourself you're pathetic, that a better person would already be a hero?
I don't think you're pathetic or cowardly. You're grieving and scared and doing the best you can. I don't blame anyone for staying hidden and stuck. It's incredibly hard to do otherwise.
I'm writing this not to tell you to go out and magically become a hero, or to shame you if you see Miss Honey in you instead of Matilda.
Instead, I am giving you a hug, and telling you that I'm with you, and that I think it's worth thinking about, wondering about, and praying about how our stories might change. We can ask to have sow seeds of love and courage sown in us, little by little, so we turn into the heroes we were meant to be.
Image credit: Roderick Eime