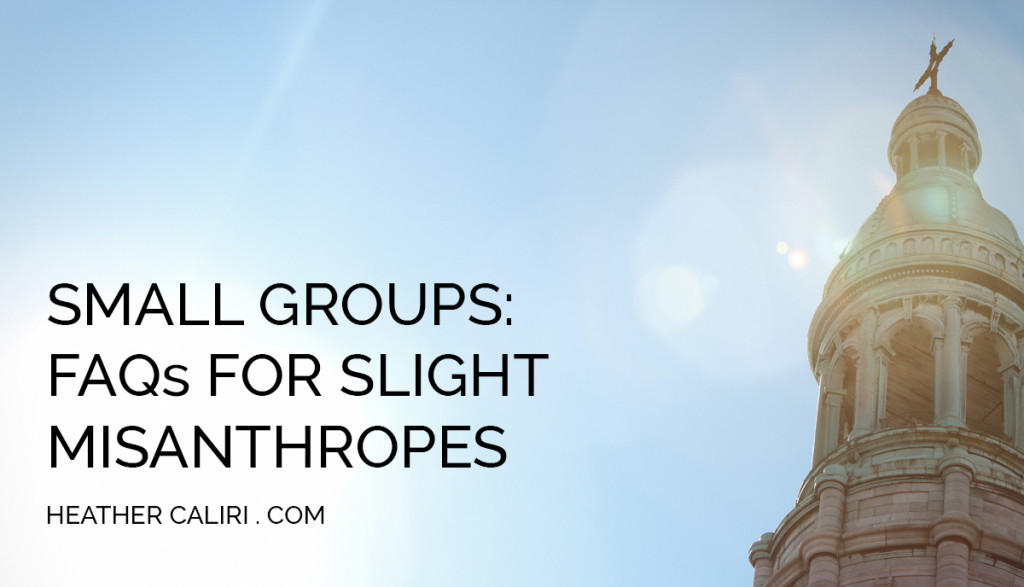 Welcome to small group! You might think being social shouldn't need its own set of FAQs, but Christian community is a little fraught. For some of us, it's the closest we ever get to heaven on earth. For the rest of us, it's the biggest disappointment since The Phantom Menace.
I hate bracing myself for disappointment. Shouldn't I be less cynical about other Christians? Shouldn't I expect good things from small groups?
Well, as Brené Brown said, expectations are resentments under construction. And what phrase has more expectations built into it than "body of Christ?"
But when small groups work, they're just so damn awesome. Like a second family. So why do I feel so wary?
Well, you usually don't sign up for a family. Or show up to a house full of people you don't know and leave with new siblings.
Yeah. So why do they work sometimes? I'd be less jumpy if I knew every fellowship would be lousy.
Serendipity. Divine intervention. Or, dare we say it, chance.
You're not making us feel better. Is it really just about luck? What about the Holy Spirit?
We're not trying to bag on small groups, but expecting instant community from them is kind of like serving Sanka and being surprised it doesn't usually taste like premium espresso. Random people gathered with no other reason for being together except the same free night can be very hit-or-miss.
So why does my church act like small groups are a no-fail recipe?
Because it's something staff can make happen on purpose, every other Tuesday at seven pm. It's programmable.
Honestly, I didn't expect you to sound so jaded.
We're a little surprised ourselves.
Now I'm depressed.
Sorry. It's not all bad news. The truth is small groups can be little miracles. God does take the Sanka sometimes and turn it into a rich latte. Or water into wine, if you want to be Biblical. It happens. We all know it happens—and honestly, it happens more than we would expect given the randomness of small groups.
I was starting to think my good experiences were all a figment of my imagination.
No: the Holy Spirit works through this church program. She does. She shows up for the awkward small talk and the ice breaker question and the seven-layer dip.
So then what do I do? How do I help my group gel?
Maybe let go of the idea you can make your group gel?
I'm not following.
Well, if small groups gelling is a result of the Holy Spirit + luck, then trying harder isn't going to help.
So I should just give up?
We prefer "surrender".
Look, giving up doesn't have to be a hopeless act. It doesn't have to be bitter. What if—like so many parts of faith—finding community were not something you could put on your calendar? What if being lonely at church doesn't mean you're failing? What if your job is to just connect in the ways that are possible for you, and accept that sometimes, community doesn't happen when you wish it would?
Are these FAQs supposed to make me feel better?
It could if you sink down deep into its hard freedom. If you stop telling yourself you're terrible at community and accept that finding community as an adult is really hard, you'll be freer.
That's not the blessing I was looking for. What I really want is people. No: what I really need is people. Do you understand how desperate I get sometimes?
We hear you. Jesus takes your loneliness seriously. We're not trying to explain it away. But you live in a culture that sucks at hospitality and connection, and the church is only a little better than average. You might feel lonely. But you don't have to feel ashamed. It's not perfect news. But it is good news.
I wish I could just show up at small group, eat the dip and find my family, you know?
We hear you. We wish we had magic spells to give you, but instead we've got this body, broken for you.
Maybe small groups aren't  going to look like you hope. Maybe they aren't going to save you in the way you think they should. But honest to God: when you let go of controlling the outcome, we promise the seeds of intention you sow will bear fruit in your life, even when you're sure you're barren. We promise that hard news can be good news, even if the waiting brings tears to our eyes.