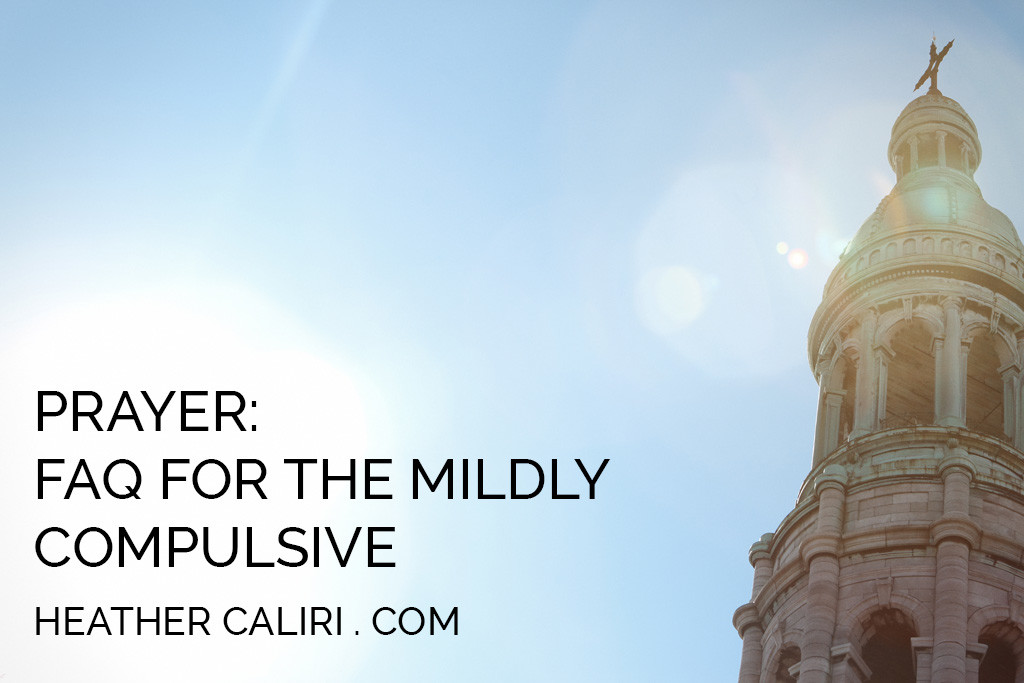 Welcome to prayer! You know, you're always welcome to pray. Of course, that might not be good news, since "pray without ceasing" sounds a little like obsessive hand-washing.
THANK YOU for saying that. This is one of those spiritual disciplines that I can't check off my list. It's like the dishes. I get thirsty right after washing up, and voila! Dirty cup. And don't get me started on prayer requests.
Prayer requests?
Yes, the nameless children in Africa and my neighbor with cancer and structural racism and Donald Trump. I mean, all of it is fair game. All needful. And so I pray about none of it because it feels like a tsunami of need.
Who's needy?
The world. Me. Everything. I mean, aren't I supposed to care about it all? Isn't that the point of prayer?
Pretty sure God didn't set you up to be capable of that. Limits, you know. Time, space, all the biggies.
So then I just don't care? Don't bother? I keep thinking of those Frank Peretti novels where prayers were like the energy drinks for the angel warrior. I've got to keep them caffeinated to fight the demons! More amens!
Well, speaking of limits: Peretti's vision is fictional. Look, we're pretty sure angels aren't coin-operated, with devotion as currency. Also: what do we really know about angels, when you get right down to it? Or power that isn't violent or coercive?
I suppose. But I want my prayer to be—useful. I want it to mean something, and not just be me nattering on about my belly button.
Does prayer have to have utility like a stapler for it to be needful or meaningful? Or beautiful?
LOL. I'd settle for average. Believe you me, my prose is anything but beautiful in prayer. Lots of "justs" and "Lords". I sound like a Valley girl who just converted. We're not even close to beauty.
Oh, but you are. Every time you pause and say "help" all the beauty in the universe is holding your face in its hands.
I—(silence)
What if prayer wasn't something you had to manufacture, create, come up with? What if its meaning wasn't dependent on your effort? What if was like oxygen, ready at any moment to be breathed in?
But—how? It's all well and good to say I don't have to try, but ultimately, I've got to intend something. Do something. I don't pray while I'm snoring.
What if I told you that it was like a tsunami? What if I told you to sink down instead of trying to stay on top of its crest? What if I told you to be still in the force of its might?
Honestly? I'd you were reading too many woo-woo books.
Well, prayer is a little woo-woo, right? Talking to an imaginary friend?
I guess.
Let's put it this way. You know that moment where you know it's time to pray, and you face all that fear about falling short, and how much to pray, and for how long, and what order, and are you present, and is it enough, and you open your mouth anyway?
God, all too well.
What if that moment was the biggest prayer? A faithful cry for help? What if that moment was the moment the angels started celebrating for the one lost sinner? What if, in that moment, God was already saying, well done, good and faithful servant? What if that moment of turning towards God in your heart was all He is asking of you?
Just that?
By saying "just" you are writing off the bravery faithfulness takes. The first moment of showing up is always the hardest.
I guess you're right. When I'm desperate it undoes me when I try.
Being undone isn't a bad thing, you know. Being very aware of your limitations is part of the point.
So, then, what about prayer requests? How do they not feel like a tsunami?
Well, could you pray for one thing that grieves you? Even just mentioning it with one word?
Well, sure. But—
If prayer is partially an exercise in recognizing our limitations and surrendering them to God, trusting Him with them, than one word is more than enough. One prayer request is enough.
But it doesn't feel like much.
You're in luck: Jesus specializes in the small and unimpressive.
He does, doesn't he? Thank you.
Happy to help. And—can we pray for you? Father, inhabit our prayers. Pray for us Lord. Help us convert our hearts in every moment by calling out your name. Help us learn to sit with you, just because, without worrying. Help us to find peace in the prayer you are even now helping us to say. Amen.