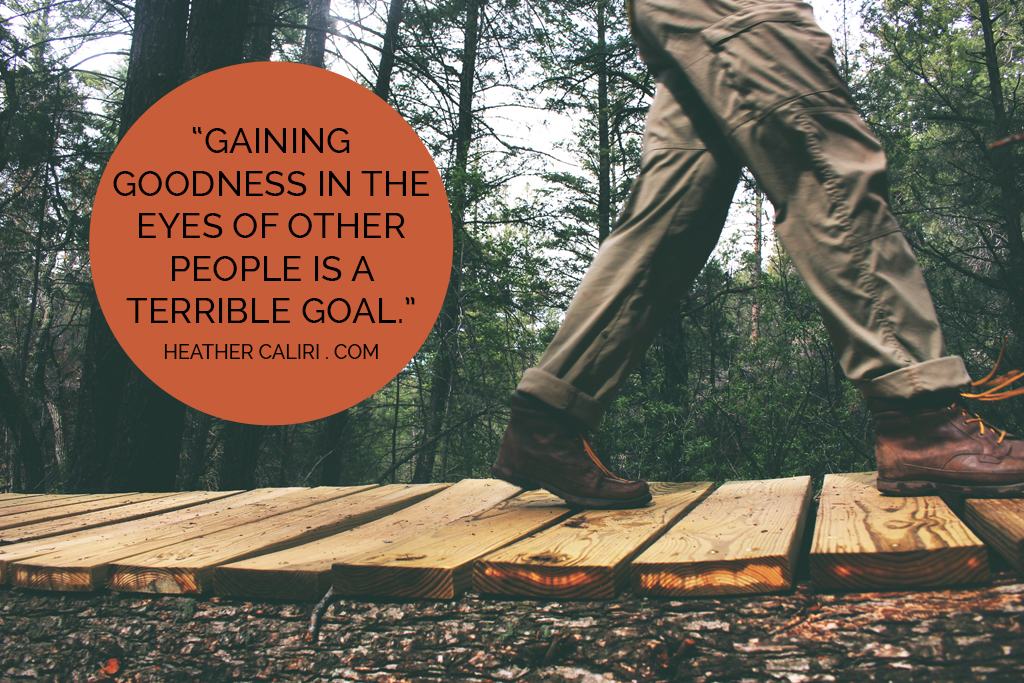 The other day I got an email from a reader about a really hard situation with her in-laws. She has been through a financial hell because of them, and they are completely unrepentant and unconcerned about it. In fact, they blame her for everything. She worried that she sounded like "a bad daughter in-law."
Her words made me ache. I have spent so much effort in my life trying to be good. A good daughter. A good student. A good writer. A good wife, mother, friend. A good Christian.
Or, to be more precise: I have tried to appear good. To have others think me good. Or, to avoid the fear that I am bad.
(Putting those last two paragraphs in the past tense might be a little optimistic.)
I love Jesus' retort to the rich young ruler who calls him "good teacher".
"Why do you call me good?" Jesus answers back. "No one is good but God alone."
Do I imagine a hidden question? What do you really want, rich young ruler? What game are you trying to play with me?
I say the rich young ruler was playing a game because being "good" in the eyes of other people is really about power. It means getting their stamp of approval. But sometimes approval is not particularly helpful or even healthy. Like Jesus says: No one is good but God alone.
Look: when I think of my closest friends—my college friend Jerusha, or my prayer partner Kate, or my old neighbor Melissa—I don't wonder if they think I'm good. Honestly, we're way past pretending anything of the sort. They know my soft underbelly of faults, and they have learned to bear with them.
So I don't care if they think I'm good. I care if they love me—and I care if they'll call me on it if I'm consistently choosing poorly.
Gaining "goodness" in the eyes of other people is a terrible goal. None of us is a good parent—we're a mixture of brilliance and medioctrity and some pretty rank lousiness. None of us is a through-and-through good Christian—we are in the process of sanctification, with much of our moldy bits still showing.
Let's get real: we are not good daughters-in-law. We are not good spouses. The most we can say about ourselves is that we're choosing to face our demons—or not. I suspect the more we need approval from others, the less likely we'll face the demons.
Only God can claim through-and-through, no-asterisk holiness.
I have realized recently that I'm so desperate for particular people to approve of me that I lose the thread of the work God has set before me in those relationships. I am so busy chasing after being "good" (approved, appreciated, understood) that I forget to worry about being whole, loving, me.
On the flip side, when I think someone is "good," it means they don't make me uncomfortable or inconvenience me too much. (Cough…I do this with my kids all the time). Sometimes, especially in dysfunctional relationships like my reader's, hoping they'll think us "good" means veering away from the path of holiness, health, and sanity.
Personally, I think Jesus would prefer more of us to be pains in the ass when it comes to abuse, mistreatment, and injustice. I think he is impatient with our worries about ruffling feathers.
What Jesus asks of us, especially with those people who literally drive us crazy, is to speak the truth in love to them. To set up boundaries so their ability to—and reward for—sin is curtailed. To trust God instead of the judgment of crazy people. To expend our precious energy in places where it will yield fruit.
As it says in Micah, God has shown us what goodness is. It is doing justly, loving mercy, and walking humbly with God. Those are our operating instructions, as Anne Lamott puts it.
Notice there's nothing said about niceness. Nothing about gaining approval of other people. Nothing about appeasement.
Though we all need to check in with real human beings to make sure we're on course, let's not confuse sage advice with a popularity contest. Let's not ask swine to judge our pearls.
No, instead, let's follow instructions, walking humbly with the Man of Sorrows, who was despised and rejected and wholly, completely, Good.
Image credit: Lacey Raper