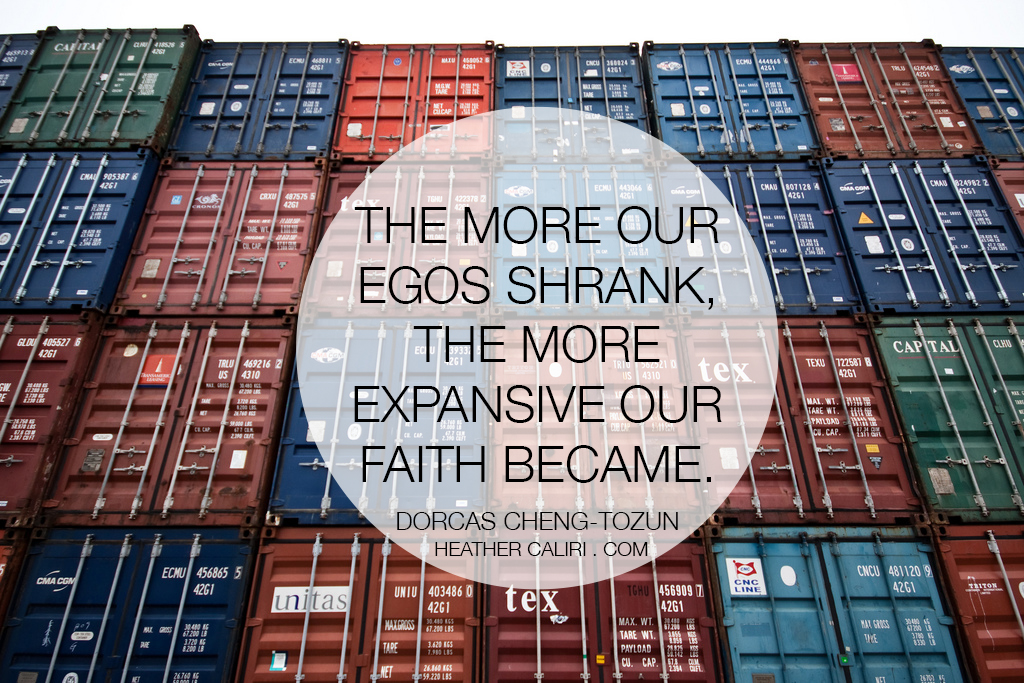 You know what? I love Dorcas Cheng Tozun. She's writes gorgeously, is generous of spirit, and also speaks of faith in a way that makes me trust her. I love knowing her and counting her as an online friend, and I love sharing her experience here with you.
I spent a lot of time praying on my knees when I was young. I'd kneel in front of my bed, hands clasped together piously, eyes pinched shut, head bowed. I'd pray through ACTS—adoration, confession, thanksgiving, supplication. And if I wasn't confident that I had thoroughly covered all four areas, I'd start again. I wanted to get it exactly right because that, I believed, was what God most wanted from me.
As a college student, I rebelled against all the religious rituals that had been drilled into me. Instead of kneeling, I'd lie in bed and have informal, rambling chats with God. They were honest prayers, full of questions and doubts and complaints—but the truth is that they weren't honoring prayers. They weren't prayers that recognized God's sovereignty or awesomeness. And they certainly weren't prayers of faith.
By the time I started praying on my knees again, years later, my life had taken several unexpected turns. I had married a perpetual dreamer and serial entrepreneur. I had joined his latest startup, which provided life-changing solar products for the poorest people in the world—a calling we knew was from God. But the journey was far more difficult and required greater sacrifice than we had anticipated. I left a stable job that I loved. We moved to an industrial city in China, leaving behind all that was familiar. We worked twelve- to fourteen-hour days every day, including weekends.
Even then, there was always more to do. And there was always something going wrong.
One such horrifying moment came when we realized that our first big order—which could make or break us—had been fulfilled with products that were 100 percent defective. We didn't discover this until the container ship was already in the middle of the Indian Ocean, far outside our reach. Every single one of the 6,300 units was going to be inoperative by the time the ship arrived in East Africa. It would be the death knell for our business and our vision of changing the world. And there was absolutely nothing we could do about it.
Except to pray. That was the one thing—the only thing—left to do.
My husband and I got on our knees. When we are desperate and exhausted and afraid, there is no other position to have before an omnipotent God. I could only cry out, like the Canaanite woman with the demon-possessed daughter, "Lord, help me!" You are God. I am not. All the skills and hard work and college degrees in the world cannot solve this problem. Only you can find a way.
When I reached the end of my own knowledge and competence, when there was absolutely nothing I could do to change the challenging circumstances facing us—then, only then, did faith come easy.
A couple days later, we heard that the ship was stuck in customs in a Middle Eastern port, held up by paperwork that the customer had failed to complete. The 120-degree heat would have caused even perfectly functioning products to break down. It gave us the perfect excuse to recall the container and send a fresh batch of functional products.
God had received our offering of faith and our pitiful prayers, and performed a stunning, modern-day miracle.
In the months that followed, the scary, big-as-Goliath challenges kept coming. So my husband and I kept praying. By then, we had already come to accept how tiny we were in comparison to God's great plans and how much we needed him to move mountains, container ships, and more. It was a terrifying, exhilarating time of placing our fate entirely in the Almighty's hands.
Something strange happened during that season: the more our egos shrank, the more limited we recognized ourselves to be, the more expansive our faith became. We stopped trying to carry God-sized burdens because, frankly, we would kill ourselves if we did. Instead we learned to shoulder, with as much integrity and dedication as we could muster, the human-sized responsibilities entrusted to us. And when we created space for God to work, he did the most wondrous things.
That intensive time of God's miracle-working feels like a long time ago now. These days I don't pray on my knees as often. But when I do pray, the first words out of my mouth are always, "Thank you, God." For I have seen with my own eyes his goodness and his power. I have seen how small I am in comparison, and I am grateful that he does not ask me to be more.
It is in this truth that my soul remains rooted today, through the valleys and the shadows and the most mundane of days. In this truth my faith is nourished, growing—slowly, in fits and starts, but growing nonetheless—as an offering to a sovereign and awesome God.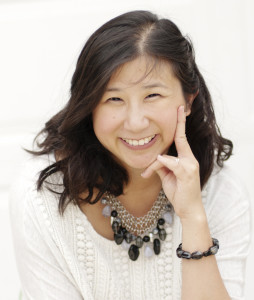 Dorcas Cheng-Tozun is an award-winning writer, blogger, and editor who has found healing and hope through words. She is a regular contributor to Christianity Today, The Well, and Asian American Women on Leadership, and has written for more than a dozen other publications. Previously she worked as a nonprofit and social enterprise professional in the US and Asia. She lives in the San Francisco Bay Area with her husband and adorable hapa son. Find her online at chengtozun.com or on Twitter @dorcas_ct.
Image credit: Håkan Dahlström