Idelette is the founder and editor-in-chief of SheLoves, one of the organizations dear to my heart. I'm constantly inspired by her hunger for justice, empowering other women, and also, because she's a visionary who manages to gather people together. You know how visionaries often radiate confidence, like they know what needs to be done? Idelette has that. Of course, like most kinds of confidence, it come from false starts, perseverance, and a hefty dose of grit. Her story reminds me that faithfulness, humility, and empathy are musts for anyone wanting to find true, life-giving influence.
You had the idea of a global woman's magazine more than a decade before SheLoves became a reality, and tried to make it happen unsuccessfully several times before it finally took. What did the waiting for the idea to become a reality teach you?
I got very frustrated with myself. I thought, "I just can't bring things to fruition."
All the women in my world were action women; when I talked about my dream, I felt this sense of judgement. Like, "You're talking about that dream again? Why don't you just get it done?"
Maybe it wasn't judgement from them, but I internalized it as judgement. So I started to shut up about it. It felt strong in me, but I decided it just wasn't happening.
But I did share my vision with someone who, much to my surprise, gave me a little bit of seed money. The money wasn't a lot, but it was enough that I thought, Someone thinks there's something for me. It was a stone I held onto.
Later, as I was helping my mother-in-law with her online ministry, I started talking to people about the technology they had developed. The cost was about the same amount I had for my vision. I realized that the dream could become reality.
What was so beautiful for me was that it was while I was working on someone else's dream that I put words to my own.
The door to my own dream was helping others, and playing second-fiddle. It was beautiful how doing that unlocked the dream.
The other thing I learned in that time of waiting was that some things take longer than you think. This idea was a long pregnancy. I wish I could have told my twenty-year-old self, "Be kind to yourself for as long as it takes—it'll come."
Because even the first launch of my idea did not go like I hoped. With my seed money, I planted it within my mother-in-law's ministry. She made room for me, and encouraged me, but I wasn't really planted in her community. I needed more bodies. I also launched it when I had two young kids and was pregnant with a third.
I got really tired after my son was born. I was determined, and tenacious, but exhausted.
One day in the shower, I told God, "This isn't fun anymore." And I dropped everything. I didn't even have the energy to send out an email to tell people I wasn't going to keep up with the project.
What I learned with that first try was that I could not do it alone. It's too much, the stories are too heavy, and it's more life-giving to do things with other people.
SheLoves is supported by a pretty big team of women now. How did you make that transition?
Well, when I dropped the project, I sensed God telling me, "Don't let the dream die."
I had been going to Relate Women, and there I found a community of women that embodied this kindness. It was a safe place.
So, I told Helen, our pastor, that I could help with a blog during our women's conference. Then, as I was investing in her dream, even in this small way, I believe she started trusting my heart.
When I brought her the vision for this magazine, she gave me the go-ahead. But I didn't really have a plan for how to produce enough content. I started asking people that I thought would be right—the ones with the heart I wanted, who already had platforms.
But I didn't know these people, and so when I would email them, there was no relationship, and no way they were going to attach their name to my idea. I didn't have an intuitive sense of how to do these things.
After I learned that, I started asking people in my world. I slowly started building a team of contributors.
But I did all the editing and the back-end work. Roos Woller started coming alongside me asking questions about sustainability. She noticed all the work I was doing, and was concerned about burnout. She told me we needed a team of editors. At the time, I didn't want to do all the work necessary to make that transition.
But after I got a part-time job in communications with a non-profit, I realized I wasn't going to be able to keep all the SheLoves editing in the way I had been doing. So I had this little drop in my spirit: Empower others. It was beautiful to make the shift that this was not just my thing.
I did really struggle with the title of "leader". I had such a disdain for leadership because of how leadership messed up in South Africa. The only leadership I knew was authoritative leadership; that was not the kind of leader I wanted to be. It was good to come to a place of reconciliation and redemption, to see Jesus as a servant-leader, and to see that meant there was someone with ownership, who made decisions. We can bring good things into the world with our ideas, rather than commanding adherence to rules.
I was giving a series on Gathering Eve at Relate Woman a few years ago, and a friend had a picture during the meeting that she shared with me. One woman rose up and walked forward, and took the hand of the woman next to her, who took the next person's hand. Together, they walked out of the dark into life.
That was the picture of the sisterhood I wanted to create: all of us rising, all of us walking together.
I feel so inspired by your vision of womanhood, and about SheLoves' vision to free and empower women to use their voices to love others. What do you wish more women knew about using their voices?
I really struggled with confidence for a while. There was a season where blogs were finding these huge audiences, and meanwhile, I'd get like eighteen likes on my post.
I stopped writing for a season because it was just too hard. People said you have to write, so with trembling legs, I started standing again. I had to be willing for it to be okay if just one other person would read it.
It's hard to send your words into the world, and hear crickets. I sensed this net around me—knowing that Bev was going to comment on my post, Helen would probably share it to Facebook, Nicole would tweet it. That net is so precious to me—this net that encourages us, holds us, and catches us.
I once read Psalm 168:11 as I was asking God for revelation around my dream. It says, "God gives the word of power, and throngs of women carry the good news." That's it. that's us. That's the thing I'm supposed to do.
I know we're actually meant to come out of the silence. We're meant to come out of the oppression of women's voices. I know this is our time.
I wish we could understand that we belong to each other. We find our own voices when we call out and encourage someone else's voice. It's never a waste to come alongside someone else. It's never a waste to hear someone else's story and to truly listen to her. As we raise up other women's voices, we will find our own.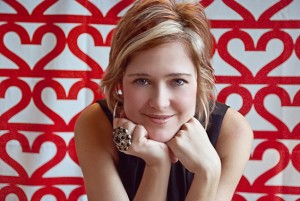 I like soggy cereal and I would like to go to every spot on the map of the earth to meet our world's women. I dream of a world where no women or girls are for sale. I dream of a world where women and men are partners in doing the work that brings down a new Heaven on earth. My word last year was "roar" and I learned it's not about my voice rising as much as it is about our collective voices rising in unison to bring down walls of injustice. This year, my own word is "soar." I have three children and this place–right here, called shelovesmagazine.com–is my fourth baby. I am African, although my skin colour doesn't tell you that story. I am also a little bit Chinese, because my heart lives there amongst the tall skyscrapers of Taipei and the mountains of Chiufen. Give me sweet chai and I think I'm in heaven. I live in Vancouver, Canada and I pledged my heart to Scott 11 years ago. I believe in kindness and calling out the song in each other's hearts. I also believe that Love covers–my gaps, my mistakes and the distances between us. I blog at idelette.com and tweet @idelette.
Image credit: Arindam Ghosh with my modification