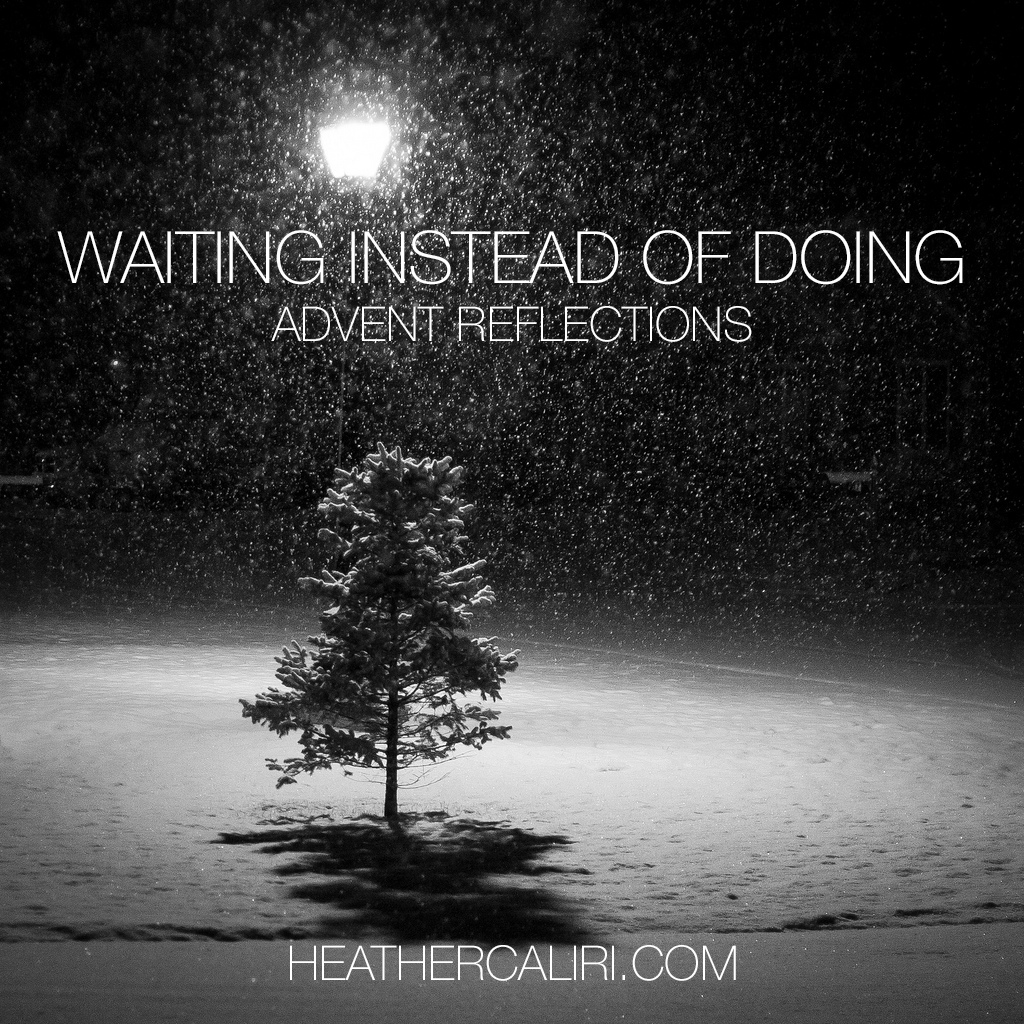 I wrote some Advent reflections back in summer and fall, because I feel too overwhelmed in the holiday. This year, apparently, I decided to write about emotions–the lack of them, or having the kind we don't want. Also, wow: I am a little melancholic at Christmas. I hope it provides space for you to let this time be anything it needs to be–complicated, joyful, melancholic, or lovely. He is here, whether we're ready for him or not.
I was confused when my first Christmas after I got married made me weep.
My new husband and I were in Ojai, an idyllic small town on the California coast. I'd enjoyed my new in-laws' gracious hospitality, opened up gifts on Christmas Eve, and now, waited to go to the midnight Christmas jazz service my musician father-in-law led.
But instead of chatting with everyone, I snuck off to the spare bedroom. I told myself I just wanted to be alone for a minute.
However, when I got into the bedroom and shut the door, I started to weep.
It's unsettling to sob when you're not sure what you're sad about. I wracked my brain for a reason.
The holiday, so far, could not have gone any better. I felt welcome. I was married to a man I loved. And outside, in the crisp air, the constellations shone, clear-cut. Christmas was, so far, just about perfect.
So why was I crying?
I struggled to find a thought that might lead me to the center of my sadness.
It wasn't the standard ache to be away from my family. After all, we didn't ever have Christmas together—
That's when it hit me. This happy, easy gathering was the norm for my husband. For me, though, a happy family gathering was something unimaginable. The last time all five members of my family were together at Christmas, I was twelve.
For me, a Christmas filled with family feels weird.
What strikes me a decade later is how alone my realization made me feel.
It seemed so wrong to grieve on Christmas.
Alone in the spare bedroom that night, I worried my mother-in-law would think I was ungrateful if she heard me crying. Later, when I tried to explain my sadness to my husband, he was genuinely puzzled.
What was wrong with me?
I felt horrified to fall out of step with Christmas cheer.
But looking back, I've realized that grief, oddly enough, should always be part of Christmas.
Look, all of us have our holiday baggage. Personally and globally, we all lament about the uncomfortable mismatch between our hopes and our circumstances. How many times have our Christmas celebrations overlapped with some reminder of the darkness on earth?
But instead of tamping down our tears, Advent invites us to notice them. Why? Because we celebrate not a magical season, but a Savior who is needful in every moment.
The ache that bewilders us is Him knocking, waiting to be let into this holiday's grief, dysfunction, injustice, or crisis. The ache is an invitation to open our eyes both to the salvation we cherish, and the fact that we have not yet left the land of the shadow of death.
Without the ache, Christmas cheer is sentimentality. It's cheap as discount wrapping paper, and as easily torn.
I love Isaiah's songs about Christ because they remind me that all prophets express joy alongside grief, lament, and mourning. Yes, he says that a Son has been given to us, but also that wickedness burns like a fire.
I've learned that the more deeply I feel my losses during Advent, the more I rejoice in Christ's power. The more I'm willing to weep about suffering, the more God's beatitude power rises. The more I acknowledge my own grief, the more I'm knit together with the pain of all God's children.
Only then is my yearning for happy endings grounded in reality. Only when I notice the darkness can I really celebrate the Light that pierces its gloom.
If you're looking for other melancholic but grace-filled posts about Advent, might I recommend those by Tanya Marlow and Nicole T. Walters at The Mudroom? I feel like we were all drinking the same Kool-Aid egg nog this year.
Image credit: Philippa Willitts