Ashley Hales is a new near-neighbor, right up the I-5 in Orange County. She's also an Internet neighbor through The Mudroom and Redbud Writer's Guild–and I am so tickled to know her. She's a warm person that connects people together, writes her heart out and specializes in honesty. I'm so glad to have her words here about her journey to an easy yoke.
I had it all: the youth Bible highlighted in neon in the 90's, the True Love Waits card, and a Bible reading plan. I had perfect youth group attendance and I knew how to appropriately raise my hands in worship. It's easy to be a cynical about my younger self. But all these trappings of 90s evangelicalism were really girlish outpourings of first love. I loved Jesus. And I proved my devotion in neon. Everywhere.
Somehow that shifted as the years rolled on. Bible reading, youth group activities, leading Bible studies and mentoring younger women all became activities to excel at and boxes to check off. I'd ace my AP exams and then, see how I measured up in the "good Christian girl" category. And when I'd let someone down or go "too far" with my boyfriend, the deep garment of shame would come and swallow me whole and whisper lies that there was no easy yoke. There was only my failure to live up to some moral code. Shame kept whispering, "You're not good enough."
I'm a recovering good girl. It's easy to get lost in my goodness: to count and weigh my sacrifice, to give myself gold stars for my morality, all the ways I am so very right. And so I swing between two poles: being the good girl through my outward religious behavior and feeling like if anyone knew my own inconsistencies, my own heart, I would never be loved. I simply am not good enough.
These lies are not new. They're the same ones from the garden, and they start out with, "Did God really say…?" Did God really say that he'll take you back when you didn't follow through on that passionate commitment to read your Bible? How can God love you when you don't pray?" And we wear the lies because they're comfortable after awhile. They keep our nakedness hidden.
But then there's this story in the Bible that I keep replaying. And I have to agree with Lauren Winner that this "getting stories caught in my hair" is really the niggling of the Holy Spirit. It's the parable about a Dad who runs to his lost boy with the garment of the family, and gives him a ring with the family crest. After wishing his father dead, after going to a far-off country, after spending money on women, he comes back to the only place where he knows he'll be welcomed: home. And his father doesn't wag his finger at him in shame. No, he runs to hug him.
Most of the time, I want to prove myself by my goodness, not take on someone else's family robes. Or I want to wallow in my shame, to pay penance for my sin.
Through the years of mothering four little ones, I've had a bit of an unraveling – in my well-ordered life, in my sanity, and in my own neediness. Sometimes that garment of shame feels snug and secure, like a tattered sweatshirt from an old boyfriend that you just can't help wearing. Other times, I toss that shame sweatshirt into the wind, hollering through the ocean air that it no longer has claim on me. Then, I'm free to put on other garments – ones that say "beloved," "daughter," "valuable."
But to get to those garments of belonging, I find myself having to take off my shame and even, my superwoman cape. It's through my neediness – or owning up to it for once – where I can finally see that Love is running out to welcome me. Running to cover me.
This discipline of vulnerability has been the key to trading in my raggedy sweatshirt of shame and my superwoman cape for robes of white. As I own up to the depth of the shadow within, I don't find judgment, I find release. It looks very much like the church's ancient practice of confession. Being vulnerable is both a private and public act and it's only through admissions of "I'm messed up" and "I need help" that freedom comes. I'm finally set free from needing to be more, do more, and prove myself. I'm finally entirely human.
Vulnerability happens best in community – not just to air our personal dirty laundry – but also to let others in. The same tightness in my throat happens when I share virtually, pushing "publish" on writing that pushes me into the shadows to then emerge more honest, more free. And this vulnerability, whether in words shared over a computer screen or over a cup of coffee, is a gift. The gift says, "You are loved. You are seen. You are heard. No matter your performance, or your success, or your failure. No matter what you have done or what has been done to you. Now come, take off your raggedy sweatshirt of shame and take on the robes of family."
That sort of clothing exchange isn't easy, but it's right where freedom lives. This easy yoke doesn't fit into my North American ideals of comfort. It requires discipline to reframe the loop of shame in my head, to take my thoughts captive and to flood my senses with the goodness of God. But it's becoming my only way to live. I don't want to be a good girl anymore. I just want to be part of a bigger family.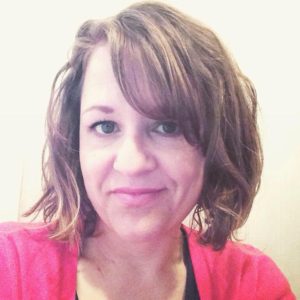 Ashley Hales holds a PhD in English from the University of Edinburgh, Scotland. But she spends most of her time chasing around her four children and helping her husband plant a church. She writes at www.circlingthestory.com and loves to make friends on Twitter.