Osheta Moore helps me understand what SHALOM looks like in a living, breathing, ordinary life. She speaks words of grace and peace even in the most f'd up circumstances, and I'm so thankful that she lets Jesus lead her around by the nose. She's sharing her unlikely journey to that kind of relationship with the Savior–now.
When I tell people about the weekend I met my husband, I joke that I really had no idea how I ended up having popcorn and sharing stories with bonefide urban missionaries in a New Orleans Bible college common room.  I say I think aliens who have read Shane Claiborne and carry their CCDA membership cards with pride must have body-snatched me just to see what all this inner-city ministry hoopla was all about.
When I finally came to, I was too far down the rabbit hole to go back.
Examine the facts with me, and tell me there isn't something supernatural afoot.
I was a sophomore in college at University of North Texas, double-majoring Dance and Early Childhood Education.  I had a pretty airtight plan:  my degree in Education would prepare me to teach in my South Texas hometown and with my dance background, I'd return to my high school to coach the drill team I'd danced on.  I'd would complete the Texan girl circle of life.
I planned that during my senior year, either at church or a Cowboys game, I'd meet a really nice, super cute, God-fearing Texas boy who hunted occasionally, did yard work faithfully, and was a Rockets season ticket holder.  On Sundays, since we loved Jesus and the local church, we'd help with the youth.  We'd have a couple of babies—a girl for sure because I had BIG PLANS for homecoming mums: a massive corsage-esque accessory in my school's black and orange colors.
We'd buy a four bedroom in Moses Lake—the upscale suburb my mama dreamed of moving into. We'd host Thanksgiving complete with a touch football game in our sprawling back yard.  Our dogs would be named Doc and Lady.
And at night when we'd hear about a shooting in the big bad city of Houston on the news, we'd thank Jesus that he gave us to the good sense to settle in the 'burbs.
Can't you just see the perfection in that plan?
Those body-snatching aliens did, I assure you. Within two months of the announcement of a missions opportunity at Wednesday Young Adults bible study, I was paying to give up my spring break. I'd to go to New Orleans during Mardi Gras, to do what they called "hands-on urban ministry."
We were warned that it would be intense—we'd work in a homeless shelter and street preach during Mardi Gras parades. We'd teach children living in the projects.  During the day, we'd learn urban ministry theology and attend chapels where we'd pray for the peace of the city. It would be the very worst kind of boot camp for a sheltered suburbanite sophomore.
And yet, something compelled me to go.  I joke about aliens, but I know it was Jesus.  It was the Holy Spirit calling to my spirit and carrying me to a better calling, a more Christ-like future, a messy, broken, beautiful plan.
That trip transformed me. I saw systemic poverty in ways I could have never imagined. I made connections between Jesus' subversive ministry and the cries of the city.
I saw women in need of restoration and wished I could be like Jesus and stand between them and their accusers. I wanted to be the one to proclaim, "You say she's a crack-whore? Well, I call her beloved."
I saw children hungry for food and play and I kept hearing Jesus say, "Let the little ones come to me."
I saw drunken men, desperate college girls, angry protestors. I wanted to stand on the trash cans with my fellow missionaries and proclaim that the unrest they tried to drown out with booze, sexuality, or self-righteousness could only be calmed by our Prince of Peace.
I learned about a concept, Shalom, which is a deeper understanding of peace—it's wholeness and restoration of relationships to God, to each other, and to our world.
And of course, I met a wild, passionate ex-gang member called to move into an under-resourced community and work to transform it from the inside out.
Deciding to change my airtight plan was much easier than I expected. I believe it's because Jesus was the one calling me. He was the one constant in all the changes after that mission trip to New Orleans.
He was there when I went to my advisor to explore adding some urban development classes to my schedule. Jesus was there when I said, "I love you" that that crazy, cute urban minister.
Jesus was brilliant in his invitation to take his yoke upon us.
A yoke is something we're always aware of; it rests on our shoulders and reminds us to whom we belong.  When Jesus calls us to take his yoke, he's calling us to always be aware of him, to let his pleasure rest on our shoulders, and always remember that we belong to him.  I'm okay with that—even if sometimes the things he asks me to do are so far from my natural inclination it has the odd sensation of body-snatchery.
But it's Jesus leading me with his yoke of peace to a better, more Kingdom way.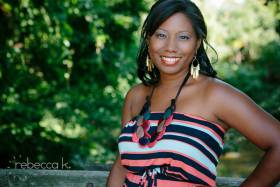 Osheta Moore is an Anabaptist-y, stay-at-home mom right in the thick of moving her family from Boston to Los Angeles . She's passionate about racial reconciliation, peacemaking, and community development in the urban core. At the top of her bucket list is dance in a flash mob—all the better if it's to Michael Jackson's "Thriller" or Pharrell's "Happy." Catch up with Osheta on her blog, Shalom in the City.
Image credit: Duncan Rawlinson