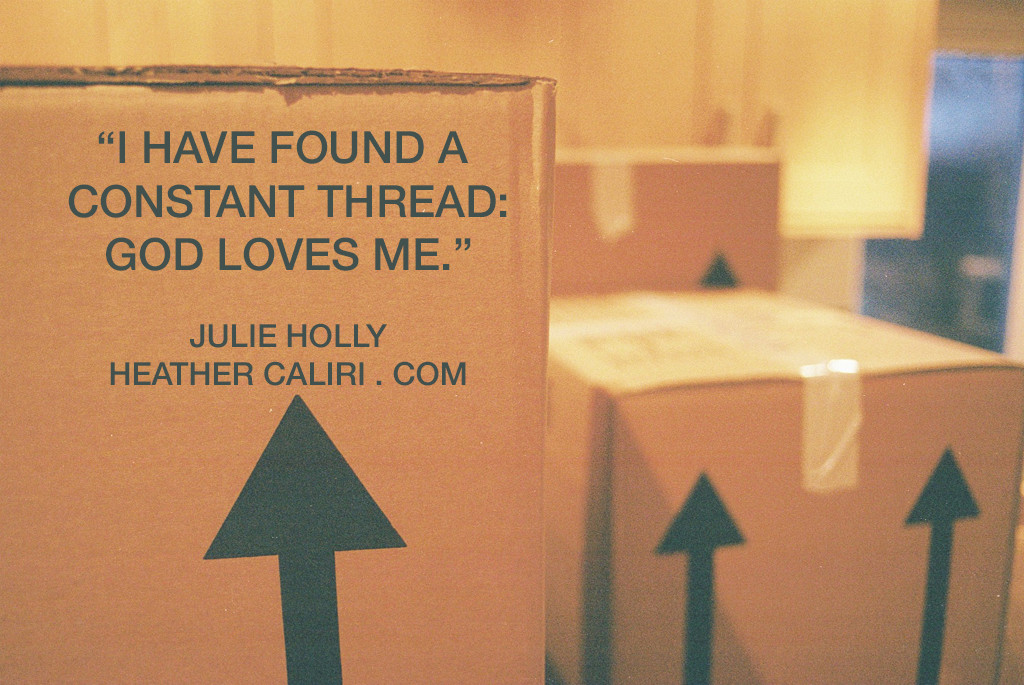 Julie Holly is a fellow Redbud, and also just a cool person. I had the luck to get to hang out with her IN PERSON when she and her family visited in San Diego, and we bonded over our shared struggles with parenting, faith, and keeping on when life gets hard. She wrote such a lovely, honest post for me. I think you'll find grace here.
It's moving day, but nobody asked if I wanted to move. Lifelong treasures are haphazardly boxed, some broken and who knows if they'll reach the proper destination. That's how life operates, a series of forced moves shifting important people and places in the blink of an eye.
At least this is how life has felt for a long time. Everything is out of sorts, misplaced; a shell of a home left nearly uninhabitable. The domino effect began long ago, but the past year has been one to test my faith more than most others because not a single part of my life was untouched this past year.
"I do" lingers like a Cinderella slipper held in the prince's hand. I desperately want to find the happiness and camaraderie that led my husband and I to the marriage altar but it feels the clock has struck midnight.
Parenting brings an onslaught of never-ending unrelenting challenges that have made me question my capabilities, even doubt my character. What was God thinking when He formed these people in my womb?
Unexpectedly the most influential person in my life, my dad, died. I'm unwilling to face life without his voice of calm reason, confidence, encouragement and immense love, yet I have no choice in the matter.
Two weeks after my dad died, my church shattered. At a time when community is a premium, when solace in fellowship and worship should bring healing, it brought more chaos, confusion and pain.
It's moving day and nobody asked if I wanted to move, but my Savior asked me, "Will you trust me even through this?"
That's a pretty hefty "this".
The good Christian girl inside weighted down by guilt because this is nothing compared to what my Savior willingly endured. This looks like a ticket to paradise compared to others (maybe you) facing more severe problems, but I'm learning to silence the comparison feeding chain, because this is what God is trusting me with.
I have had little ambition, time and energy in the tangled mess of life to devour my Bible, let alone be a perfect cheerful Christian, but I was called to be faithful, not phony. Honestly interacting with my disheveled life I have found a constant thread easily tracked through my life: God loves me.
Raising kids continually teaches me that most acts of love go unnoticed because at face value they are superficial and immeasurable. The gritty grimy clothes freshly laundered and neatly folded, the patience to respond when I'd like to react, the countless skills taught through micro lessons (tying shoes, making a sandwich, looking people in the eyes, following through…), the hug that catches a loved one off guard, the morsel of encouragement that rejuvenates hope, all these things and more are a composite of what makes love.
My kids and I have a new jingle when we do something insignificant for another in hopes of reminding each other to look for love, because it's there. We sing, "It's an-other way-to say-I love you."
If it's there between mere mortals who through flaws show love, how much greater is God's love? I'm out of sorts, caught in the debris, but God notices me. God's love for me is apparent in the micro of life normally taken for granted.
I notice God seeing me when we're able to make the stoplight, when my cheerful garden zinnias stay fresh for weeks on my table, when I have energy to wake before my family and can slip into the day or in an unexpected calm lull in the afternoon and I find myself caught in my Lord's loving arms and hear Him say,
"I see you. I love you."
Details missed by everyone else because they can't see the labyrinth of fear, anxiety, self-consciousness, disappointment or sorrow hidden deep in my heart are obvious to my loving God who takes time to reassure, reaffirm and console.
"I see you. I love you."
It's moving day and nobody asked if I wanted to move, but I'm going to be okay because my God notices and cares for me with a love that will never run dry.
Julie Holly is a member of Redbud Writers Guild, contributor at Start Marriage Right and writer for Peacequility.com where she nurtures the wellspring of life while tackling gritty realities life (and sinful hearts) produce. Her second chance marriage has blessed her with an encouraging husband, two vivacious kids and a loving lab that keep her on her toes.
Image credit: Nathan O'Nions