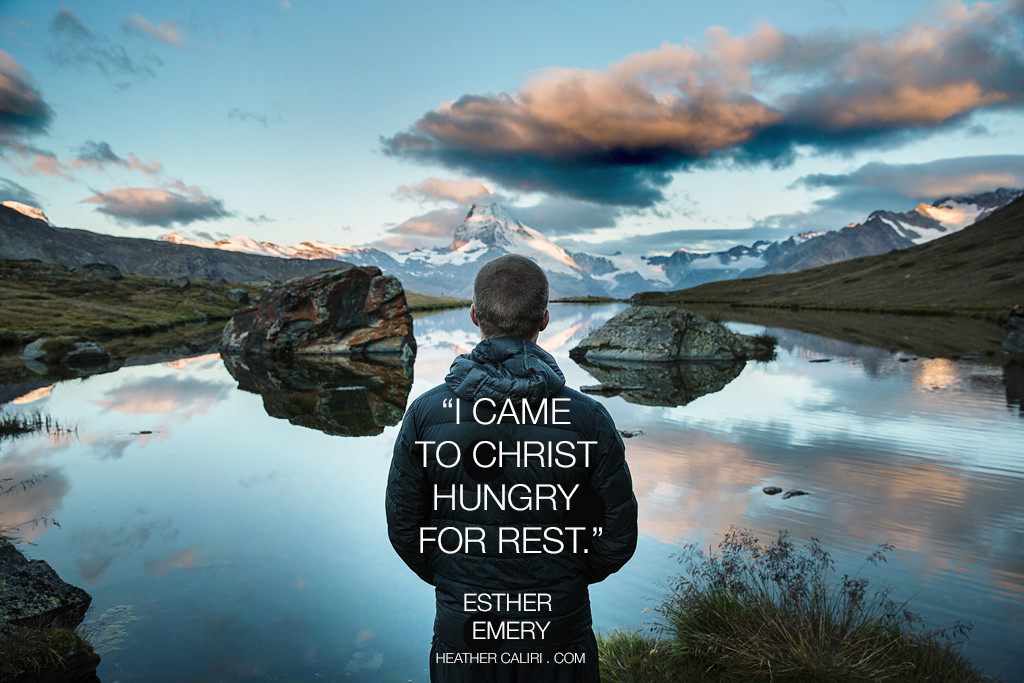 I find rest in Esther Emery's words–partially because I can see something of my anxious childhood in hers, partially because she has chosen to be different in a world that loves same, and also because she's a friend of the virtual-but-real sort. I bring you her words here today with relish. I love her take on Christ. 
I came to Christ hungry for rest. I had been running hard and fast in those days, not just for a time, but all the time, since the very beginning. I had been running so hard for so long that I couldn't imagine what I would look like if I wasn't running. I didn't even know what my insides would feel like, if I weren't scrambling, for something.
Partly that's all my own fault, because I wanted my life to be a rich, big life, and I kept jumping bigger and bigger and bigger hurdles to try and attain that. Partly it's not my fault at all, that I was born with so much sensitivity. Just a little thing wrong in the air can set me into panic, and surely it wasn't my fault I was made that way.
I simply was not born with a peaceful heart. And I simply wasn't raised in a way that encouraged stability. And then, on top of that, I fed my own ambition, always with more of itself. One day I was so tired that I fell right off the spinning merry go round.
Jesus was not, by any means, the first thing I turned to. First I started tossing obligations, ending all sorts of adult responsibilities. I gave up first my social life and then my career and then my cellphone and then my entire access to the Internet. I was trying to strip away all the things, and that was pretty much successful. But even when I stripped it all away, I found I still hadn't lost my urge to run. I had gotten rid of a lot of things, but not the fount of desire in my heart.
When I started going (back) to church I hadn't been in years. I had left the capital "C" global Church angry more than a decade before, and I still don't blame myself a bit for that decision. When I started going (back) to church I didn't listen to the sermons. That wasn't what I came for. Instead I sat in the very back and cried and searched the air for a thing that had spoken to my tired heart about resting. It was something I remembered from my childhood, as if from a kind of dream, this promise of unconditional welcome in Christ.
As it turns out, I did end up loving the church I found. And, although I had frustrations in that human place and still have more than frustration with the big "C" Church as it lives in power in the brokenness of this world, still I don't regret it. I think I probably couldn't have found the thing I was looking for without stepping one foot at a time into that quagmire.
The gift I would give, if I could, to every one on every street corner, or pew seat, or asteroid or planet in the heavens is the gift of coming to a stop. This gift of rest is both enabled and necessitated by the gift of salvation. It is both demanded and made possible by the miracle of refuge in Jesus Christ.
I could never, with my stiff neck, listen when it was a command. "Be still and know that I am God" fell on resistant ears. But when I was desperate to get off my own hamster wheel, I found a welcome escape.
I had learned from the world how to run hard against the competition, and also how to chase a dream, and also how to make a tricky escape from trouble. But no one had really taught me how to rest.
It does mean letting go of lots of things, most of them aspects of my ego. It means feeling small in a big, broken world. It means feeling humble, though not humiliated. It means taking my place, in welcome and in generosity at one giant table, kin with those who silence me and those who have been silenced by me.
It is not to be confused with numbness or inflexibility, or really anything that lays more and more weight on my singular shoulders. But neither is it an easy or never confrontational way. It does not abandon those who are weak or abused, or fall away from love. It is the genuine path of peace.
I think it's too late for me to hope that I could be anything other than religious, even as much as I can be embarrassed by the Church, (and by that I'm not referring to the gospel.) I just can't survive the speed of life without a refuge. This is the only answer, for me, both for my keyed up high-strung personality, and for the way this world has raised me up, into competition and greed and scarcity.
I need the easy yoke.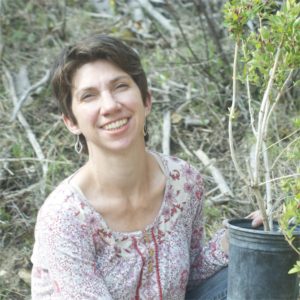 Esther Emery used to be a theatre director and playwright in Southern California, before she ran away to the woods to raise her family off grid in a yurt. She blogs about faith and freedom and alternative lifestyle at her website, www.estheremery.com. Find her on Twitter or Instagram @EstherEmery.