You know why I like Cara Meredith? She's effervescent. I've yet to meet her in person, but her enthusiasm is infectious even over the Interwebs. She runs a guest post series on her blog that helped inspire this one, and every time she introduces someone, I sense her own great joy in people, connection, and in making people feel loved. So: welcome to her story about an easy yoke, friends. You're going to love it. 
I hadn't opened my Bible in seven months.
I hadn't written in a journal and, but for a stack of books on Anglican Theology for my last seminary class, I didn't want to touch any sort of "Jesus book."
My husband and our infant son and I still showed up to church most every Sunday morning, but even that felt like a stretch. I would hang out in the foyer for long stretches of time, far from eager to return to the sanctuary's coziness. Instead, I'd look for excuses to remain outside, to keep my distance: I needed to pee, to stretch, to walk the baby, to feel unfettered by stiff wooden pews and prescribed silence.
But really, I wasn't ready.
Really, I was hurting, even though I didn't have a name for it, and I didn't think I should be feeling the way I was feeling, and I didn't get why I was having these feelings in the first place.
I'd just left ministry, you see. While the act of turning in my keys hadn't held much significance in and of itself, casting off farewells to the people who'd been my people and a job that had seemingly been my entire being, rocked me. When I didn't carry with me the title and responsibility and honor of Non-Profit Outreach Director, every part of me revolted.
Who was I, if I couldn't lead, if the only person in my life to direct and motivate and inspire toward God was a nineteen-pound, pint-sized human? Who was I, if I'd told the world I left ministry to speak and write and care for my son, but didn't have a gig lined up to save my life? And who was I, if nobody cared, if the phone didn't ring and the people I'd poured myself into for eight years weren't pursuing me in return?
Who was I, who was I, who was I?
The pat answer, the correct answer, the answer I wish I would have and could have believed at that time is simply this: I was His.
Old Man Suitor held me and carried me and moved my legs when my insides felt like lead, when the map I sought to follow seemed a jumbled mess of mountains and streams and six-way urban intersections all piled on top of one another. He sat beside me in those long stretches of housebound inactivity, when the baby napped and I sat at the keyboard, trying my hardest to trust the muse within and learn how to let my fingers do the talking. And he was present beside me and within me and around me when I couldn't seem to find my way back inside the sanctuary, when the church felt too programmatic and too disingenuous and too antithetical to history's great rabble-rouser, Christ himself.
But I could sometimes pray.
Sometimes.
My son and I would go on long walks everyday, up Juniperro Serra and down Sloat on toward the Pacific Ocean. Somehow, when my legs pumped harder and my lungs pushed oxygen in and out, in and out, in and out, my mind and my soul and my heart gained the tiniest bit of clarity, even if just for a moment.
So I did the only thing I could do: I just kept walking.
Sometimes I'd pound my fists against the stroller's handlebar and I'd ask a thousand whys. And then, when tears fell to the ground, which often they did, the salt from my insides became the letters that formed words and broken sentences and half-uttered phrases of belief.
It wasn't in a darkened prayer room with incense and candles and verses taped to the walls, and sometimes the syllables that came from my mouth seemed far from the prayer Jesus taught us to pray, but it was prayer, nonetheless. It was real and it was holy and it was connection with the Divine.
Because in those moments, the only thing I could do to receive the gift of an eased yoke and a lightened burden was to just keep walking.
And so I did.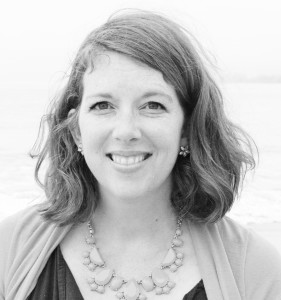 Cara Meredith is a writer, speaker and musician from the greater San Francisco area. She is passionate about theology and books, her family, meals around the table, and finding Beauty in the most unlikely of places. A seven on the Enneagram, she also can't help but try to laugh and smile at the ordinary everyday. You can find her on her blog, Facebook and Twitter. 
Image Credit: David Marcu