Over the next few months, I've invited some friends to share some of their stories about what easy-yoke faith looks like for them. 
First up is Aleah Marsden. I met Aleah through Redbud Writer's Guild. I've so appreciated her wisdom about using social media to connect to other people without becoming a jerk. Her humor, encouragement, and work ethic all inspire me. I'm so happy she's sharing about a time when faith was an easy yoke—under nauseating circumstances.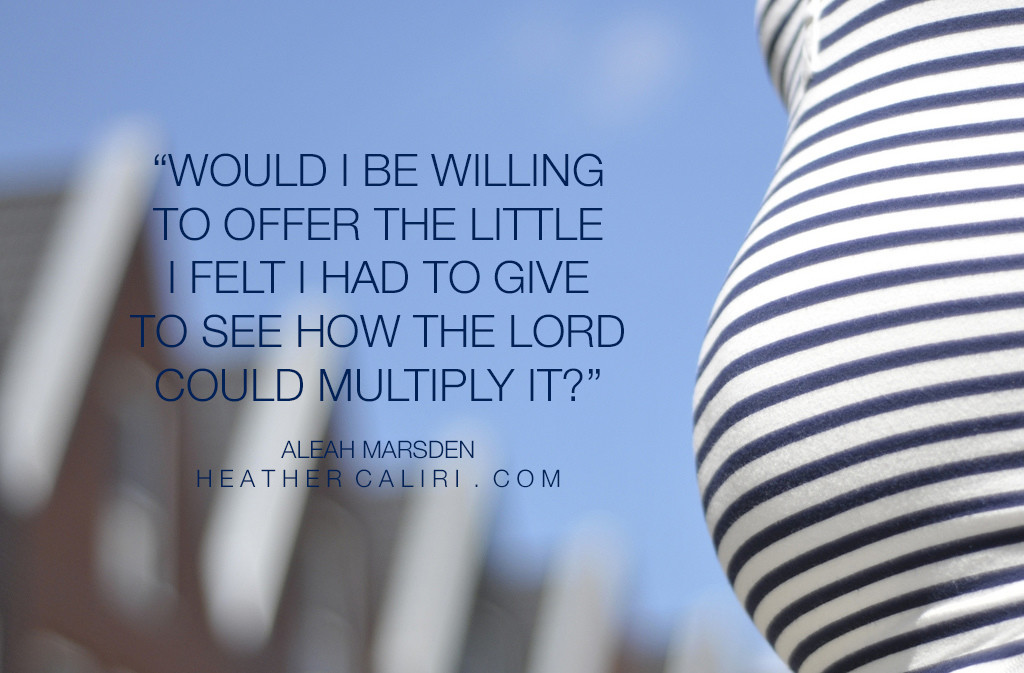 I scrolled through my contacts list to find her number. I had been dreading making this call, but there was no way around it.
I had been so sure when I accepted the position that it was the right thing to do. Children's ministry wasn't exactly at the top of my list for ways to serve, but I had felt convicted that it had been the answer to my prayer for a leadership opportunity. It was not the answer I had wanted (I was ready to do big things for the Lord!), but it was an opportunity. She had sounded genuinely pleased when I called her, the first time, to let her know I would be volunteering. It seems they were having a hard time finding people to serve. Go figure.
But with the appearance of the faint second line on my home pregnancy test, my hesitant hope to lead disappeared. Being my fourth pregnancy, I had a fairly realistic idea how it would go: by about week eight an overwhelming nausea would set in that would not assuage until the day I gave birth. Making a morning leaders' meeting and teaching a class of under five year olds was completely out of the question. It was going to be difficult enough just to care for my own three under five years old.
My stomach turned as the phone rang. I silently prayed it would go to voicemail. No luck.
I explained to her in teary and no uncertain terms my resignation. She listened quietly. I finished with a flourish of how it is clearly IMPOSSIBLE for me to continue.
The silence from the other end drags out. I wonder if she's still there.
"Have you at all considered," she speaks with compassion and authority, "that when you felt called to accept this position that the Lord already knew you would pregnant?"
No. No I had not.
"Of course, it's fine if you really feel you can't make it work. I appreciate you calling me, but I would like you to take another couple days to pray about it and be sure. I'll be praying for you."
I got off the phone in a state of shock. Had she just refused my resignation? Didn't she understand how IMPOSSIBLE it would be for me to serve? Now I was going to have to deal with the stress of calling her again in a couple days.
Irritated as I was, I couldn't get her words out of my head all day. I suppose the Lord must have known I was going to be pregnant, though it was not part of my plan. It had been hard enough to figure out how children's ministry fit into the big things I wanted to do, but I had trusted that it was supposed to be the next thing. As I prayed through the unforeseen turn of events I was reminded of the story of Jesus feeding the five thousand in Matthew. The Spirit impressed upon me how much He was able to do with so little. Would I be willing to offer the little I felt I had to give to see how the Lord could multiply it?
I was. Reluctantly.
And I did serve that year as a teaching leader in the infant class.
To this day, I am in awe of what the Lord did. I am a chronically late person. Not once the entire year, up until I left on maternity leave, was I late to a single meeting. Somehow on Tuesday and Thursday mornings I always managed to make it out the door on time and ready to go—a feat I do not think I have accomplished with any consistency since. No matter how tired I felt, no matter how sick I was, when I got into class I found I was able to get through the hours in relative peace.
The Lord also used that season of structured homework to keep me daily in the Word, something I had not managed in any of my previous pregnancies. Though my body still felt sick, my sprit flourished. I learned in this season that my ministry is not about what I bring to the table, but what the Lord can do with what I have to give. That He gives me grace daily to accomplish the small, faithful work He's called me to, rather than the big flashy I may aspire to. He reminded me that He is the one sufficient to the task and will equip me for wherever I'm called to serve. He carried me through that ministry, and that pregnancy, and the following season in-the-trenches of mothering four kids under six.
All of these situations would have been IMPOSSIBLE had I not learned this lesson, had I not been challenged to think bigger about what God can do. Trusting He is able to do far more abundantly than I ask or imagine has been the foundation of my ministry ever since.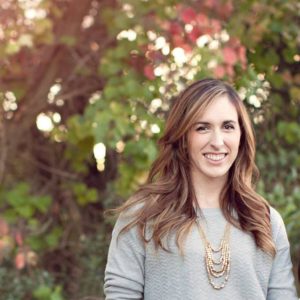 Aleah Marsden is a writer, speaker, editor, and Social Media and Communications Manager for Redbud Writers Guild. Her work has been featured in Books & Culture and The Banner. She blogs at DepthoftheRiches.com about life, faith, and Bible study. Connect with her on Twitter: @aleahmarsden
Image credit: Frank de Kleine