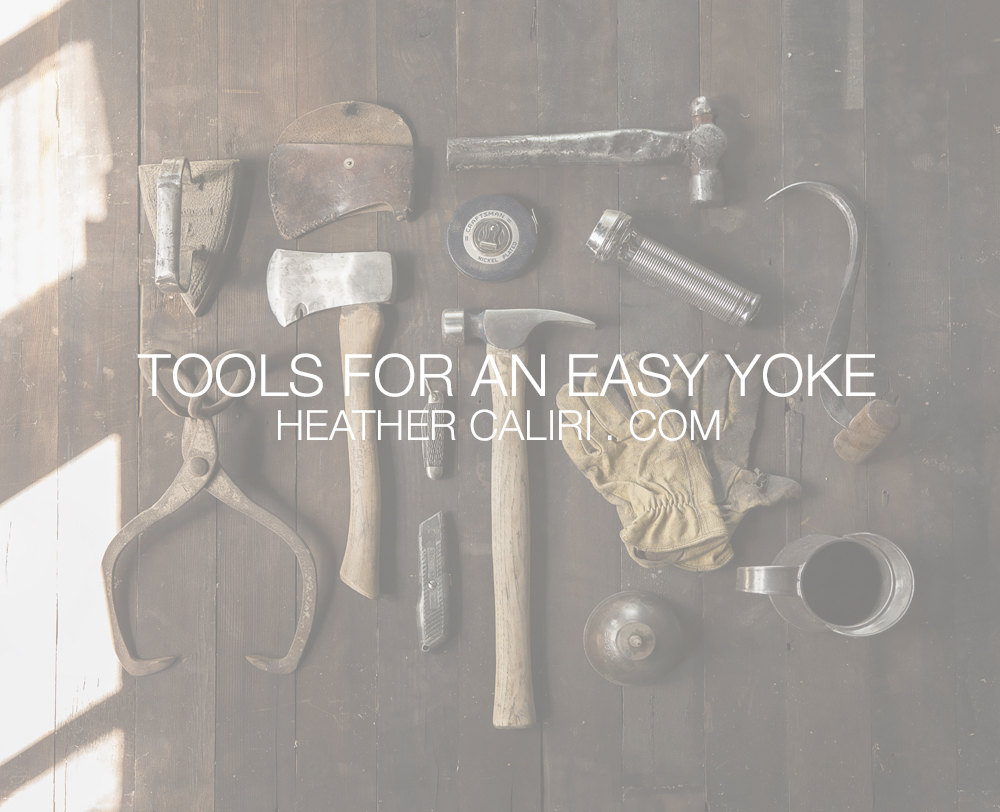 When you have done all you could in faith, and realized that doing is a problem—
What do you do next?
How do you get out of that catch-22?
How do you let go without just giving up?
I'm going to do a series for a while here about how to find an easy yoke in faith, and what that looks like. I'll talk about how an easy yoke is a faith rooted in justice. And one powered by Jesus. An easy yoke is a faith that is effervescent with joy and delight.
But before we get to what an easy yoke looks like, I want to talk about the tools we'll all need to experience an easy yoke.
Because if you are anything like me you need some handles to grasp, if only because you don't know how to keep your hands still. You need some how-tos.
I'm didn't come up with these ideas. I'm heavily indebted to Kathy Escobar, Ed Cyzewski, Micha Boyett, Nish Weiseth, and Sarah Bessey. To Idelette, Esther Emery, Addie Zierman and Lauren Winner and Anne Lamott, and gosh, all the other writers I inhale. These are old ideas.
But how-tos are tricky when trying too hard is the core issue. I always need reminding that there's another way. These tools keep me still while God rips off my Eustace dragon-skin.
Today: the first three tools—questions, awareness, and emptiness.
Questions
Questions are a bread-crumb trail out of a dark wood.
Here are the questions I used to avoid in my faith: was it okay to be angry at my parents? If God was Our Father, than was me being a girl somehow second-best? Did I really have to read the Bible literally? Was I a universalist? Was I actually pro-life? Did I have to evangelize my friends? Did I want to be a Christian?
Let me be honest: I have not answered all these questions. That's not the important part. The important part is admitting we have them. The important part is standing on the precipice of what our questions mean. The important part is accepting the consequences of opening our pie holes.
Asking questions means we have curiosity about our faith, about what matters to us, and about where God is taking us.
When I find my question, the question that I would rather ignore, I usually, at that very moment, find a doorway to walk through.
I hesitate to ask: can I really face my anger? But when I ask it, I see that I am so heartsick that I have nothing to lose from being honest.
I hesitate to ask: Do I want to be a Christian? I hesitate to ask because what if the answer is no? But dear God, how can we have an easy-yoke faith if we're lying to ourselves about our real beliefs?
Questions don't solve things. Often they make a big hairy mess. But they lower our defenses. They uncover, reveal, unmask, and undo, especially if we can ask them gently, with great compassion and curiosity about ourselves.
Attention
I am thrilled by the power of noticing.
I started reading the Bible last year. I wrote a post about it—I tried to memorize some of the Psalms. People loved that post. It sounded so fun but also disciplined!
As I read and memorized, I tried to notice, as I went, how it felt. This was kind of revolutionary for me—the idea that I could pay attention to my emotions about spiritual things, rather than insist on them because they were good for me.
You know what I realized? Reading God's Word more than once in a while makes me harried and stressed.
So I stopped. (Perhaps the post would have been less popular if I'd included that part.)
I might start again at some point. But I'm done doing stuff that I don't like just because it's spiritual.
An easy-yoke faith takes seriously how we feel about spiritual practices, church, prayer, and daily life. It does not assume doing will make us holier. It lets go of the idea that pushing past endless resistance is a good idea.
An easy yoke asks questions, than pays attention to what happens next.
Emptiness
About six months ago, my husband and I had a bad argument, and I left our house shaking. I was on to see some friends, but suddenly I wasn't in the mood. However, staying home didn't sound good either.
I've told my therapist that on the whole, my marriage is nine-out-of-ten good, but that day, it felt like a one.
In the car, I told God I had no ability to fix the argument or the cracks that it revealed. I was scared and bewildered and hurt and angry and afraid.
You are going to have to fix this, I told God while I was driving. I cannot do this. It is beyond me.
Look: this was a frickin' scary thing to say. I like control. I like problem-solving, and rehearsing my arguments ahead of time in my head. I was admitting that I was powerless to make my marriage into my ideal one. I was admitting I was unable to go and change my husband's mind—or my own. I was saying that even if my world fell apart, I would trust God with the aftermath.
Even so, my surrender was also a still, quiet space. It was an easy yoke, because it meant that whatever happened, Jesus would be there in power. Period.
Later, when I went home, my husband and I figured out the argument. But even if we hadn't—even if things had not gone in a happy direction—I realized that I did not have to be afraid.
Ever.
For me, an anxious person, this is insane.
It is beyond me is terribly, terribly good news.
Look: having faith that is an easy yoke is not for the faint of heart. It offers no guarantees or five-point plans. Its more roller-coaster than ladder.
But if we are willing to give in, give up, and surrender, then we don't have to whip ourselves into shape, answer our own questions, solve our own dilemmas, straighten our own scoliosis of the soul. We let God do all that.
When we see a problem, we lift it up to Him. When we sense our lack, we confess and hold up our hands. When we are unsure, we keep asking questions.
I'm not saying we Wait Upon The Lord like we are waiting on marching orders from a divine lieutenant. I'm not saying we're passive or fearful of making the wrong move.
I'm saying that we keep lifting up our uncertainty, and making choices as best we can. We admit to others and to ourselves that we're ambivalent or bewildered, and ask God to change our hearts or clarify our intentions. I'm saying we're honest about our own fallibility, and, then, again, we lift our uncertainty back up to God with a word, a grunt. An acknowledgment to yourself that you're not ready to pray.
We live our lives with open, empty hands, trusting that God is big enough to move us wherever He wants. It is not up to us.
Like many simple things–tying shoes, sitting still, or listening, it takes some practice. But oh–this kind of faith unclenches your heart and straightens your spine.
This kind of faith is very, very good news.
Next week, we'll unpack three more tools: simplicity, delight, and baby steps. Then, we'll start on the rest of this easy-yoke faith series.
Image credit: Todd Quackenbush