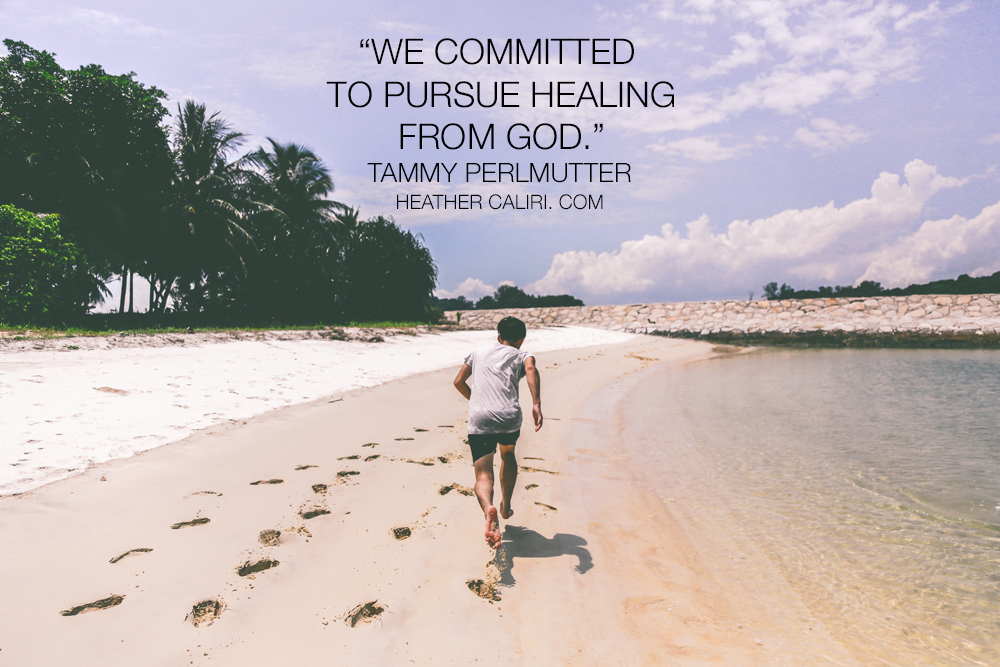 Tammy Perlmutter is the editor-in-chief of The Mudroom. Working with her, I've realized she commits herself to the hardest kind of alchemy: taking pain and suffering and letting God transform it into gold. She reaches out to others even through anxiety (something I struggle with), applies herself to creating art and community, and figures out how to heal so she doesn't pass on the disfunction she inherited to her kid. Her story is beautiful precisely because she's honest about its sharp edges and her own limitations. I am so grateful to have had a chance to learn from her—you will be too.
You wrote a hard post recently about the mental health issues you struggle with, and how they arose because of the abuse and neglect you experienced as a kid. Is it hard for you to use the label "mentally ill" for yourself? How did you come to the point of being able to say that about yourself?
When I saw a behavioral health intake counselor at a clinic, I had to list everything I'd been through. The heaviness of that list made me realize how far I had to go. I thought, this is mental illness. Therefore, I am mentally ill.
It broke me.
I hate the term. I hardly ever use it. I have PTSD, anxiety and depression. Having those labels is so diminishing because it's a pathology. It's huge.
But I used the term because mental illness is such a stigma. The term is so daunting that it can keep people from getting help.
If people can see it more, and know what mental illness looks like, then they can relate to it more.
What fruit comes out of using the label? Is there a positive side to coming to terms with being mentally ill?
It expanded my community. So many times, people keep their illnesses inside, and control them to keep other people comfortable. We limit ourselves. When I embraced the idea of my mental illness, I opened myself up to people around the world. People responded, "I have that secret too."
That shared experience bonds you immediately. I don't have to defend myself or explain my backstory with them.
The other plus side to a diagnosis is that even though it's a life sentence, it's also a relief. Giving a diagnosis means someone can say, "Here, this might be what's going on with you." It's lovely to have someone put puzzle pieces together for you, and affirm your experience.
You parent a kid who is also not neurotypical. How does your own experience with mental illness affect how you experience your child? Does it make it harder? Easier? Or both?
It's heavy to know that you gave this to your child. You'd hope mental illness would skip a generation, that your kid wouldn't be saddled with this heavy burden.
It's also difficult because I've been through so much heartbreak in my life. My first pregnancy ended in miscarriage, and so we were relieved to have a successful pregnancy.
Then she turned out to be on the autism spectrum.
It felt like a punishment. It felt like too much for one person to bear.
And yet my child has so much more of a foundation than my husband and I did. Security, confidence, knowing she's loved. She has no anxiety about acceptance and performance. That's a huge relief.
Also, when she's upset, we have the ability to be gentle and understanding. Instead of saying, "Snap out of it!" or "There's nothing to be afraid of," I can tell her I understand, and tell her what helped me when I've felt the same way.
Both my husband and I have a wealth of experience about healing, also. We can tell her that things won't be so scary when she gets older.
Being able to give that gift to our daughter has been really special.
So how do we set up a new kind of paradigm for our kids, especially when we're coming from backgrounds that didn't give us many tools to parent well?
We committed to pursue healing from God for our own hurts and brokenness. We wanted to give our daughter as much of a whole person as we could, a whole marriage, a whole family.
The healing we sought wasn't just for us, not just for a perfect, harmonious life. It was for a purpose.
Tell me about how writing and creativity affect your mental health.
Not long ago, I came across a poem I wrote as a ten-year-old. It was only four lines, but I could feel the incredible depth of sadness that was in me even at that age. And it was just a short poem about leaves.
The poem was able to show part of me that I couldn't express to anybody at the time.
Writing reveals truth to me, and helps me seek truth. It reveals my need, and helps me to articulate that need.
You live in community in Chicago with the Jesus People. I could imagine being SEEN in community would be terribly hard, and yet terribly healing. What fruit comes out of living cheek-by-jowl with other believers?
I heard about the Jesus People when I was 17, when through a band I liked, I came across Jesus People's magazine, Cornerstone. It was amazing, beautiful, incredibly written magazine that talked about their community life.
I'd moved a lot as a kid. The community they described was a bunch of misfits that fit together. That called to me.
Two years later, I was in a really dark place. I was angry, confused by the church, mad at God. I had gotten myself to a point where if I didn't do something soon, I'd either take bad risks, or I'd take my life.
I was desperate to propel myself out of that unhealthy orbit.
I knew I needed a family. I needed a place where I'd be known. And I thought of the Jesus People. I wanted so badly to be a part of that community. I thought, If I could be part of that, then I might be able to be a Christian.
On the train ride to Chicago, I told God, "If you don't meet me here, I won't ever come back to you."
And in return, I promised him that I would answer every question people asked me with utter honesty. I kept my end, and he kept mine.
It gave me such peace to be there. We all knew where everyone else had come from: drugs, prison, prostitution, single motherhood, addictions. We were all still loved. That was the huge missing thing of my life: the knowledge that I could be a complete mess, and I would still be loved.
Being in community means you know each others' flesh and their gifts. It's a good trade off. It reveals your truest self. Your weaknesses are amplified, but forgiveness is also amplified.
Many of us here have struggles with mental health issues. In fact, because of the things we've experienced, we're even more gifted for ministry. The thing I was most ashamed of in my life was what God would use over and over to comfort people.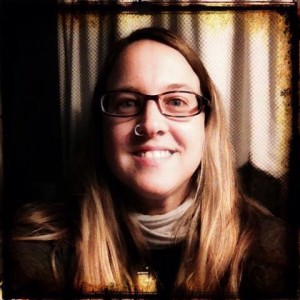 Tammy Perlmutter writes about unabridged life, fragmented faith, and investing in the mess at her blog Raggle-Taggle. She founded The Mudroom to make room in the mess and create a space for people to be heard. Tammy guest posts a bit, writes flash memoir, personal essay, and poetry, leads writing groups, and preaches on occasion. She is also an advocate for women, an alum of the Voices and Faces Project testimonial writing workshop, The Stories We Tell, for survivors of sexual assault, abuse, and trafficking, as well as the Social Media Director for Threads of Compassion, an organization offering comfort to recent victims. She will have an essay included in the book Soul Bare: Raw Reflections on Human Redemption, hopefully being published by someone, somewhere, in 2015.
Image credit: Alex Wong