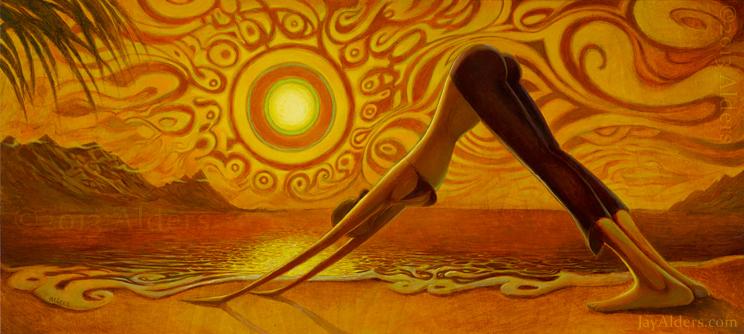 My first prenatal yoga class, I tried to pretend the picture didn't bother me.
It was huge—at least five feet tall, framed imposingly, colored in bright pinks and blues as if the figure had posed on the beach at sunset.
She was a Hindu goddess, I thought. I didn't know which, or have any idea what she represented. It was her multiple arms that tipped me off.
She gazed at me as I fetched a yoga mat from the back of the room and found a place behind some of the regulars.
I was at Soul of Yoga, a studio I'd selected because of its convenient proximity to my house. My midwife had recommended prenatal yoga; I figured the class I chose didn't matter much. As far as I knew, yoga was yoga was yoga: stretches and poses, and funny Sanskrit names.
Only now, looking at the picture on the wall, I wondered if I'd been naïve—and why I hadn't gone to the YMCA.
After all, I was a Christian, not a practicing Hindu. And where I come from, Encinitas, California, population sixty-thousand, one should probably know the difference.
Even for a California town, Encinitas is notably awash in Hindu—or is it New Age?—influence. An outpost of Paramahansa Yogananda's Self-Realization Fellowship (SRF) is smack dab in the middle of our downtown, with beautiful gardens overlooking the Pacific, an ashram, and temple. Yoga studios easily outnumber churches, and our most famous local beach is nicknamed Swami's…
I have my first feature article on the delightful site,  Christ and Pop Culture. You can get the issue–A Matter of Conscience–for two bucks, or subscribe to the magazine to get great content all year. Join me there!
Image credit: Alders