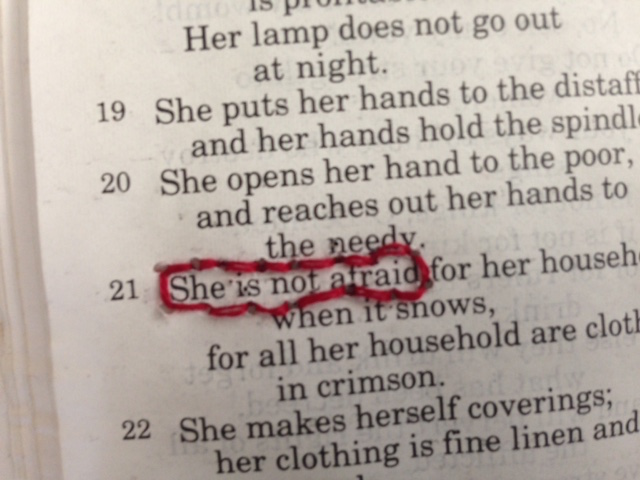 The prompt for this week's Word Made Art project is punch holes in the pages of your old Bible and weave something through them.
The first thing that occurred to me was sewing. I thought of the verse in Ecclesiastes about there being a time for everything–a time to tear and a time to mend.
I can't tell if I'm in a mending or tearing season. Those two opposites seem of the same piece the more I live them. As soon as I tear something, the work of mending starts, and the mending does not start without the tearing.
Faith can't exist without active, often painful engagement. It's not enough, sometimes, to make sure we spend enough time with God. At least for me, real faith requires questioning, desperation, and awful, vertiginous honesty. This rings true for any housekeeper sweating and straining after dirty windows–especially when a child is about to be born. You feel desperation to have things set right.
Back to my Bible. I flipped to Ecclesiastes, and saw, with a bit of a lightening-bolt moment, that it is right after Proverbs. Specifically, Proverbs 31, the ode to a wife of noble character.
I knew that lady did a lot of sewing and mending too. So holding my place in Ecclesiastes, I flipped to read her story.
There's cloth, and sewing and spinning, and thread and fiber and clothing and making beds. Fabric is all over the place.
So I decided to weave those two stories together.
I cut the page in Ecclesiastes, so just the one I wanted flapped free. Then I doubled over the rest of the page to reveal the Wife of Noble Character. I liked the juxtaposition.
In the Proverbs passage, the clothes are red and purple; I used red and purple thread to sew them together. I did some cross stitch and some daisy chains, and back stitches to outline the verses I liked.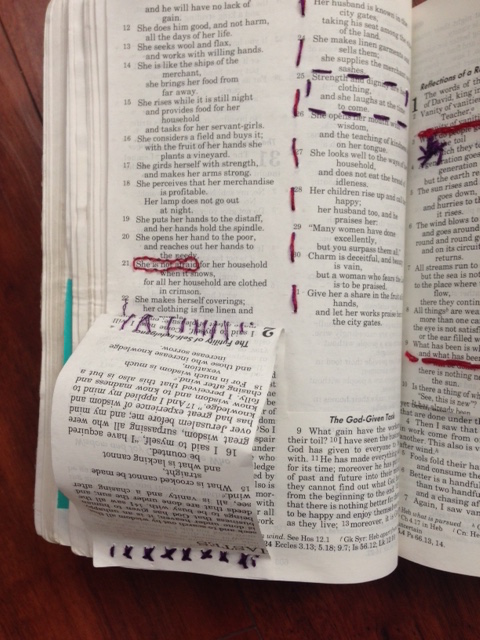 I underlined this verse in red: she is not afraid.
All that red and purple on the page reminded me of the Jenny Jones poem, which begins:
Warning
When I am an old woman I shall wear purple
With a red hat which doesn't go, and doesn't suit me.
And I shall spend my pension on brandy and summer gloves
And satin sandals, and say we've no money for butter.
I shall sit down on the pavement when I'm tired
And gobble up samples in shops and press alarm bells
And run my stick along the public railings
And make up for the sobriety of my youth.
I shall go out in my slippers in the rain
And pick flowers in other people's gardens
And learn to spit…
Let's be honest: the Proverbs 31 woman is pretty kick-ass. She's a small businesswoman; she is fearless and loving; she provides. I do not think she'd be afraid of the woman in Jenny Jones' poem. Perhaps they would not be kindred spirits, but I think they might recognize each other's straight spine. I wonder what they would say to each other if they drank brandy together out in the garden, their red hats on.
Now it's your turn! What project are YOU working on to transform the Bible? Share it with us!
On Twitter use the hashtag #wordmadeart.
On Facebook, post your pictures on my page.
Or, email them to me at heather.caliri@gmail.com, and I'll share them for you.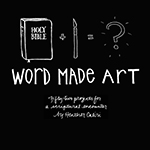 Want to join in the fun? Get my guidebook to the process here. It's a hand-drawn book of inspiration for this encounter, with 52 projects that could keep you creative all year. It also includes links to project how-tos, ideas, and other helpful things to spark fun. Download a copy today!