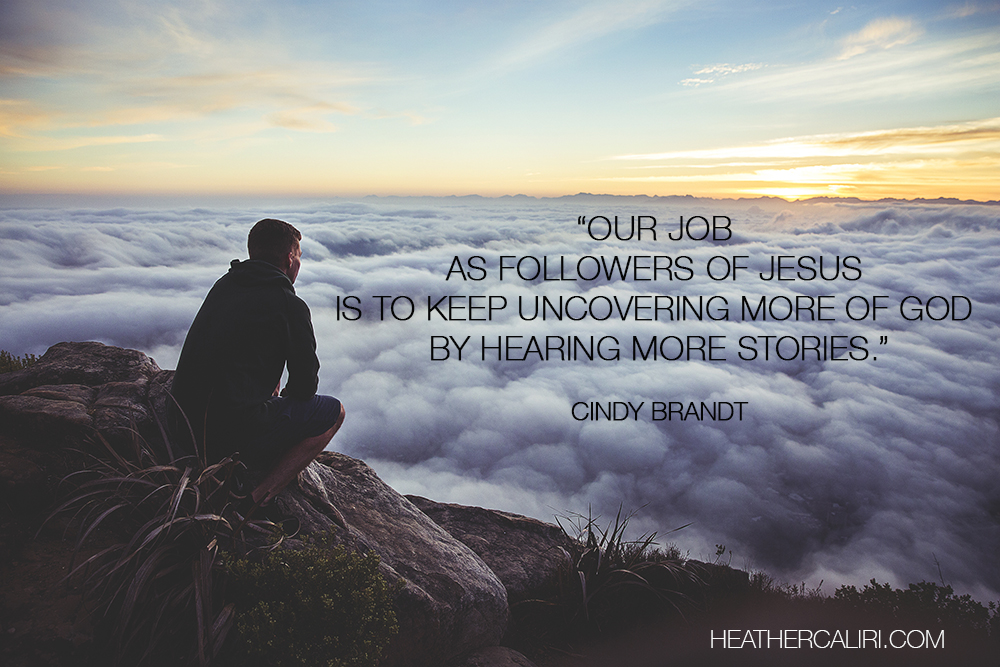 Cindy Brandt is another intrepid SheLoves writer, and when I heard that she'd put together a book about uncovering and lifting up the marginalized, I asked if we could chat about it here. She was kind enough to answer some questions about how the power of hospitality and honesty transforms our relationship to God–and each other.
Your book examines how the church can learn from and show intentional hospitality to all kinds of people, allowing those who are on the outside to come in. Can you share an instance of a time where you've felt outside church culture?
In the introduction of my book I tell the story of going to an American church during the Fourth of July. The way nationalism is wedded with Christian faith in America is at best intriguing, and at worst alienating for anyone who does not tie their identity to being a patriot.
I also feel alienated whenever I hold an opinion that is contrary to what the majority of Christians believe. One recent example is the story of Brittany Maynard, who advocated for Death with Dignity laws. I agreed with her, but the Christian community overwhelmingly spoke up against it.
Have you experienced the power of hospitality to break down walls and build the sacred community?
Yes, I certainly have. The magic shows up when a fellow Christian brother or sister makes me feel safe enough to express ideas which may be contrary to their convictions, and yet they still extend relationship.
To go back to my previous example with Brittany Maynard, I wrote a blog post venting my frustrations with how there doesn't seem to be space for Christians to disagree on this issue. My friend Marilyn spoke up in the comment section and also in private messages with me disagreeing with my stance. She felt very passionate about her convictions. But she did it in a way that didn't sever my relationship with her, engaging with my ideas without disrespecting my dignity. It was very special to me and one of many reasons why I cherish our friendship.
Why do you think the modern, American church struggles so much with hospitality?
I think the biggest barrier to true hospitality is the echo chamber we find ourselves in. When we interact with people who have similar ideas, lifestyles, political leanings, then we never need to learn how to listen well to another viewpoint.
Coming up against someone who thinks or believes differently can be a very uncomfortable process, so we avoid it, further insulating ourselves from those different from us.
In my book, I say hearing stories from the margins works like a muscle. It takes some resistance to strengthen it, and it's going to get uncomfortable before it becomes natural. But I really believe it is the way to be more faithful as followers of Jesus.
You spoke about how you've come to see doubt as a friend. How has it been a friend to you? How does doubt affect your connection to God?
Yes, I am very grateful for my doubt, because the process of questioning and deconstructing and wrestling allows whatever faith I have to truly be genuine.
To me, faith is not a doctrinal checklist where we tick all the boxes. It is a dynamic relationship with seasons of sunshine and rain, times when God feels present and others where God seems far away.
Doubt reminds me I am human, and the relationship I have with God is organic, open to scrutiny and change.
I really identified with your call to confront, live out, and be open to sadness in the church. Can you think of a time when expressing sadness—or hearing someone else do so—has built up your faith?
I am very skeptical of people who never express any negative emotions, or people who always follow up with some positive statement, like, "But God is still good." I feel like they are just repressing [emotion] in an unhealthy way.
Life is HARD! We all confront pain and loss. Even if you aren't currently facing it in your personal life, you only need to look to your neighbor or read the news to find deep brokenness.
So I believe it is important for people of faith to figure out how we can allow ourselves to express authentic grief and lament within our communities because it is precisely in those moments of darkness that we need connection the most.
Your book uncovers and lifts up those who are seen as weak or marginal in the church. What changes in the church when we celebrate, pay attention to, or amplify the voices of the weak or marginalized?
I think it reveals more of God to us. We all possess a partial image of God, and it is only in community, hearing other people's stories that we can complete a fuller picture of who God is. When marginalized voices are, by definition, unheard and unseen for an extended time, we [think] that the limited view we have of God is all of who God is. Our job as followers of Jesus is to keep uncovering more of God by hearing more stories.
What would you say to readers who wonder how they could possibly learn from the marginalized in their daily life? How do you do this, and how might ordinary, timid people begin to do the same?
If you are reading this blog then it means you read blogs and books and words. Start there. Read memoirs, biographies, history, fiction, and poems. Read anything that exposes you to a world beyond your own. It is the basic building block for empathy, learning to connect with someone else's perspective. This will go a long way to posture yourself with humility when encountering the people in your life you can learn from.
If you're unsure where to begin, might I suggest Outside In? 😉
Everyone, do! It's an inspiring, quick read. And you can get it for FREE when you subscribe to Cindy's newsletter here.
Image credit: Joshua Earle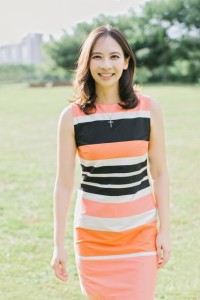 Cindy Brandt writes about faith in the irreverent, miracles in the ordinary, and beauty in the margins. She is more interested in being evangelized than evangelizing, a social justice Christian, and a feminist. She blogs at cindywords.com, tapping words out from the 33rd floor of a high rise in Taiwan, where she lives with her husband, two children, and a miniature Yorkie.