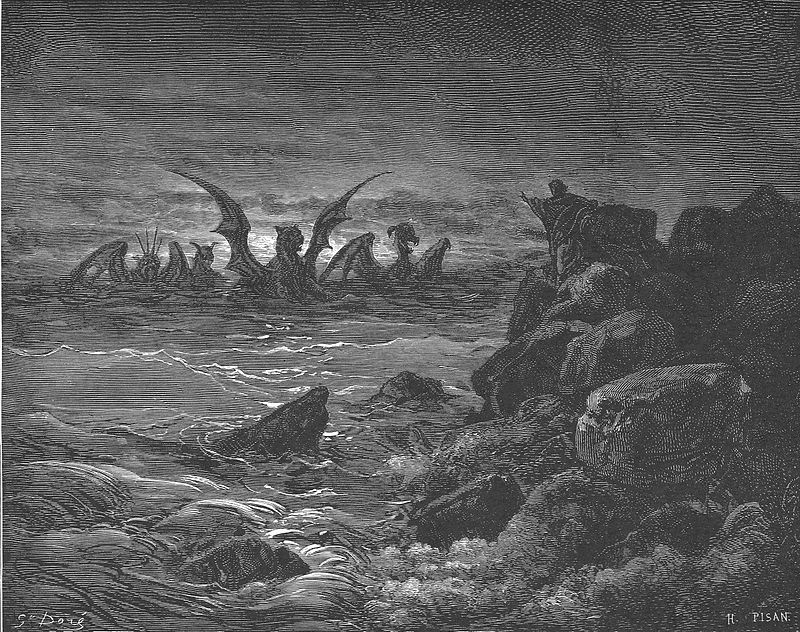 This week's project from my ebook, The Word Made Art is to write out a memory of the Bible and paste it in.
To understand my story of the Bible, you need to know a few facts about my childhood:
My older brother and sister spent much of their childhoods not living with us, but at a Christian children's home called Sunshine Acres. The theology at the Acres was conservative, approaching fundamentalist.
Our family attended a mainline Presbyterian church before my brother and sister were sent away. At seven, an evangelical neighbor kid told me that being a Presbyterian was not the same as being a Christian.
We abruptly stopped going to church in the midst of some of the worst years of my family's history. I felt ashamed and afraid about losing God.
I also grew up feeling incredibly guilty about getting a "normal" childhood with our parents while my brother and sister were in a home. It was a little bit like thinking I was the pampered stepsister in Cinderella and waiting for the birds to come pluck out my eyes.
I longed to know how to become a Christian. I was sure if I could just figure out the secret, my shame would go away, and I'd also connect to my siblings, especially my sister, who committed her life to Christ not long after she arrived at the Acres.
It was a fun mix of desperation, shame, guilt, bewilderment, yearning and theological confusion.
Here's my memory of the Bible:
"I'm eleven. I find my dad's Bible and take it to my bedroom. I want to read God's Word, but have no one to explain it to me, and no Sunday school to learn from. I'm on my own.
In the table of contents, I find a book marked Daniel. Remembering the flannel-graph stories from Sunday school years before, I decide to read it, and then hopefully branch out to reading the whole Bible.
At first the story is as expected. A fiery furnace, a den of lions.
Then the stories change to prophecies: monsters and destruction and death and the end of the world. It's like the  horror stories I refuse to watch. I read, more and more afraid, wondering what kind of book the Bible is.
Finally, I give up and close it.
Once again, I'm shut out from faith. I have no idea how to get God to take me in."
I found a picture of the four beasts from the seventh chapter of Daniel, and decide to put my memory on a curved piece of paper that will unfold from that part of the Bible: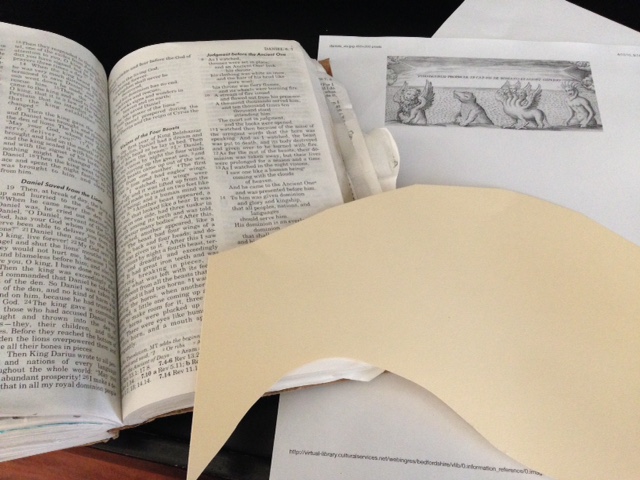 I write out the verse that makes me shiver from Daniel 7–God speaking to the four beasts: "Arise, devour many bodies!"
A side note: the exclamation point in this verse kind of messes with my head.
I write out the memory and score the paper so it will zig-zag shut inside the pages.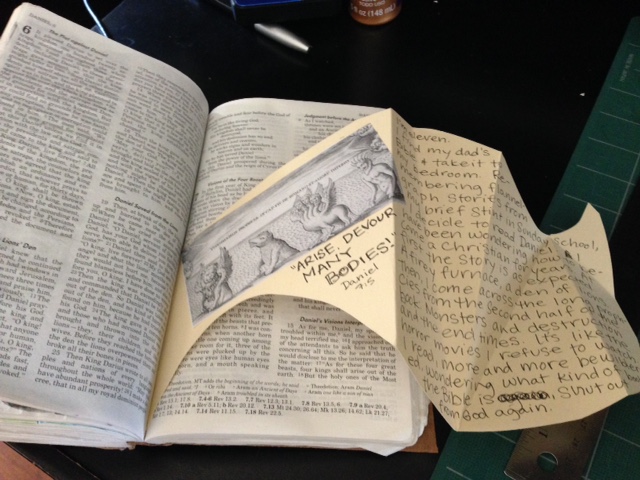 Even today, the prophetic books make me nervous. For a long time, I read them lumping myself with "Babylon" the "whore", and anyone on the losing side of Armageddon.
I was sure that the beasts were coming for me.
Even knowing better now, even after Walter Brueggemann exploded my way of seeing Isaiah and Jeremiah (Thanks, Kelley), even with better theology, these stories of destruction still make me flinch.
I don't think it's going to stay this way forever, though. The more I'm going back to my past and uprooting the shame that's kept me trapped for so long, the more I can let the Bible be what it is, without taking it personally.
Now it's your turn. What project are YOU working on to transform the Bible? Share it with us!
On Twitter use the hashtag #wordmadeart.
On Facebook, post your pictures on my page.
Or, email them to me at heather.caliri@gmail.com, and I'll share them for you.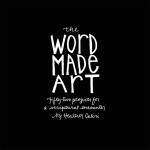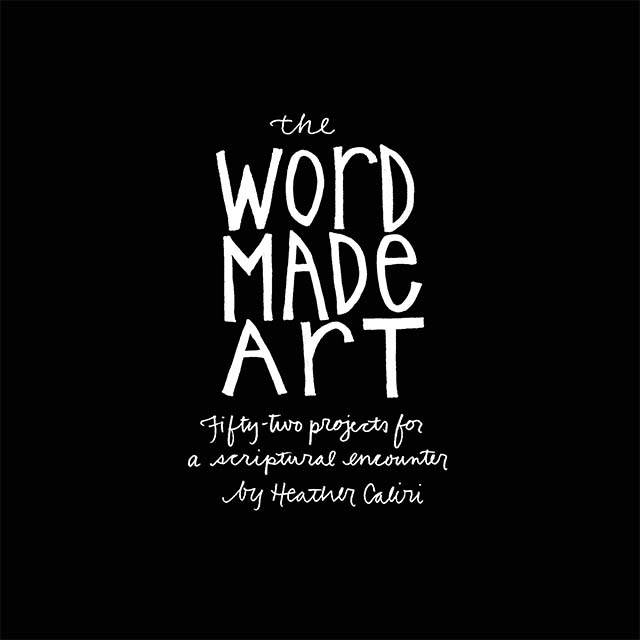 Want to join in the fun? Get my guidebook to the process here. It's a hand-drawn book of inspiration for this encounter, with 52 projects that could keep you creative all year. It also includes links to project how-tos, ideas, and other helpful things to spark fun. Download a copy today!
Want to see previous projects? Here's the whole series.
Image credit: Wikipedia (public domain)