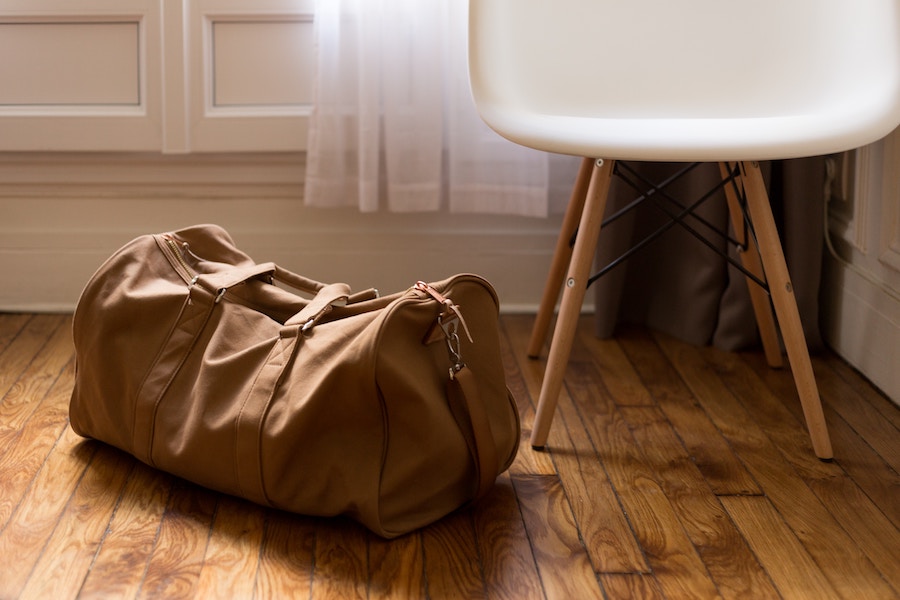 When my sister would come home from the children's home on visits, the first thing we would do was show each other our stuff. I watch my children doing this with friends: a sort of inventory-as-friendship. After all, until you know what's exciting and fresh and new, how can you decide what to play?
So I would pull her into my bedroom and open up the walk-in closet and pull out the clothes or stuffed animals I'd gotten since I'd seen her last visit. Our parents were generally frugal despite relative wealth; rarely did I have better swag than my friends at school. But kids collect things, and we only saw each other three times a year, so I always had something to show Katie.
And then we'd go to her room, her suitcase. I'd notice a few things. First, she and her things had a different scent than my surroundings. Not bad, just different. The scent wouldn't wear off until the very end of the visit, so that the entire time she was with us her difference was palpable.
And I'd notice her bag, which was inevitably different than the last one she'd had. I'd note this, wondering, without asking, where she'd gotten it.
Bag unzipped, Katie would pull out clothes and shoes and a stuffed animal or two that she'd brought along.
I would recognize some of the things. A husky dog stuffed animal she'd had since forever, a sweatshirt our parents had bought her for Christmas. But the bulk of the stuff was foreign. Not new, but strange. They always looked like she'd had them for a while, even if I'd never seen them before. Even the bags, new to me, looked old.
I would finger one thing or another and ask, finally, "Where'd you get this?"
"It came in," she'd say.
I'd nod, because that was always the response. Perhaps I imagined sweatshirts or duffel bags marching into the girls' dorms at the Acres like the lizards or scorpions that sometimes paid unwelcome visits in Arizona.
Not until we were a little older, when Katie brought home a plastic bag full of costume jewelry, did I ask more questions. She was going to smash the jewelry apart and make art with it, which I thought was about the coolest thing I had ever heard. But costume jewelry didn't have the same sort of purposefulness as sweatshirts or luggage. Where had she gotten it, and so much of it? Was it expensive?
"It came in," she said, as always.
"What does that mean?" I asked.
She lifted up the bag, pulling out a heavy chain that looked like gold until you got close. "People donate stuff to the children's home," she said. "So we go to the building where they keep all of it and we can choose what we want if we need something."
I considered this. Part of me was envious. People in our neighborhood didn't really do garage sales much, but I like rummaging and repurposing, and kids always have a magpie fascination with shiny things.
But there was a little click inside my heart that made me wince. All of my sister's things, these things I wondered about that seemed like such largesse, had come from other people's charity.
That was why all of her new stuff always looked old.
When I needed shoes, or a new coat or a sweatshirt that hadn't come for Christmas, I asked our parents, or more often, they simply appeared in time for me to use them, sparkling new with the tags still on.
If my sister needed something when she wasn't home for visits, she got other people's castoffs.
I am not sure if it was before or after that moment that I stopped showing her what I had gotten since I'd last seen her. Somehow, it seemed like a bad place to begin our visits.
 ***
I'm uncomfortable talking about money with you. Even to bring it up makes me feel entitled.
But here we go: I live in an expensive neighborhood, my husband makes more than the average American's salary, and I can stay home and write without worrying about making ends meet.
That is crazy to me. And it makes me feel ashamed.
Many of the things that help my anxiety—homeschooling, not working outside the home, not commuting, having lots of family time because of my husband's work-for-himself schedule—I can do without a second thought because of an insane amount of good fortune and privilege that makes me ache with its unfairness.
I try to steward our money well. We tithe, we only have one car, we try to be generous to friends in need, and I buy nearly all of my clothes used. I keep things often absurdly simple around the house. Even to spend money on needed furniture usually feels like an extravagance to me. I'm frugal.
And though I like being frugal, I don't like that having enough money—having more than enough—makes me feel ashamed.
I don't think healthy guilt about wealth inequality is a bad thing. There's a real need for all of us to question whether the American dream is all that it's cracked up to be, and whether our largesse has a global and psychic cost.
But shame? Does it really help wealth inequality to not talk about the reality of it because it makes me feel ill?
I don't think shame is God's best for me. I worry about shame's consequences. Am I stingy with myself and with others? Am I teaching my children to view the world as a place of scarce generosity?
In this, as in so many areas of my life, am I trying to atone for my shame instead of inviting Jesus to do it for me? Am I overcompensating instead of allowing God to organically transform my attitude towards wealth?
It's hard for me to not create rigid barriers around spending. I find myself saying no to beautiful, necessary things because they cost something. Even simple purchases make me anxious.
Sometimes, I suspect, I do not fully inhabit my life because it feels like too much of a blessing.
I want to live humbly right where I am, with a generous heart—towards others, yes, but also towards myself. I want to release my money, and my attitude about it to God, with open, willing hands. And I want to take up space in the abundance God has given me, so I can say with true gratitude, I am very blessed.
Image credit: Photo by Erol Ahmed on Unsplash