I turned a Bible page into a flower.
It's a little unwieldy and will get crushed when I close my Bible. It's got sticky parts from the tape and I kind of made a favorite page of the Bible unreadable but–
I kinda like it.
The prompt for the #wordmadeart project was to make a page of the Bible bigger. I decided to us Romans 8, especially "For I am convinced that neither death nor life, neither angels nor demons, neither the present nor the future, nor any powers, neither height nor depth, nor anything else in all creation, will be able to separate us from the love of God that is in Christ Jesus our Lord."
Yes.
That verse needs to be BIG. Billboard size.
I decided to add another kind of paper to the page to make the whole thing bigger. I like spiral shapes, so I decided to cut  two pieces of paper into spirals and piece them together like a quilt.
Hmmm. Let's just say that turned out to be a little unwieldy.
Here are the two spirals, side by side.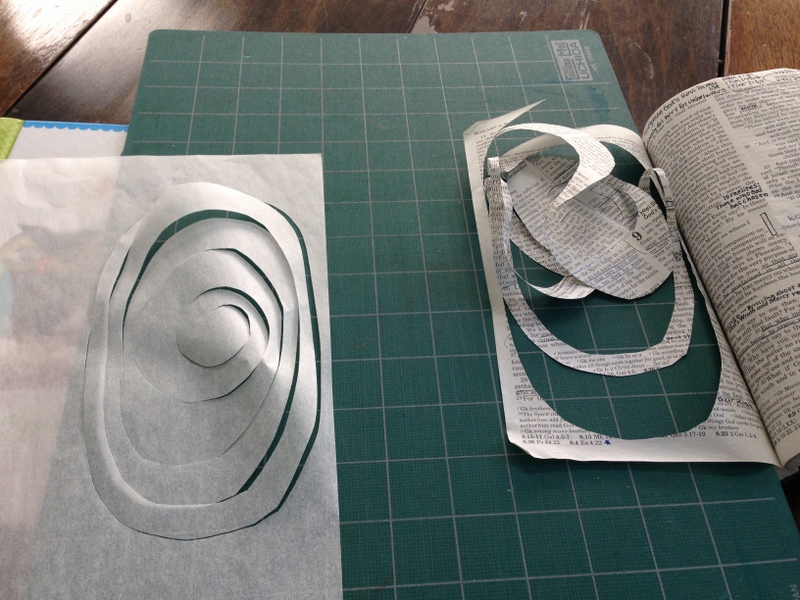 Notice how the Bible page is already tangled.
The paper on the right is tracing paper. I liked that it was semi-transparent, because so much of what I'm hoping to do with the Bible is see through it in new ways, see past old habits or interpretations, and be content and feel safe with seeing as in a mirror darkly, because that's as good as it gets this side of Paradise.
So I started piecing the two spirals together, taping as I went. It was very unscientific. I kind of crumpled and folded the pieces that weren't fitting together well, and kept going until I reached the end.
The page, to my surprise, stayed about the same width and length, but it is now deep. Or tall.
It springs up off the page and twists and turns.
Like this page, i want my reading of the Bible to be deep, and transparent. I want it to twist and turn, and offer surprises. I want it to be made of what the Bible is made of–the familiar and unexpected. And I know that each page could unexpectedly blossom in my heart, for no other reason than God is moving.
I saw a gardenia later that day on my walk home. I wasn't thinking of my spiraling Bible page at the time, but in my camera roll they were side-by-side.
Yes, I thought. Yes, that's how this page got bigger. It unfurled.
How is the Bible flowering for you today?
Now it's your turn! What project are YOU working on to transform the Bible? Share it with us!
On Twitter use the hashtag #wordmadeart.
On Facebook, post your pictures on my page.
Or, email them to me at heather.caliri@gmail.com, and I'll share them for you.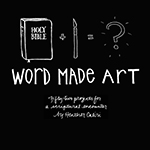 Want to join in the fun? Get my guidebook to the process here. It's a hand-drawn book of inspiration for this encounter, with 52 projects that could keep you creative all year. It also includes links to project how-tos, ideas, and other helpful things to spark fun. Download a copy today!