(Trigger warning: rape and abuse)
In my Bible-turned-art-installation, I decided to draw a map of the church I (sporadically) attend, the same one I've been attending for twenty-three years. I made my first public confession of faith there. I married there, baptized my kids there. I led worship and served as a small group leader. Most of the staff knows me by name, and many have invited me into their houses.
It's my family.
And it's also the place where my best friend got raped in high school, repeatedly, over the course of two years. While a high-level leader (who is no longer there) helped cover it up. It's where I—and my closest friends–experienced three years of spiritual abuse at the hands of my friend's abuser.
I never talked to anyone there about my experience frankly until last summer. No one ever asked.
The story of this abuse is complicated because the abuser wasn't prosecuted. He is still in ministry because we couldn't prove the story. My friend was only able to disclose what happened years after the rape took place, and abuse is hard to prove even in the heat of it happening.
So this left all of us—me, my friend, other members of the church, the church's leadership–in a really awful position.
We knew this thing happened. And we knew there would be no justice, at least not with the current set of facts.
This story would be very different if the abuser had been prosecuted. As it was, the church didn't feel free to disclose what happened openly. They called in experts on sexual abuse, and were advised against wide disclosure.
So they reached out to my friend, and tried to help her heal as best as they could. She speaks gratefully of what they did for her.  And staff talked about how to prevent it from happening again, and continues to do so today, but not the wider congregation.
So all the rest of us affected by this abuse? We didn't get much support from the church. Because the story wasn't openly talked about, I didn't really know how to say my story out loud until almost twenty years later.
This hurts, even now. It hurts to feel like what happened was never talked about, is not known by the entire congregation, no matter whether they were there back then. It hurts. And I don't know how much I should blame my church, and how much is simply reality.
Recently, I met with the senior pastor about all of this, twice. Both times, he was gracious, and asked good open-ended questions, and was achingly transparent and humble with me.
And I was filled, both times, by a sense of helplessness. How is this history to be made right? How is my attitude towards the church–which is filled with hurt, and bitterness (and not just from this painful incident) to be transformed?
I wish that this pastor, any pastor, had the power to fix me, but he doesn't.
I wish I had the power to fix me. Yeah, that isn't happening either.
But I do think, I know, that even though this wound is still open for me, even though I feel tentative and cynical about church, that Jesus can heal it. I do feel better having talked to staff, hard as it was to do. I feel better even though they didn't necessarily give me the answers I was hoping for. I feel better because they were respectful, and heard me, shared in my grief, and gave me permission to feel angry, or any way I wanted.
So this post is heavily edited, because I drew the map in between the two meetings with my pastor. I was waiting to hear if they were going to disclose more to the congregation about this abuse, and waiting was killing me, and the silence was killing me. For me, silence is deathly.
So when I drew my map, I was angry and in the heat of grief.
The map was all about the ghostly buildings on our campus.
Our church did a renovation of the campus not that long ago, and the buildings where my friend was hurt–where I was hurt–are gone. My pastor, even with his grief and anger about what happened, is glad those buildings are gone.
Here's my map: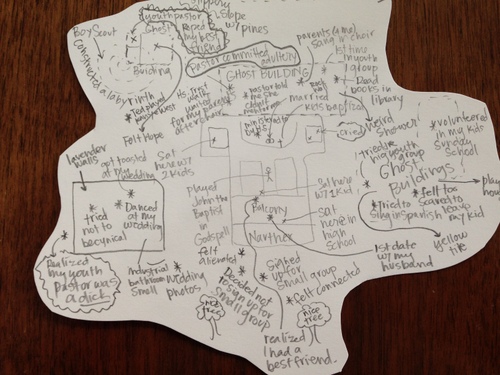 And I wish I could completely celebrate their absence too, but—
Their silence frightens me.
I wish I had felt like this story was talked about in our church for twenty years. I wish I had felt an invitation to speak these memories out loud, and to participate in healing. I wish I had. I love the people in charge of our church, and I believe they did their best in an awful situation, but I still grieve that no one came alongside me back when I was suffering the most. It is very much water under the bridge. But I wish it anyway.
And even though the experts said otherwise, if it were up to me, I would tell everybody, now, and in a year, and all the time. Whether or not it was reasonable. I want all the parents putting their kids into childcare to know what's possible, even at a 'good church'. I want kids to know what wolves in sheep's clothing look like. I want there to be continuing oversight and community discussions about how to prevent this shit from happening again, even after everyone who directly knows about it is gone. I want everyone to know how to recognize spiritual abuse and sexual abuse, and for our children to be taught just as much about consent as they are about virginity. Not just the leaders. Everybody.
Some of these things are happening, or have happened, but I wasn't part of them, perhaps. It's a big enough church that it's just hard for one member to know all of what's going down.
I want to know in my bones that when everyone sees the empty spaces where the old buildings were, they'll know what happened so it doesn't happen again.
It is hard to trust, even with kind, loving leaders, that it won't.
I placed the map in 1 Corinthians, and covered up a whole page with black paint except for this verse:
All that said, I feel differently than I did when I first wrote this post. Much as I would like complete and full disclosure, I respect that my leaders tried to get wise counsel and follow it to be good stewards of the congregation. I trust them when they tell me that. It's actually astonishing to know I can trust them.
The bottom line? When justice isn't forthcoming, it hinders healing. It's hard to get rid of ghosts and hurt when you are still standing on shaky ground.
But disclosure or not, what happened to my friend in our church did not just happen to her. When one member of the body of Christ is violated, the entire church is damaged. Whether they know the entire story or not.
all suffer together.
I hope to see my anger and bitterness towards the church and The Church transformed by Jesus' resurrection power. The good news is that I wouldn't draw the same map I drew a few months ago, before I spoke to my pastor again. I'm glad that I feel differently, because to me that's a sign of healing.
That really is a miracle, isn't it? Even if it's a quiet, in-process miracle.
Speaking our words aloud, asking hard questions and get respectful answers does help, even if they weren't the answers you were looking for.