Can I make a really weird confession to you?
I love books. And sometimes I feel anxiety about them.
I was an English major, and I'm a writer.
My love of books is a huge part of why I started homeschooling. We check out dozens of books at a time from the library. We are awash in books.
So no one was more surprised to me to realize that they caused me shame.
If I got too few books, I felt guilty for not keeping my kids in reading material.
If I got too many, I worried that we didn't read everything.
I fretted that I wasn't getting the right books.
When my kids weren't interested in my selections, I lambasted myself for choosing poorly.
When they loved them, and wanted to read them AGAIN AND AGAIN AND AGAIN I felt selfish for getting bored.
When I saw other homeschool bloggers wax poetic about their favorite authors, and blithely recommend new titles that I'd never heard of before, and suggest season-specific ideas, and be conversant in trends in children's literature, I hated my sense of incompetence.
Everyone else knows what they're doing, I thought.
Everyone else does a better job at this…
I am sharing an unlikely source of anxiety for me over at Simple Homeschool today. This is a post about homeschooling, sure, but really, it's about all the weird ways we can drive ourselves crazy–and what to do about it. Won't you join me over there?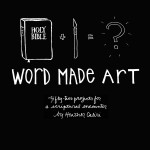 Looking for an anxiety-free way to encounter the Bible? Check out my e-book, The Word Made Art for a whimsical, unexpected, and creative way to interact with God's Word. Find out more here.
Image credit: Bravo_Zulu_ with modifications from Simple Homeschool