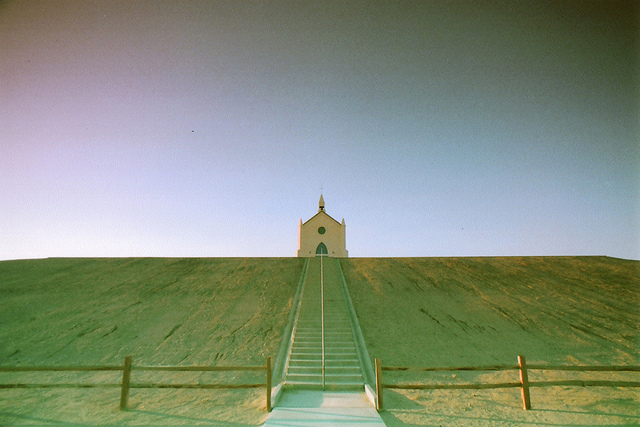 This is the first in a series of three posts about boundary-keeping in the church. Namely, how do we decide who is really "Christian", and how do those dividing lines make people feel? I recognize that boundaries, theology, and creeds are essential for deciding what we believe, and who we are. But the practice of drawing lines is fraught. I've been on the wrong side—or worried about being on the wrong side—several times in my life. I think there's a way to affirm our beliefs without making others feel like crap. These posts are my attempt to do that.
When I was six or seven, I was at my friend Kirsten's house. Our moms were talking, and she and I were going around and around one of the end tables, bored.
"Are you a Christian?" she asked me.
Kirsten was one of my closest friends in the neighborhood, but it was more a marriage of convenience than true love. Most of the time we played, one of us would leave in a huff, toys in hand, yelling, "I'm not going to play with you any more!"
Then we'd do it all over again the next day.
I squeezed between the wall and the table, confident in my answer. "Yeah. I'm a Presbyterian."
This was true. We attended the local PCUSA outpost every week, whose sanctuary was like a giant wedge against the Phoenix sky. My parents sang in the choir. I navigated the warren of childcare rooms confidently. I'd even been in the pastor's office.
I liked the sound of the word, "Presbyterian", and was pretty sure that its polysyllabic heft would shut Kirsten up. After all, she was a year younger than me.
But my confidence evaporated when I saw her face. She smiled, a knowing smile. "That's not the same thing," she said.
I probably argued with her, but I had no way to defend myself. How could I when her words didn't compute? We twisted around and around the table, while I tried to make sense of them.
What did she mean that "Christian" and "Presbyterian" weren't the same thing?
It was as if someone had asked me which family I belonged to. When I answered with confidence, she shook her head, smiling, and told me I was wrong.
****
Can I tell you what used to scare me?
My Christian friends trying to evangelize me.
I used to be afraid I'd go too far in my theology. I'd ask too many questions, or read too many of the wrong books, or attend the wrong church services. And people would start sharing the Four Spiritual Laws with me, just like I used to do with "unbelievers" in college.
I would be out.
Oh, let's get real. That possibility still scares me. I just try not to let it strangle me anymore.
 ****
 Not long after Kirsten told me I wasn't a Christian, after my family got blown apart, after we stopped going to church, thus confirming Kirsten's knowing smile, I used to crawl out of bed after lights out to search for a book.
It was one of the tallest on my bookshelf. I'd pull it down and take it to the shaft of light that fell into my bedroom.
The Children's Book of Prayers.
It's about what you'd expect: Technicolor, soft-focus pictures of children snuggled on parents' laps. The light was golden, everyone was smiling; surely there were pictures of fuzzy sheep on kelly-green hillsides.
I'd find the Lord's Prayer, because I knew that one was official. Sometimes I'd read other ones aloud, too, but I regarded them warily. I had a suspicion that most of the prayers in the book were like plastic reproductions of real tools: fancy and largely useless.
Like the word Presbyterian.
As I read, I tried to ignore the fact that no one in the book looked like me. Sure, they were blonde and blue-eyed, but none of them were alone in the dark. None of them looked desperate. None of them looked cynical or afraid. Prayer had clearly solved all their problems.
But could prayer solve mine?
Part of my struggle, there in my dark room, was that I had no idea what connecting to God meant. I thought prayers were like magic spells. I thought, vaguely, that done correctly, the formula would bring sparkling instant results.
But part of my problem was that knowing smile on Kirsten's face.
I didn't really believe I could say the prayers right. I thought I was out in the cold.
I got out the book anyway, because I desperately wanted someone to let me in. I was begging God for a rope in the dark. I despaired of Him hearing me.
I did not know that Jesus loves desperate prayers.
I did not know He was already with me.
I didn't know because another Christian told me He wasn't.
It's only recently that I stopped believing her.
 ****
Why do we do this to one another? Why do we slam the door to heaven shut in each other's faces? Why are we so intent on making the citizenship rules clear, while running the outsiders out of town on a rail? Why are we so interested in boundary keeping?
Look, Kirsten was just repeating things she'd heard. But this is evangelicalism, right? This is part of Christian culture. Do we ever count its cost? Do you understand the despair that culture produced in me as a child?
This is why I am trying to learn not to be afraid of other Christians evangelizing me: because I want to come alongside that girl in the dark, and tell her no one on earth has the authority to keep her away from Jesus. I want to kneel beside her and tell her that even when her theology was lousy, Jesus heard her prayer.
I am there, beside her, listening to Jesus say that we are loved, that we are heard, that we are safe, that we don't need to have a perfect belief checklist to be acceptable to the Great King Himself.
Image credit: J Jakobson