I got tears in my eyes in the first chapter of Jen Pollock Michel's book when she asked, "Is it true that the hardest, least desirable choice is the most obviously holy? Is it true that personal desire must never be trusted?"
I'm so excited to introduce you to Jen, her book, and the language of desire she's trying to learn.
When did you start thinking about desire and whether it was helpful for Christians to pay attention to it?
Our family had just moved to Toronto for a job opportunity for my husband, and had been there four or five months. We were on a walk, circling the block, our twins riding Big Wheels.
We were arguing.
He asked me, "Why are you so frustrated? Why are you angry at me?"
I said, "I feel like my whole life is going to be about your desires, your ambitions. We just picked up our whole family and moved countries. I feel like I'm going to just follow you around."
He asked, "So what do you want to do? Because I don't want you to feel like you're just following me around. What do you want?"
And frankly put, when he asked me that question, I didn't know. I didn't know what I wanted.
Writing this book was a lot about me and my own curiosity. It was my search for a language of desire for myself.
You talk about ambition, and how women especially struggle to know what to do with our desire for influence, recognition, and success. How has writing and publishing this book changed your stance towards your own ambition?
When my publisher suggested that we put "ambition" in the subtitle of my book, I thought, "That's a bad word."
A friend told me she thought I was very ambitious, and I said, "No!"
But I'm starting to reconcile myself to that word. Even if ambition isn't about my own desire, it could be a calling.
A picture came to me about continuing to write: Elijah giving his cloak of authority to Elisha when he started ministry.
And I think ambition can be about laying claim to the influence that God has given me.
That's something happening to my heart. It's a step towards calling and confidence. God is giving me an ability to speak and use my voice. Ambition is my desire to do that well and faithfully.
How would you want your daughters to think of their ambitions and yearnings to be successful?
I'm really excited to give them the language that their desires are something to pay attention to. Each desire could be a seed that God is planting in their lives.
I don't think that just because they dream means they should go out and do it, but I do think a dream bears examining.
I am also starting to reconcile the responsibility I have now with a book to promote. I am not as available as I used to be for my kids. And I worry—have I taken something away from them?
But I think I'm giving them something, too. I am a woman who risked something, who believed that the nudges she felt were from the Holy Spirit, and not just from the Indian food I got last night. I'm showing them what it looks like to speak the gospel, no matter what situation you're in.
I've found, oddly, that paying attention to what I want is helpful because my desires are honest even if they're not good. How do you cultivate that internal honesty?
I think the book is very much about the pursuit of honest self-examiniation. I don't think we can know our own hearts fully. I think of the Boneoeffer quote: "The obscurity of our own heart."
So I think it's important to live in community. To have proactive disciplines like confession. That way you can share what you know about the depravity of your own heart and have people reflect back to you.
I also think it's important to live a life where you immerse yourself in the scriptures. Like Hebrews 4 says, scripture divides soul and spirit, joints and marrow. That's why we need a regular baptism in the Word of God, so God can shine a searchlight into the places we can't or refuse to see.
I also think we need to ask for the illumination of the Holy Spirit.
I've told people that if you don't know what you want, they should explore their resentments. That helps get to the root of your desires. If you feel like they are being obstructed, that creates resentment.
Whenever I feel bitterness about a situation, I have to ask my self what I really want, and why I'm holding that other person responsible for it.
There's no way to be discerning of your own heart in the still and quiet of your own room. You need other people around you.
What do you wish Christians knew about their desires? 
I wish people know that God means to redeem and reform their desires. Sure, God reforms behavior—we think new thoughts, learn right doctrine, and live into the moral code. But our desires, our humanness, is important too. It can be a great force for good in our lives.
The spiritual life is not meant to be lived with so much resistance and obligation. So what if "I probably should be reading my Bible" became, "I really want to read my Bible?"
Dorothy Sayers said, "Joylessness is the worst sin of a Christian." I don't know if I agree that it's the worst, but if we all lived with more joy, it would be a blessing for us, and we could become a greater blessing for the world.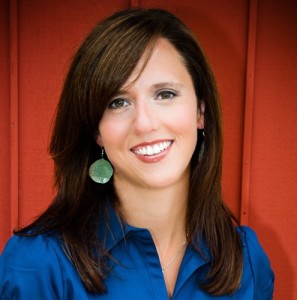 Jen Pollock Michel is a writer and speaker who lives with her husband and five children in Toronto. She is the author of Teach us to Want: Longing, Ambition and the Life of Faith, Christianity Today's 2015 Book of the Year (InterVarsity Press). Jen also writes regularly for Today in the Word, a devotional published by The Moody Bible Institute, and is a regular contributor for Christianity Today's popular Her.meneutics blog. Jen earned her BA in French from Wheaton College and her MA in Literature from Northwestern University. You can follow Jen on Twitter @jenpmichel or you can find her at jenpollockmichel.com.
Image credit: Rita M.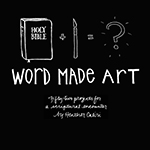 Do you want a completely different way of relating to God's Word? Check out The Word Made Art, a hand-drawn collection of 52 ideas to transform an old copy of the Bible with scissors, glitter glue, and creativity. Get a copy here.