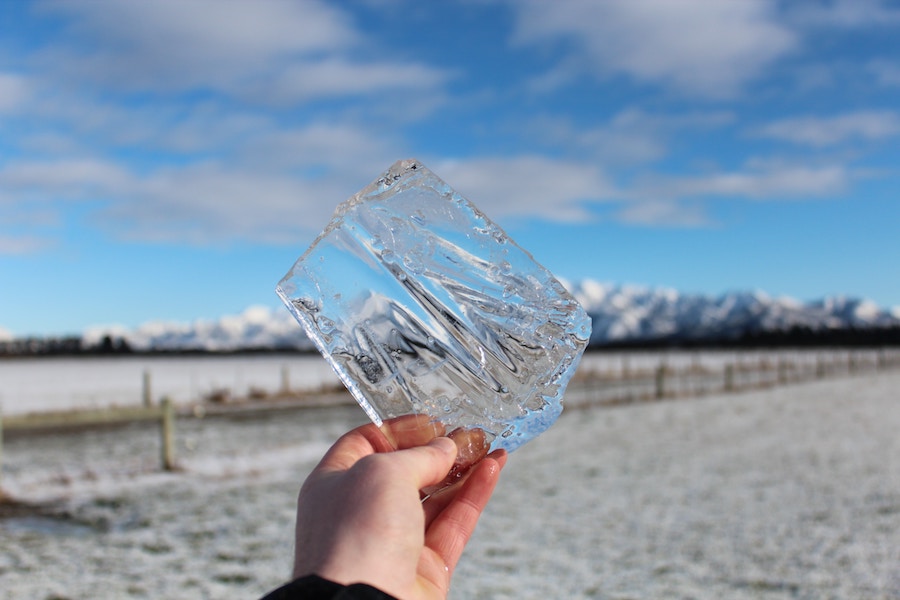 Note: Birth is a fraught topic. My story is just one story—you might not have kids, not ever experience labor. Still: all of us go through pain. And learning to witness it instead of fight it or numb it is a powerful, powerful practice.  
In my prenatal class, the instructor handed us all ice cubes and told us to breathe while we held it, and notice our hand hurting.
"Don't tense up or try to pretend it doesn't hurt," Konnie said. "Notice."
I held the cube, feeling the searing cold cut its way into my palm. We were supposed to hold it for two minutes, then hand it to our partner. When my husband's turn came, I placed the ice cube in his hand but still felt the deep numbness piercing mine.
"You can practice this with other things too," Konnie said. "If your nose starts itching, don't scratch it right away. Just notice it, and let the itchiness wash over you. Try to feel it more intensely, to internalize it, instead of trying to get rid of it. Sometimes, if you do that, the itch will go away."
That sounded like a lot of mumbo jumbo to me.
But the next time I got an itchy nose, I tried it. As homework.
I sunk down into the itchiness, taking it in instead of willing it away. The itch didn't disappear, but something about holding the discomfort intentionally and knowing it wouldn't kill me felt empowering, and strangely counter-cultural.
You would think that holding an ice cube or not itching your nose would have little to do with birth, but when I think about what helped me prepare for labor, I remember those silly exercises. I internalized the idea I could observe pain without being afraid of it or wishing it away. I thought about how much energy it takes to escape or ignore or fix things. I considered how in life we sometimes have to sit with agony until it's over.
I learned that doing nothing can be a powerful spiritual practice. Doing nothing can make space for something to be born.
When I think about how faith works in my life, I think of birth.
I am controlled by forces that have little to do with my intellect or my plans. I am turned and twisted and broken apart by an incredibly painful blessing.
It is a severe letting go. I hold the discomfort and waiting and emptiness in the palms of my hands. I accept the pain as normal and good and necessary.
The life of faith comes from nothing, accompanied by deep groans. People gather around me, holding my hands, giving me a sip of water, cleaning up my messes. Someone Beloved summons strength from within me that I never knew I had.
I finally understand that I was fearfully and wonderfully made, but not to my own specifications.
In faith, my job is holding the pain in my hands while God tears open my heart. Some kinds of violence are kind and loving. They bring new life.
Faith isn't pretty, no—it's terrible and lovely and painful and joyous. Even so, I do not have to be afraid.
Photo by Henry McIntosh on Unsplash