I've only walked one prayer labyrinth in my life, but it was a sweet experience. I loved pacing through the circles until I reached the center. I loved the patterns of the arcs and curves.
So I wanted to make a labyrinth for my own Bible.
I looked up instructions online. There are different styles, but I wanted to have one similar to the one I walked at a local Episcopalian church.
First off, I drew the thing. It's easier than it looks if you follow the instructions. I don't own a compass, so I took some nesting circular food containers and drew three concentric circles, then used a ruler to draw in a couple more rings in between the spaces. Not an exact science, but close enough.
Then I drew the vertical and horizontal lines that help form the other passageways, and erased doorways until it was complete.
I went over the whole thing with black ink.
I wanted my labyrinth to have actual walls. I didn't want it to only be a visual experience, with me keeping my finger in between the lines. No, I wanted to feel the boundaries on the pad of my finger, guiding me to the center.
I needed some Elmers!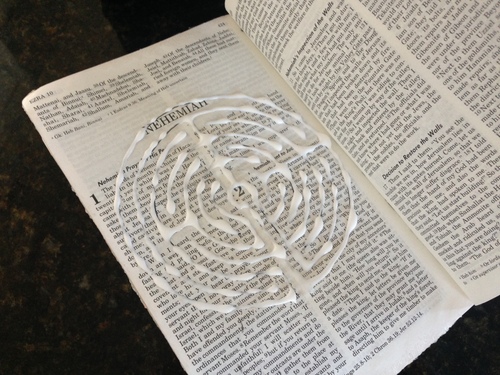 It was a little harder to keep the lines from melding into a giant puddle of glue than I'd hoped, but I persevered. A different kind of glue might not spread as much.
I clipped the pages open and left the labyrinth to dry overnight. When I woke up I had this: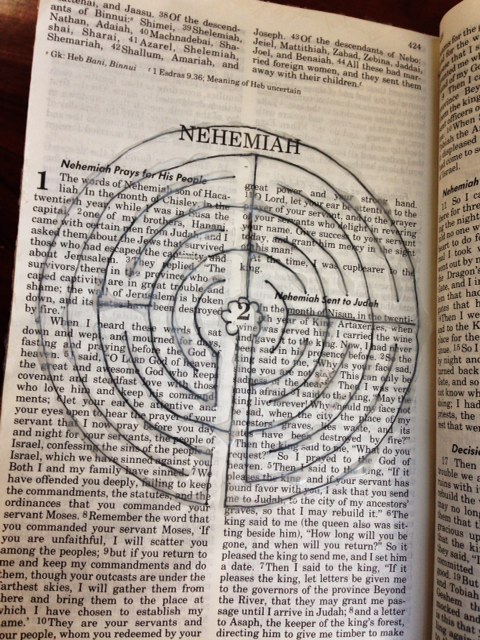 It feels awesome to run my fingers through the labyrinth–the dried glue serves as a tactile guide. I love that this maze is at the beginning of Nehemiah, where the walls of Israel are restored. I have fought against walls in my faith, but sometimes they are a boundary, a protection, and a way of marking a path.
I'm thinking I might also paint over this page–but I'm not sure. I don't want to lose the text completely.
Now it's your turn! What project are YOU working on to transform the Bible? Share it with us!
On Twitter use the hashtag #wordmadeart.
On Facebook, post your pictures on my page.
Or, email them to me at heather.caliri@gmail.com, and I'll share them for you.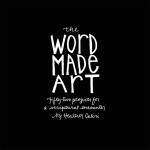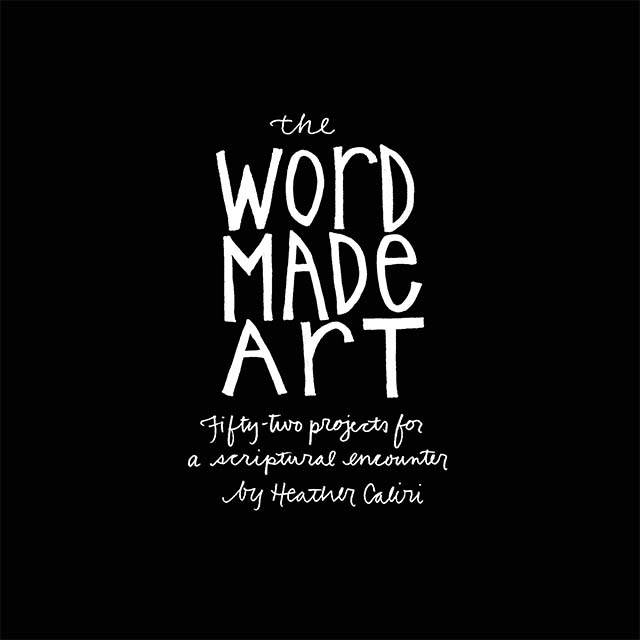 Want to join in the fun? Get my guidebook to the process here. It's a hand-drawn book of inspiration for this encounter, with 52 projects that could keep you creative all year. It also includes links to project how-tos, ideas, and other helpful things to spark fun. Download a copy today!
Want to see previous projects? Here's the whole series.