About noon every few days, a little email pops into my inbox with Dianna E. Anderson's latest post. I take a deep breath and open it, knowing I'll get a little shot in the arm of straight-up boldness. Diana is fierce, and reading her regularly makes me fiercer, too. So I wanted to talk to her about some moments that helped shape her fierceness. Enjoy.
It's been about a year since you came out as queer on your blog. In that post, you described being in the car with your mom, when she asked if you were gay. How did you change as a result of answering her question honestly? How did your relationship with her change?
I don't think it changed all that much. It seemed like a natural progression. We've been really close since I've been an adult.
Being able to have that open conversation with her was really important, though. My mom always listened carefully before she spoke. That was part of her personality, and she was really good at it.
When she asked, "Are you gay?" I kind of simultaneously recognized it myself. Sometimes it takes someone close to you recognizing who you are for you to recognize it, too.
This line in that post got me: "If you get really, really good at repressing the feelings they say you should repress, it makes it really hard to figure out what you want when you start exploring those feelings." What do you think the connection is between feeling what we feel and knowing who we are?
It's hard growing up in the evangelical culture because you're taught not to trust your feeling. We're told our sin nature is constantly lying to us, so we shouldn't trust ourselves.
That puts up barriers to recognizing who you are—because your feelings are actually a really good indication of how you're reacting to things, and what your very self is.
The whole notion of not trusting our feelings is very Gnostic. It's a rejection of the material. Its best intentions are spiritual, but in the end it fails, because it causes you to disconnect yourself from feelings which are, themselves, spiritual.
What do you mean by feelings being spiritual?
Feelings, if we're listening well, help us understand what God is telling us.
My adult life has been shaped by trusting how I feel about things. If I get angry about something, I now know that anger is important. I need to explore it and talk about it.
So feelings are a big part of how we relate to God.
You talk a lot about incarnational theology on your blog. Can you explain how that fits into this?
I very much believe that our existence as incarnated beings is important. God purposefully created us with these bodies, and Jesus was an incarnated deity.
So what does it mean for us to exist as incarnated beings? Well, there is no "me" separate from the body in which I live. If I'd been born someplace else, I'd be somebody else, because my body would be in a different place.
You're releasing your book, Damaged Goods, in a few days. It talks about purity culture in the evangelical church. How did purity culture affect your sense of who you were?
It was a major part of my identity. I wore a purity ring, I saved myself for marriage. It was the essence of being a Christian—my big statement to the world. It shaped who I thought I was.
As I got older, I met a lot of people whose story was different, and it made me think about the stories I'd been told. I realized that it was a lot more complicated than, "I made a promise and I'm going to keep it."
What was one of the stories?
In high school, we had an older youth pastor. He was about forty, and had been married in his early twenties. At a retreat, he got up for the sex talk seminar, and talked about when he got engaged.
He and his wife had sex right before their wedding.
As he shared that, he cried, he was still so torn up about it.
I thought, "Wait. It was a month before your wedding, and now you've been married twenty years? Why are you still crying about this?"
That was the first inkling I had that something about this emphasis on purity was screwed up. Of course, at the time, I didn't have the tools to process why I was thrown by it—I hadn't yet learned to trust my feelings.
I remember being confused and angry towards the end of college when every Christian retreat I went to had the same talks, in the same order. 1. Get saved. 2. Mature in your faith. 3. Date and marry a believer. Putting Christ and a wedding ring on the same level angered me.
An emphasis on marriage and idealizing it is part of the gospel in some circules. There's an emphasis on marrying young and on procreating. The rationale is that when you marry young you have better fertility.
Of course, it ignores that young marriages are a major indicator for divorce.
I see it most in white evangelical culture. I think it has to do with a demographic concerns—putting more white Christians into the world.
If we were concerned about all Christian demographic growth, we'd be celebrating brown Christians and how their demographics are exploding around the world. Kathryn Joyce–a really good author and researcher on Christian evangelical and homeschool movements–talked about this "demographic winter" in an article for The Nation back in 2008.
I was really struck by a post by Esther Emery recently that said this, "The places where we're boldest are often our most wounded." I hear so much boldness and power in your writing—and your agent told you that you write best when you're anger. I'm wondering if it's always been easy for your to use your voice with decisiveness.
I've always been a very emphatic writer. My teachers always said I wrote with passion, and I was able to pull along an argument with ease. That came easily to me.
Anger came later, because I learned more about social justice and feminism. When you're writing about Harry Potter there's not a whole lot to get angry about.
A lot of it is personality, too. My mom was always emphatic that she found my words important. She didn't want me to be scared to say anything.
But school and church can weed that out of you. I had to relearn that fearlessness in my twenties.
A turning point came when I did a semester abroad at Oxford. It was through the Council for Christian Colleges in the US. It turned out that I was coming from the more liberal ones.
We had these meal groups each week to cut down on food costs and have community. And in my group, I was thrown together with some guys from a Calvinist college.
I realized that they didn't respect me as a scholar because I was a woman. I thought, "NO. We both got into Oxford. I have a right to take up space here."
A lot of women learn that strength has to come from personal experience. You come out of a struggle and say, "I will be listened to." You carry that decision through into the rest of your life.
Dianna E. Anderson is a writer from Sioux Falls, SD. Her book, Damaged Goods: New Perspectives on Christian Purity, releases February 10th. She blogs at Faith and Feminism and has written for Bitch magazine, RH Reality Check, Buzzfeed, The Frisky, and more. She has a bachelor's in theology/philosophy and a master's in English literature. She writes on the intersections between faith, feminism, and politics.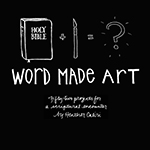 Looking for a way to feel your feelings and use your voice with the Bible? Get a copy of my e-book, The Word Made Art. It's a collection of fifty-two projects to transform an old copy of the Bible with glue, scissors, and chutzpah. You'll destroy the Bible you knew, and find it again in joyful freedom. Learn more here.
Image credit: Joseph Gilbert