For this project, I made my own lotto scratch-off card, except the prize is God's Word!
Man, I'm sounding like a crazed evangelical.
This project is a variation on found poetry, where you "take existing texts and refashion them, reorder them, and present them as poems." Except here you don't choose the words–you uncover them, by accident. Just like a scratch-off card.
1. I started the project by covering an entire page of the Bible with white crayon. It actually looks clear when you do it: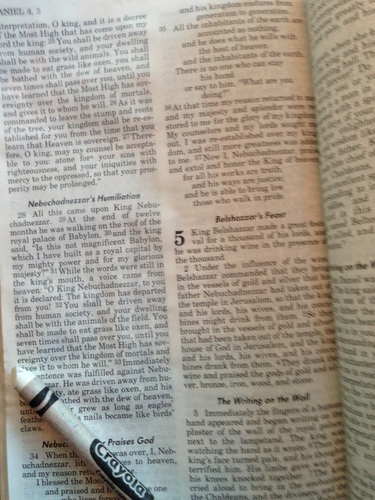 Look at that poor little worn-down nubbin of wax. I think it's the hardest that white crayon has ever worked.
Next, I covered the whole page with ink. My daughter did this once in an art class, using india ink. Except I only had this bottle of calligraphy ink. Would it work?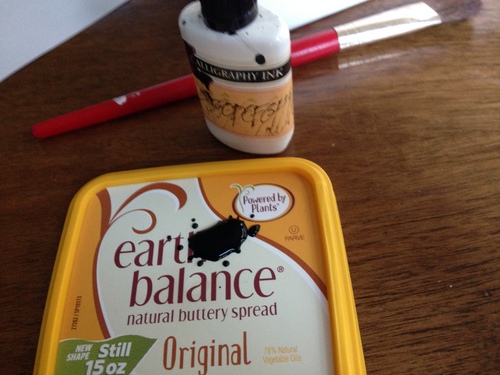 I crossed my fingers and painted over the page. The ink did not act like the ink my daughter used–it did not want to layer over the crayon.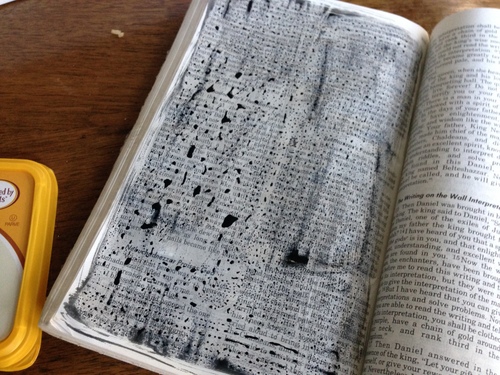 I did another coat: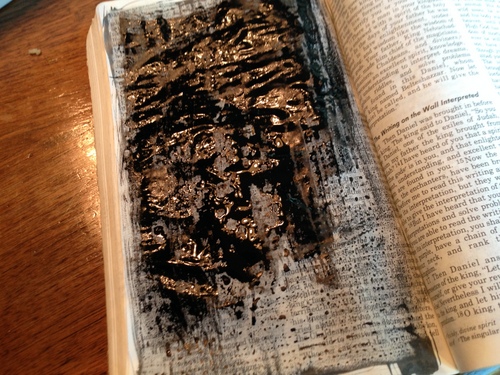 I got a hairdryer and did another coat. Now it was starting to look as expected.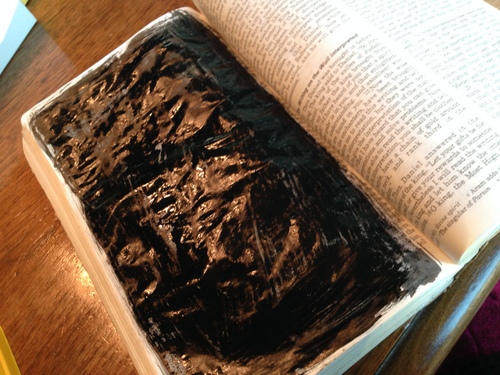 I waited until it was dry and tried to scratch it off with a needle.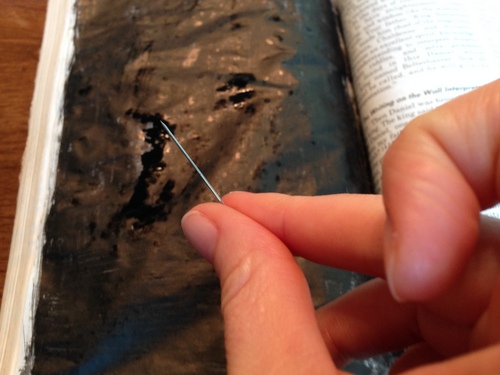 After five minutes of work, this is what I had.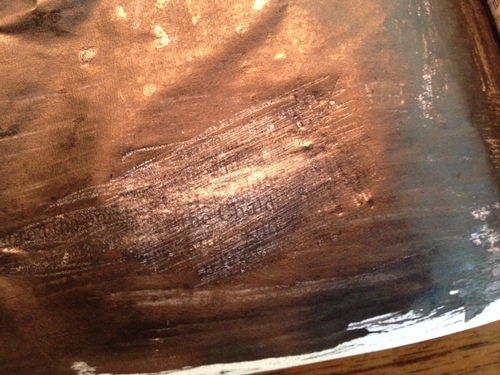 Hmmm.
I started over.
I covered the facing page with white crayon, and layered black crayon over it. I also tried oil pastels, white and black, to see if they worked better. (Stick with crayon).
Then I started scratching off words. Just like a scratch-off lottery ticket!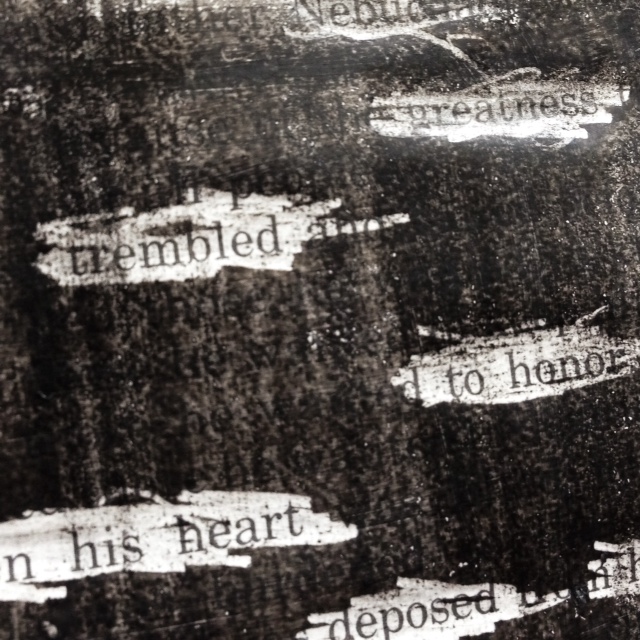 I was amazed at how different this exercise felt than regular Bible study. I felt surprise and eagerness and anticipation. I wondered what kind of serendipity might happen. I felt joy in the grave language I find in the Bible, the stately words, the deep archetypes and themes I find there. It's easy to make found poetry in the Bible because the words matter. 
How many years went by with me forgetting that? With me feeling bored with the Bible, annoyed by the language, glossing over its power and depth because it scared me?
Here's the finished facing pages, with the experiment-that-didn't on the left, and my poem on the right: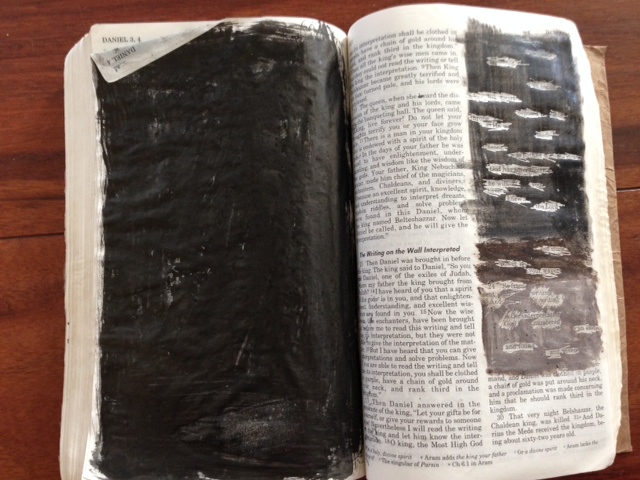 Here's the text of the poem, with light editing, taken from the text where Daniel prophecies to Belshazzar, son of Nebuchadnezzar, about the writing on the wall:
Stone power
Greatness
trembled
when his heart
deposed his throne.
He was made like asses,
was bathed with the dew.
Stone power is your way.
So from writing and writing
sent interpretation–
God numbered the end
and found, and gave.
God has sovereignty.
He will have you.
Know the Lord.
Now it's your turn! What project are YOU working on to transform the Bible? Share it with us!
On Twitter use the hashtag #wordmadeart.
On Facebook, post your pictures on my page.
Or, email them to me at heather.caliri@gmail.com, and I'll share them for you.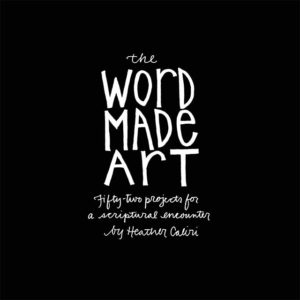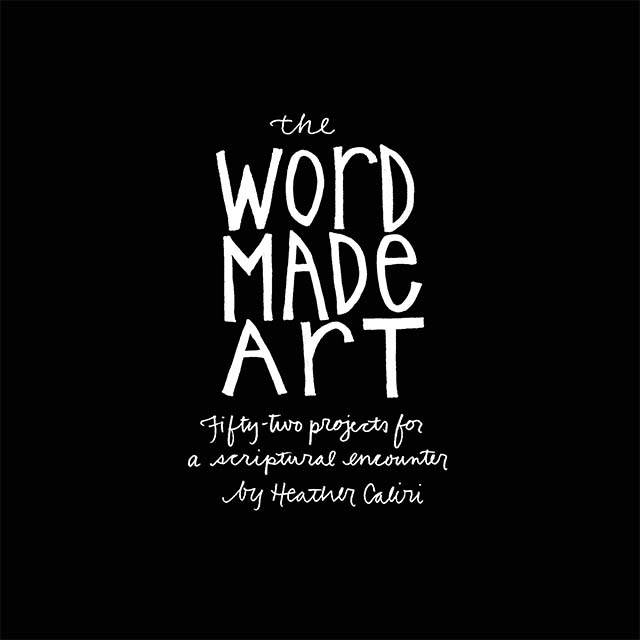 Want to join in the fun? Get my guidebook to the process here. It's a hand-drawn book of inspiration for this encounter, with 52 projects that could keep you creative all year. It also includes links to project how-tos, ideas, and other helpful things to spark fun. Download a copy today!
Want to see previous projects? Here's the whole series.