So the project I was most eager to start with was making a hidey hole in my Bible. Why?
I am a murder mystery aficionado. Nothing says "Hercule Poirot" like a secret compartment cut in a book.
ROMANCE. Again, a hiding place in a book? It's so any kind of old-timey literature.
All those verses about God being our hiding place, our sanctuary? I am literal-minded.
Cutting big honking holes in the Bible sounds a little rebellious daring.
The one thing about a hidey hole is that a big one is supposed to take up all the pages of a book. Which would make #wordmadeart very, very brief.
So I decided to do a hidey-hole fit for a mustard seed. Or a mustard seed and a few friends.
Here are basic instructions:
Decide which pages you're willing to glue together in a big block. This was hard, because then those pages are no longer usable for other projects. I was originally going to make my hiding place on the page with Psalm 32:7, "You are my hiding place…." but since the Psalms are my favorite book I couldn't bear to lose any of them. I decided to sacrifice from the beginning 1 Kings to the Nehemiah, about 120 pages. Incidentally, this may be the first time I have looked at a Bible and lamented that it didn't have more pages. I love this change in attitude. Here's my bookmark marking the pages to glue together.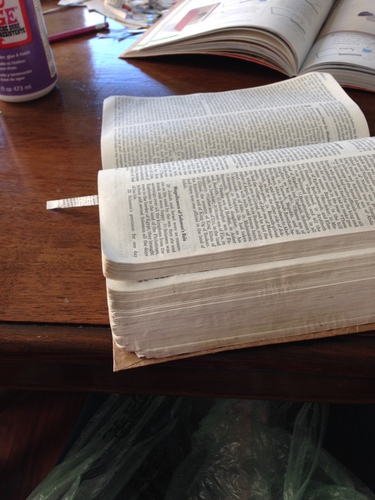 2. I used some plastic bags to protect the rest of my Bible, and I painted glue along the exposed edges of the book. That took about five minutes.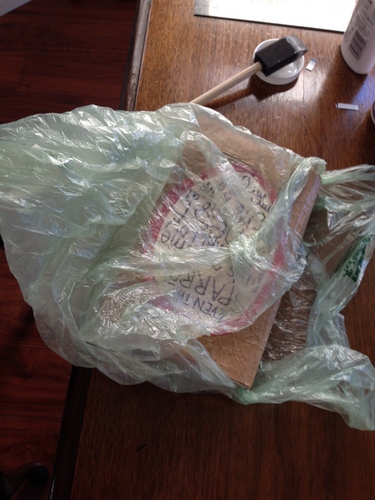 3. I stacked some books on top and left it to dry for a day or two.
When I unwrapped it, I had a solid 100-page block in the middle of the Bible. Victory!
4. I drew a small cross in the middle of the page. Then I took my craft knife–you really need a craft knife for this project–and cut through 120 thin pieces of paper. I think I gave myself carpal tunnel syndrome. BUT IT WAS WORTH IT.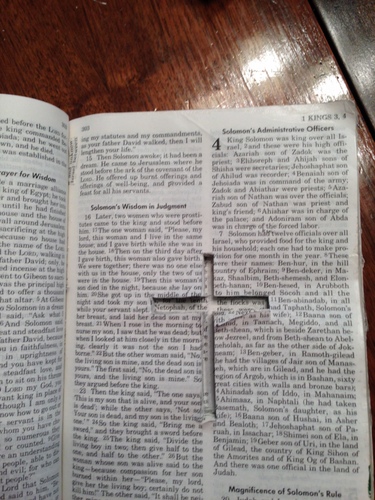 When my daughters saw it, they wanted their own hidey-hole books. Naturally. (I got some free old books from the library thrift store, and am gradually sawing away at them. I may take to icing my hands afterwards, like my drummer brother-in-law after a gig.)
Once I had cut the cross deep enough, I coated the inside of the cross with more Mod Podge, wrapped it again, and left it to dry. Voila!
I plan on buying mustard seeds and gluing them in there when I get a chance, but right now, the hole is empty.
That's okay. I'm starting to like emptiness.
Now it's your turn! What project are YOU working on to transform the Bible? Share it with us!
On Twitter add the hashtag #wordmadeart.
On Facebook, post your pictures on my page.
Or, email them to me at heather.caliri@gmail.com, and I'll share them for you.
Have fun, and happy recovering!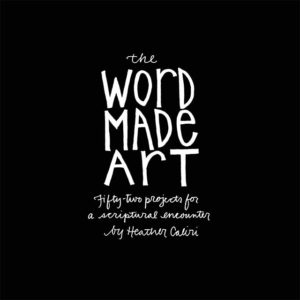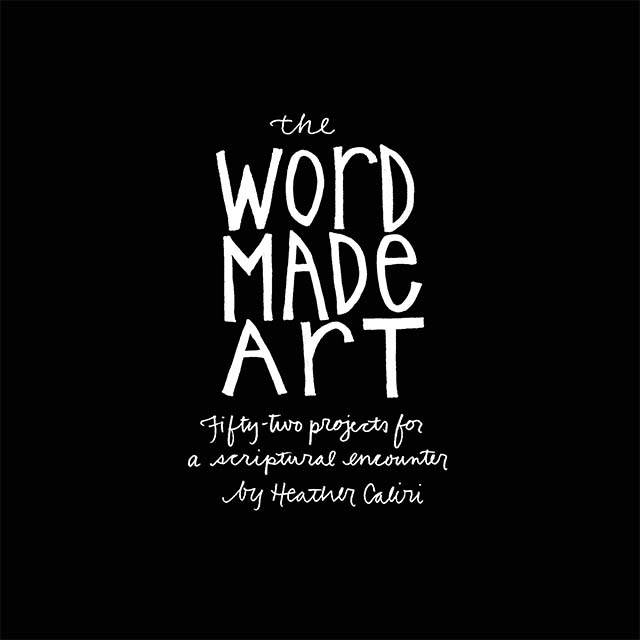 Want to join in the fun? Get my guidebook to the process here. It's a hand-drawn book of inspiration for this encounter, with 52 projects that could keep you creative all year. It also includes links to project how-tos, ideas, and other helpful things to spark fun. Download a copy today!
Want to see previous projects? Here's the whole series.