Let's not make Christmas a namby-pamby holiday.
I like the fairy lights and gold ribbon as much as the next girl. I love the quiet hymns and rocking around the Christmas tree.
But today, on a week where we remember love, LOVE, let's get real about what that means.
That means that somehow God is loving Darrin Wilson and Michael Brown's mothers, and all the mothers of Ferguson and New York and our nation. Not giving them both fudge popsicles and patting them on the head, but pulling them with a force past gravity towards justice and repentance and reconciliation and wholeness.
That all the things that make me want to spit, want to rend my garments and weep are not for nothing, all the wrongs I do selfishly or unintentionally or blindly, are not ignored or papered over but are being melted down into God's righteousness shining in the sun.
That the ache in your heart today, wherever it comes from, is known. Is heard, and is being responded to with the same compassion that created parenthood.
That when faced with darkness, God sent a baby. Humbly created a family, sparked love in a spare hovel.
We celebrate love this week, and not idly or as an afterthought. Love that is desperate and hungry and also fully satisfying. Love that is not-yet and incomplete but with the cosmic force of promise behind it. Love that frees, and creates, and binds us all together. Love that takes all our broken shards and melts them into something pure and whole and impossibly bright.
That, my friends, is worth lighting a candle for.
Image credit: Martin Fisch (with my modifications).
If you'r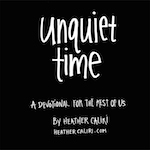 e looking for an unexpected, whimsical, and hope-filled book to give this Christmas, might I suggest my journal, Unquiet Time: A devotional for the rest of us? Grab a few copies, while you're at it. And thanks.