Maybe this Advent is filled with darkness for you.
Maybe you're estranged from family or struggling with finances or trying to keep your head above a tide of blackness.
Maybe you worry that your children's gift list, long as it is, means you've taught them something broken about what Christmas is about. Maybe you had high hopes for what Advent would be, for what shopping would look like, for a night with beloved friends, caroling.
Maybe you got sick the night of the get-together and spent it in front of the television with a box of Kleenex, smelling of Vapo-rub.
Maybe you're having trouble going to church, and having trouble doing Christmas without going.
Maybe you're yearning for something, and none of your preparations for Christmas are getting anywhere near to scratching that itch.
Maybe you wonder if you're just being silly.
The 'holiday season' can be like flipping pages in a book you've read before, trying to find that scene that once captivated you. Or even, flipping pages in a book you heard about on TV, wondering if the moment they mentioned will actually floor you as promised.
You're flipping madly, searching, not sure if what you're looking for even exists. You ache to find it, ache to connect with what everyone else is connecting with.
Advent is different. Advent is taking a craft knife to that book, cutting a hole in the center of it, and deciding the secret thing you're looking for is the emptiness that's left.
You glue the book's pages together, ready to stop searching madly. Ready to let the search be a hiding place.
God appears in empty places. God walks alongside you as you yearn, when you stop trying to fill yourself with bling. God holds your hands steady as you cut the heart out of what you thought would fill you. He stays in the negative space of possibility.
He's there in the waiting, in the wondering, in the fear of what you're missing. Somehow he has made the space big enough for you to fit in too.
He's inviting you in to that ragged hole inside. He's making enough space for you. He is telling you that the joy is in the empty place, in the giving up the wild-eyed scramble, in accepting that yearning is not a bad place to inhabit, in the weird certainty that abandoning all your frantic keeping-up will let you, finally, rest.
Image credit: Martin Fisch (with my modifications) and Michael Shaheen
If you'r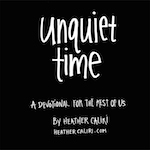 e looking for an unexpected, whimsical, and hope-filled book to give this Christmas, might I suggest my journal, Unquiet Time: A devotional for the rest of us? Grab a few copies, while you're at it. And thanks.