Esperar: Spanish for 'to wait' or 'to hope'
One way of looking at Advent is that it's one more Thing to Do.
First: find some candles and greenery. Do you own candles in the appropriate colors? Do you have a candle holder for each one? Also: will the greenery pose a fire hazard?
Then, every night, share Christ with your kids in a way that's fun for them and meaningful for everyone.
Check that they have cherubic faces while you read the devotional.
Don't forget after swim practice, the holiday party or dinner at the grandparents.
Be diligent about the ritual, but also relaxed and fun-loving, spontaneous and carefree and poised and pious.
Wait–why are your fists clenched?
 *
Another way of looking at Advent is that every night, there's another chance. A month of chances.
Each one is a clean slate.
You have another chance to be present.
Another chance to add a decoration if the mood strikes you.
A chance to change what you're doing if its not working.
A chance to decide that the whole candle thing isn't working for you.
A chance to show up if you forgot yesterday or all last week.
A chance to remember that it's not about doing it right, but being open.
A chance to reflect that Advent is about waiting.
A chance to remember that we're waiting because Jesus knows we are broken.
A chance to know that where you are right now is enough.
A chance to hope for our hearts to change.
This week, I invite you to place your hope in Someone else to do the heavy lifting. Hope with the mustard-seed force of the merest intention. Hope in the power of waiting and yearning and longing. Hope to be transformed, despite yourself.
This week, let's stop doing and start cultivating a tiny spark of expectant waiting in our hearts.
Image credit: Martin Fisch (with my modifications)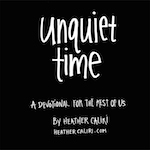 If you're looking for an unexpected, whimsical, and hope-filled book to give this Christmas, might I suggest my journal, Unquiet Time: A devotional for the rest of us? Grab a few copies, while you're at it. And thanks.