I looked at my monthly calendar and sighed.
It was the twenty-fifth, and that meant it was time to write down what had gone well—and not so well—that month for homeschooling.
Except I didn't want to.
I knew I was supposed to. I was supposed to be tracking how my children were doing, taking notes each day about their interests to better help guide them towards things they were passionate about. I was supposed to be tracking academic progress and being intentional and clued in and—
I needed to be the homeschooling mom my kids deserved.
I sighed and opened up the document with the questions I asked myself every month. "What has she made that she's passionate about? What does she want to pretend or play? Are there questions, activities, projects, or materials she wants to explore? Any trouble spots?
A few months back I had simplified the list from eight questions to four, because I didn't like answering them back then, either.
The truth was, I had been answering questions for more than a year, and so far, I'd never enjoyed them. I didn't like spending my time on them, I didn't like the feeling of inadequacy that plagued me as I wrote, I didn't like feeling like a better mom would gain more insight out of answering them.
I looked at the questions and the blinking cursor, and I tried to swallow down my resentment again.
But a subversive thought occurred to me.
If I hated doing this so much, why did I keep trying?
I'm so honored to be at Simple Homeschool today, sharing about how resentment is helping me figure out how to be authentically present for my kids. Won't you join me?
Image credit: Magpie tales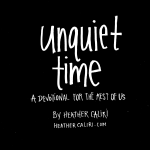 Have you ever felt resentful about reading the Bible? Check out my new journal. Unquiet Time: A devotional for the rest of us is available through CreateSpace, and is full of aching questions and surprising quotes that help lead you away from dull obligation, and towards authentic joy.