Bev Murrill is a fellow writer at SheLoves, and also an internationally recognized author, speaker, pastor, mentor, leadership guru…yeah, I was kind of intimidated. But a few times, I've worked up the courage to ask her a tentative, shaky question, and she's bent down (over email…but I could totally tell there was bending involved) and put her arm around me and help me stand up a little straighter. Guys, I just love this dear woman. And I am so thankful to have her share about her Bible reading habits here.
A bit about your context–work, family, life:
I've been a pastor and mentor for other thirty years, and I love speaking and writing. I've been married 42 years, and have four children, four children in-law, and 9 grandchildren. I'm still preaching, but I'm establishing a leadership consultancy. Life is changing for me now, and I'm waiting to see what it's going to look like.
Do you read the Bible regularly (say, more than once a month)?
I read every day unless there's a specific reason why not.
What does it look like when you do read?
It's mostly daily, maybe 13 days out of 14. When I was younger with children it was probably 7 or 8 days out of 14 and when they were really little, I just did the best I could, but felt very guilty.
For the past twenty years or so, I've been reading my Bible through every year, from genesis to Revelation. I do this rather than follow a Bible reading plan, which I find irksome and restrictive.
It's been a wonderful journey for me. I don't always make it in a year, and sometimes I do it in less, but I am not legalistic about it.
Do you do anything besides read, like journal, pray, or create monumental sculpture?
I always pray as I open my Bible that He will give me insight, revelation and anointing as I read to understand what He is saying to me. He's faithful—He does it.
I mark my Bible, and then journal about the revelation I have received on an aspect of it. Sometimes It's revelation to preach, but often it's revelation of a promise God has given me, or the sense of what He wants for me.
I'm better at reading my Bible formally than praying formally. I pray informally throughout the day. I used to feel guilty about that, but then I realized God made me a less formal person, so He's fine with it.
Has there ever been a time in your faith where you avoided the Bible?
I didn't avoid it so much as I just didn't get to it, mainly when I was a young mum and couldn't keep up.
I felt guilty when I wasn't reading it regularly; I felt that I was not letting God work in me through his Word. However, I don't feel that God was pressuring, just that I was drowning in too much stuff to do.
Do you think everyone should read the Bible every day? Why or why not?
I think reading the Bible every day is a great practice. However, I steer clear of "shoulds" because they put a yoke of stress and fear and condemnation on people. If we're doing the best we can under whatever circumstances are living, God knows our hearts and He does not condemn.
Are you content with your interactions with the Bible right now?
Yes, I am, mainly. I hear from God in what I read, and I'm aware of the sense of knowing God in the process. I wish I was journaling a bit more, but that's the way it is right now.
One of the greatest things I've learned is that God is at work in every part of our lives. He doesn't condemn us when we can't live up to the format that other people have told us is the way we "should" do it. "Quiet times" are all very well, but sometimes our lives will not allow that, so we just do the best we can.
There were times when the kids were younger that I only read two or three verses because that's all I could manage, but God was faithful in all that anyway. He kept leading me forward.
Bev Murrill is a speaker and author who lives in the passionate conviction that we are uniquely designed for a purpose, and our hearts will never be satisfied by anything else. Thirty years of ministry experience and a masters degree in leadership combine to give Bev a specific focus on helping people develop their call as a leader. Bev believes passionately that gender is never a reason to disqualify a person from leadership. She blogs on bevmurrill.com and is the author of two books Speak Life and Shut the Hell Up, and Catalysts: You Can be God's Agent for Change and has a couple more books currently in the pipeline.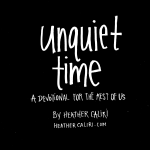 Trying to approach the Bible without guilt or a sense of obligation? Unquiet Time: A devotional for the rest of us releases November 5th (eek!). Want a heads-up when it's available? Subscribe here, and I'll let you know.
Image credit: luostudio.com