I asked a lot of readers to share their habits, feelings, experiences and attitudes towards the Bible–good and bad. Many read the Bible regularly, for hours every week. Some haven't picked it up for years.
I was surprised by how many of the people who read regularly have been through periods of avoiding it. And I was surprised by how many respondents who don't read long to be able to open up the Word again.
I was inspired to create art with my favorite responses. Slide show!!
This slideshow requires JavaScript.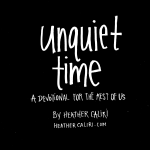 Have your own questions about reading the Bible? Get your copy of Unquiet Time: A devotional for the rest of us on Amazon. Learn more about my new journal here.