I ordered a proof of my new book, Unquiet Time. 
Right now, they are printing up a few copies of my book for me and putting it into an envelope and sending it to me IN THE MAIL.
(If this were a musical, I would be breaking out into song right about…now.)
You'll be able to get a Kindle version of the book for just a few bucks, but the truth is, this book kind of cries out to be held in your hands. Some of the exercises will work best with a physical copy–so I decided to go with it.
Here's me making a cover with guidelines for the trim size, spine, and bleed. Yes, these terms sound just the tiniest bit violent. I was very glad when my attempt passed the gatekeepers at Createspace (and am hoping the proof copy looks good).
I have written a bunch of instruction manuals as a technical writer, and I know a bit about making books  but THAT DOES NOT MEAN I WASN'T INTIMIDATED.
Here's the thing, though.
The proof copy gets to me on October 22nd. Which is after I was planning on offering this journal for sale.
And I still haven't gotten the Kindle copy uploaded and through all of the publication hoops. If technical writing taught me anything, it's that the final steps of prepping for press take much, much longer than you expect them to.
So I'm going to delay publication a few weeks to get my ducks in a row. That's the great thing about self-publishing, right? I make up the rules.
SO! Unquiet Time will fly into the world on NOVEMBER 5TH.
I want it to be a gentle, joyful day–for me, and for you.
Here's the truth–this summer has been an exhausting one, emotionally. When you decide to be brave and start making the things you want to–books, essays, websites–all sorts of things shift in your heart. Moving towards dreams also knocks over barriers.
That sounds sort of airy-fairy, but in truth it has been like a bulldozer reshaping my heart-terrain for months.
Its good. It's powerfully, wonderfully needed.
And painful, and exhausting, and hard.
So I am going to be kind and give myself more time to do the work I am doing.
My question to you is: what are you dreaming of? What are you bringing into being? And how can you be kind to yourself, right here, and right now, as you practice being brave?
Image credit: Dave Wilson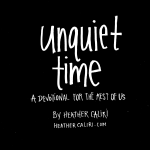 Trying to approach the Bible without anxiety or shame? Grab a copy of Unquiet Time: A devotional for the rest of us, my new journal about the Bible. Want to know more about it? Go here.