When I first came across Carly Gelsinger's site, I didn't know if we'd have a lot in common. I didn't grow up in a fundamentalist church, so would her work really speak to me? The answer was yes. The anxiety, the search for new pathways through faith, and what remains of faith after spiritual crises. I was refreshed and grateful for her honesty in the interview we did together, and so glad to share her words of wisdom with you here.
Do you mind sharing what the roots of your anxiety are (whether chemical or situational or whatever?)
I'm still discovering that myself through therapy. I'm learning that a lot of it comes from perfectionism. I didn't ever seem myself as a perfectionist, because I'm okay with having a messy house, or leaving the house without my hair being perfect.
But I have perfectionism of the mind. I expect myself to be perfect, and be perceived as perfect. When I'm not, I obsess all day over one mistake I made instead of being thankful for the day as a whole.
Coming from a fundamentalist background has also bred that kind of thinking—it's very black and white, and all or nothing.
Tell me about spiritual practices. Do you like them? Avoid them? Feel ambivalence about them? Feel hungry for them? Why?
It's hard for me to find God in the ways I used to because they're so connected with the unhealthy culture that I came from.
Recently, a friend and I went to a bookstore, and went all the way back to the Christian section.
We looked at each other, and said, "What are we doing here?"
I ended up buying a copy of The Message. Back in the day, I learned you weren't supposed to read it as the Bible, because it's not a 'translation', but a 'paraphrase'. But because it's a version I hadn't heard from before, I didn't associate it with any negative feelings. And I felt free to come to it with my own assumptions.
Have you tried reading it yet?
(Laughs). Well, I bought it two or three days ago. I left it on the counter for a few days, and then I thought, Okay, I can do this.
So I picked it up and read a little passage. It has been so long since I looked in a Bible. But I think I can do it.
What ways do you connect with God, if not through the Bible?
It's hard, because the Bible was the only avenue to God that I was taught. I didn't know how I could live the Christian life if I wasn't in "God's truth".
But now, I think God speaks in a lot of different ways. I see Him in nature, or when I deeply connect with my husband or a friend.
Prayer is still a part of my life, but it looks different.
I don't know how to pray out loud without reverting to my old language from fundamentalism. The language that was ingrained takes over. It's not me any more, and I'm uncomfortable with it, so I don't pray out loud.
But I do pray. It's gutteral thoughts, my gut crying out to God.
Do you feel contentment about how you interact with God in spiritual practices/daily life?
I really do. Sometimes I hear a judgy voice from my past, saying I've backslidden or fallen away. But those voices are getting fewer and further between. I know that I'm not where I'll be in a year, but I'm happy to be free from my past.
What would you say to someone who has anxiety about reading the Bible?
You mean if the Bible is a trigger for them?
Yes.
Don't open it.
Some people are going to call me a heretic for saying that. But I just don't think God is so hung up on us reading the Bible that he'd like to see us in the hospital in a panic attack for trying. If the Bible triggers negative feelings, then that is an opportunity to dig to the root of the issue. Do real therapy—not just through your church—to figure out why.
When I read the verse "Do not be anxious about anything," sometimes I feel liberated, and sometimes I feel like throwing things. What do you think our anxiety tells us? What lessons can we learn from it? Is there any way for God to use it?
Well, I have a lot of fear about the future, or about losing people I love. My therapist encouraged me to take that as a message to be intentional about spending time with them, so I can look on the relationship with thankfulness, no matter what.
Sometimes in church, my anxiety gets triggered. Elizabeth Esther has talked about how anxiety can signal that there are warning signs to pay attention to.
It's so true: if I see a pastor up on the podium acting arrogant or controlling, I'm known to run out of the building. It's a fight or flight response of my body. I am hypersensitive to abuse in churches. But that anxiety has protected me from some situations that turned out to be bad.
I wish more people went into church aware, with their guard up. I've been too trusting in the past, and got hurt. We're told to be open and transparent, but in abusive churches, that makes you a target. With everything coming out about what happened at Mars Hill, I think it's good to be aware of the potential for abuse.
Carly Gelsinger is a wife, mother to a 1-year-old girl and an overall mess maker. A former newspaper reporter, she now writes about rediscovering Jesus apart from her legalistic past, her chronic struggle with feeling like an oddball, motherhood, and her journey toward letting go. Follow her on Twitter @carlygelsinger, find her on Facebook or check out her blog.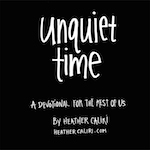 Trying to approach the Bible without anxiety or shame? Get your copy of Unquiet Time: A devotional for the rest of us.
Image courtesy Bex Ross