I was so honored to have Gail Dudley, a pastor, author, and forceful woman of God, agree to respond to my questions about reading the Bible. I read some of Gail's personal story–feeling ashamed, caught in lies about her basic worth–in her book, Who Told You That?: The truth about the lies. Gail's approach to Scripture is full of hope, expectation, and refreshment, and I long to learn from her example as I consider how God wants me to encounter the Word.
Do you read the Bible regularly (say, more than once a month)?
Yes. As a speaker and Bible Study instructor I read the Bible at some level every day even if it is just one Scripture. I recently read the Book of Colossians for maybe the fifth or sixth time straight through and it truly came alive as a part of my everyday life. It's amazing how you can read a chapter, or a passage of Scripture months or even years ago and the next time you read it you see something completely different. That's a sign that one is growing.
How much time do you spend?
Sometimes I sit for a few hours reading the Scriptures, sometimes less than one hour, or even only a few moments.
How much do you read at a time?
It depends upon what I am doing. If I am preparing a sermon or a Bible study, I may read several chapters or books of the Bible.
For my own personal time to hear from God I may read one chapter and sit and pray through the Scriptures asking God, "What are You speaking, Lord?"
Do you do anything besides read, like journal, pray, or create monumental sculpture?
I do journal. I will take the Scriptures that I am reading and write what I believe God is showing me during that time. I also pray through the Scriptures. I'm not good with crafts, so no monumental sculptures from me.
Has there ever been a time in your faith where you avoided the Bible? Why?
Yes! Yes! Yes! I have avoided what God was instructing me to do. There have been times (and maybe more times to come) where I have been so tired of being hurt by God's people that I threw in the towel and said, "I quit!" Of course I love God too much to walk away forever, but I must be honest and say there have been times that I was so tired and full of hurt and pain that I stayed away from God's Word. I have shared this in two of my books: "Who Told You That?: The Truth about the Lies" and "Ready To Pray: A Spiritual Journey of Prayer and Worship."
What did you like/dislike about that time? When I don't read the Bible my days are completely off. When I'm not reading God's Word I miss Him. I can compare this to being away from my husband: I miss him when I'm away. Because I have a relationship with Jesus…when I am away from Him through studying His Word I miss Him.
Do you think everyone should read the Bible every day? Why or why not? If you want to know the truth; if you are in a new relationship with God; if you desire to grow and learn…YES!
Are you content with your interactions with the Bible right now? Why or why not?
I could always spend more time, but yes I am content Why? Because I'm growing, and the Word of God is coming alive for me.
If you could change one thing about how you approached the Bible, what would it be?
To come without sin, but that's impossible.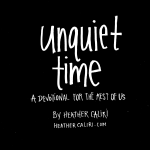 Have your own questions about reading the Bible? Check out my new journal, Unquiet Time: A devotional for the rest of us, available through Amazon and on Createspace.
Image credit: darthmauldds (with my modifications)
Real life author and speaker, Gail is committed to a calling of encouraging others and prayer. She is a blogger, and the author of five books. Currently, Gail is the president of '@ The Table with Gail', a consulting firm focused on ministry, nonprofit, and personal development. Gail is also the servant leader of Ministry in Motion Ministries, a ministry she founded in 1994 and re-launched February 2012. Gail oversees church administration as well as serves as a pastor providing guidance, teaching discipleship studies, and overseeing multiple outreach efforts at The Church at North Pointe (Columbus, Ohio). She's the wife of Reverend Dr. Kevin Dudley, senior pastor of The Church at North Pointe, the loving mother of Alexander and Dominiq.