Do you ever wonder how other people encounter–or don't encounter–the Word of God? In preparation for my (!) new ebook, Unquiet Time: a devotional for the rest of us, I asked readers and blogging friends to spill the beans about their scripture-reading habits. Over the next month, I'll post some of the interviews. I'm amazed at the thoughtfulness, differing perspectives, and insight of these women and men. 
First up? Micha Boyett, author of Found: A Story of Questions, Grace, and Everyday Prayer. Micha's journey towards prayer is quiet and grounded in the sacred everyday. I thought she would be a great person to reflect on a related topic: encountering the Word. I'm so grateful for the freeing words she responded with.
Micha Boyett
Age: 34
 What does Bible reading look like for you?
My goal is to spend time in "intentional" prayer once a day. Sometimes that involves Bible reading. Sometimes that involves Bible praying. Sometimes that involves Bible study. I see those things as being different from one another. Also, I'm a busy, working mom and I have learned the hard way to hold out a lot of tenderness toward myself when it comes to my prayer and Bible reading expectations. At one time, I would have said that reading the Bible was the most important spiritual work I could do. Now, I believe prayer is the most important spiritual work I do, so I prioritize prayer over Bible study if I have to choose.
Most often, I use Phyllis Tickle's Divine Hours books for my morning prayer. Each of her morning prayer readings contains a passage from the Psalms and a New Testament passage to read and reflect on in addition to the written prayers. The Bible reading is generally a short (one paragraph) passage and there is no commentary. So I'm not studying the passage during this time. I'm just reading it and prayerfully responding to it. Some mornings, if I don't get to spend the time I want in prayer, I listen to a ten-minute long prayer podcast while my kids and I are eating breakfast called "Pray as you go." It also contains a short Bible reading and prayer direction.
I started slowly reading a commentary on Matthew that I'm coming back to every couple of weeks. That's more a study mode for me, one that—in this season of my life with young kids—is probably going to take me a long time to work through.
The other way I come to the Bible is through Lectio Divina, "Holy Reading," which is something I began to learn and practice when I discovered Benedictine monasticism. Reading the Bible this way has been so nourishing for me. I meet with a group of friends once a month to practice it together and I've been spending more and more time lately (especially as I've sensed my exhaustion following this season of publishing and promoting my book) practicing Lectio Divina. I'm using a beautiful book from Macrina Wiederkehr called Abide to guide me during my time of morning prayer.
Lectio Divina is prayerful reading: reading slowly and asking the Holy Spirit to emphasize something particular in the passage. Macrina Wiederkehr calls it "extending hospitality to the Word of God." I love that.
So to answer "how much time do I spend reading the Bible?" I'd say I usually end up spending time in morning prayer 4 to 5 times a week, and I spend around 20 to 30 minutes in prayer or reading. But since most of my reading is combining prayer and reading, it's hard to say.
I don't spend much time any more with Bible studies. I come back to them now every once in a while, but it became overwhelming for me to fill out the questions. It became a task that I felt I ought to accomplish and when I found myself failing to live up to my expectations, I had this amazing, freeing realization that God wasn't mad that I wasn't filling out a Bible study workbook. I had freedom to read the Bible in a new refreshing way. Realizing that was a big deal. So, if my Bible reading is "study," it usually involves my reading a commentary, which works better for my soul than a workbook.
Has there ever been a time in your faith where you avoided the Bible? Why?
Yes and no. I've hinted above that I became overwhelmed with the unwritten Evangelical requirements for "quiet times." I heard a pastor recently mention someone asking him if a Christian book counts as a quiet time. And he was like, "What does that even mean?!" What does it mean? A "quiet time" is something the evangelical culture constructed as an aid to help people practice the discipline of prayer and Bible reading.
What actually aids us in coming to God? That depends, doesn't it? It depends on the heart of the believer, what her needs are in the moment, how she's put together. We all connect to God in different ways.
I became so burdened by the Christian culture's standards for quiet times that I was missing God. Instead I was worshipping my own frantic need to be good enough. I was overwhelmed and just trying to make God happy with me.
So the realization that I didn't have to be working a study workbook on a certain passage of the Bible in order to be learning and responding to God in my life…it was a great relief. I never really threw Bible reading out the window. I just let myself throw the rules out the window.
Do you think everyone should read the Bible every day? Why or why not?
I love scripture. I believe it's the authority on the character and the story of God. It is the story we are invited into.
Does that mean everyone should read the Bible every day? The Psalms say God's word is a "lamp to [our] feet and a light to [our] path"…and as such it is a beautiful gift. Do we need a lamp to see in the dark? Yes! But what does that mean? I think there's freedom there…in how we hold the lamp, etc. The lamp is a gift that can sometimes feel dangerous (fire can burn us). But, how would I know Jesus without it? How would I claim grace without it?
I want to hold scripture as a gift and use as such: a way to encounter the God who is already here, loving and pursuing me. It is not the tool I use to prove my worthiness. It is the gift I receive and long to understand. It is a complicated historical document that must be approached with wisdom. And it is a Great Story of God coming to us and renewing a fragmented world.
So should everyone read the Bible everyday? That's not the point. The point is the story. The point is what God is doing in the story, right now, in us, in the world. I want everyone to see themselves in the story of scripture. If that means reading it every day, then by all means do. A daily practice of reading the Bible can open us up to God's presence in really beautiful ways. At the same time, making a hard and fast rule of what we're supposed to do with the Bible can hurt us and keep us from God's presence. Freedom is a beautiful thing.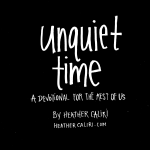 Have your own questions about reading the Bible? Check out my new journal, Unquiet Time: A devotional for the rest of us, available through Amazon and on Createspace.
Image credit: Daniel Go
Micha Boyett is the author of Found: A Story of Questions, Grace, and Everyday Prayer. She's a blogger, wife, and mom with a Masters of Fine Arts in Poetry degree from Syracuse University. A former youth minister, she's passionate about monasticism and ancient Christian spiritual practices and how they inform the contemporary life of faith. Boyett and her husband live in San Francisco with their two boys.