Guys.
You know that thing where you're on a roll? Where there are good things happening and there are so many things you can do, because life is full and rich and there's healing and good conversations and–
and the roll can start to feel a little bit like a snowball hurtling downhill, gathering speed?
I have an announcement–soon–about the ebook I've worked on (it's different than I thought it would be–more creative, more open-ended, more–well, you'll find out soon!). I have some collaborative projects approaching this summer (one with SheLoves and some dear blogging pals!). I'm in conversations with friends from high school about the spiritual and sexual abuse in our youth group. I also have, you know, daily life with homeschooled kids.
And I realized I was starting to get to an overwhelmed place: feeling like there wasn't enough: enough of me, enough time, creativity, energy, strategy or magical pixie dust to make all these puppies fly. (no mixed metaphors here, no sir!)
And there isn't enough of me, no. There are limits. Limits that remind me to let go of control so that the Enoughness that's true takes over.
In other words, something has to give.
My friend Jerusha Clark has written some fabulous books (buy them all!), including one on postpartum depression that looks at neurological research. Yes. She can write books about that (cough: brilliant).
She told me that the neural pathways for anxiety and gratitude are mutually exclusive.
So if you're feeling anxious, it's impossible to feel grateful. And if you're feeling grateful, it's impossible to feel anxious.
The stuff I'm feeling anxious about? It's all good stuff. They are all blessings, chances for healing, creative challenges.
I don't want to choose to feel anxiety about these gifts.
No: I'm going to choose the gratitude pathway. Instead of feeling anxious about each ball I have in the air, I want to start focusing on being grateful for the opportunity each one presents. I need to consider how to stop putting more stuff into the air, and stop believing it's up to me to make good things happen.
So: I'll be taking a blog break until sometime in July/early August. I'm not sure exactly when. I'm being crazy here and not giving you an end date. (Yes! I'm that free-wheeling!) And while I'm gone, let's all focus on that gratitude pathway, the over-and-over choosing to say thank you, thank you, thank you, Oh, Holy One: thank you.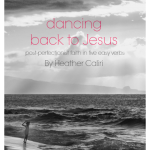 Want more reflections on post-perfectionist faith? Check out my ebook, Dancing Back to Jesus.
Image credit: Jean Gazis. Image cropped by me.