Addie Zierman's lyrical memoir When We Were On Fire chronicled the her faith crisis before she had kids. Since she wrote her book, she often gets asked the question, "How then will you raise your kids?" She has trouble answering. So, of course, I made her talk about it for a half-hour. Here's how Addie is saying tiny little yeses to faith in her life as a parent.
Why is hard to answer how you will raise your kids in the faith?
Certain aspects of the Christian culture, like Focus on the Family, give such formulaic answers, but they didn't work for me. That said, I understand why at the time those decisions seemed like a good idea. Our parents just did their best.
So I feel very out of my depth when it comes to spirituality and my kids. I want them to know Jesus, know his love, but I am so aware that there is no formula. Instead of finding freedom in that, it harnesses my inner perfectionist.
What are some of the faith lessons or practices from childhood that you look back on fondly?
In my early years, I felt very loved and accepted at home and in church. Unfortunately that worked against me in my church search—I looked for that feeling of acceptance, and it didn't happen, because of course it takes work to build up to it.
But I want that for my kids: to have people speaking into their faith that aren't me or their dad.
I think I would look for that community, but be honest that people in church aren't perfect, that they have flaws. I want my kids to know that going into their first church search.
I feel my childhood also gave me a good understanding of who God was: his character and his approachability. That kept me from wanting to leave the faith altogether. Even when I felt abandoned, I knew it couldn't be true. I want my kids to have that anchor.
I so identified with how the phrase  "intentional parenting" made you feel inadequate.  Why does the word "intentional" make us stumble?
There's a certain weight to the word—it's a new Christian cliché.
Sure, it's a great concept: to be present and noticing. But "intentional" smacks of knowing what I'm doing—and I really don't. I feel so aware of how little I have to offer.
There are small things my husband and I are intentional about, like praying at bedtime. When we pray, it's not super-spiritual, but we do talk about God sometimes.
Tonight, my son was asking questions about God, whether God was as big as the sky, small enough to fit in his room, if God was funny.
And then he said, "God is funny! He put the funny in me."
I know how little I can do, but I can create just a little space for prayer.
I can't cultivate faith in my kids—I can't even do it in myself. I hope that if I can be faithful in a few small ways, then God can do something more.
How has being a parent changed your faith? How does it make you see God differently?
After everything I went through—depression, moral failures, I had a sense of how weak I was, and how much I needed God as I went into parenthood. I had a sense of desperation for him.
There's something about parenting that brings that out even more. There's so little you can control. It starts when you first get pregnant—and only increases as your kids gain independence.
That loss of control has deepened my prayer life. I pray more for my kids; I depend on God to watch over them. It has increased my desperation for him to show up in ways I'm not able to.
Jesus said we should become like little children. As you live with little kids, how has your understanding of this verse changed?
My favorite reflection on that verse is from The Praying Life by Paul Miller. I spent a good chunk of last year trying to figure out prayer because I'm so bad at at, and I'm trying to rediscover it.
So I got a big stack of books, read that one first, and when I finished it, I said, "Okay, I'm good." I didn't need to read anything else.
Anyway, at one point he talked about how his daughter, who is autistic, calls him on his phone. When he answers, she doesn't greet him, but just says what she needs to say, then hangs up without saying goodbye.
He compared this to how on-task we need to stay when we're praying. We feel like we need to stick to supplication, thanksgiving, confession. We need to get it right.
But he pointed out that that kind of thinking is broken, autistic communication.
In contrast, a healthy child communicating with a parent is very distracted. They repeat themselves, meander, or change subjects.
In that verse, Jesus asks me to come to him like a child.
Before reading the book, I felt like in order to pray, I had to have a half-hour, and I needed to stay focused. Now, I see that distractedness is okay with God, and can ask him the same thing over and over. That has been so freeing to me.
Life with small kids is such a daily marathon and joy—where nothing terribly extraordinary happens, and yet it's very meaningful. How does dailiness play into your faith?
Growing up in the evangelical world, in those on-fire years, there was this sense that you needed to prove your faith by doing something great for God.
But there's nothing smaller than the daily act of parenting. It's so hidden, and so repetitive. It's the life you were afraid of when you wanted to do big things.
But it has taught me something about how God's bigness matters more than mine. That he brings value to what I don't see as valuable.
There is a hidden beauty in parenting. Not a bloggy, Pinterest beauty, but a real, messy, hidden beauty. I'm learning to believe that even when it seems absent, the beauty is hidden there underneath.
If you're longing to live out a faith of joyful baby steps, consider picking up my free ebook, Dancing Back to Jesus: Post-perfectionist Faith in Five Easy Verbs.
Image credit: James Chew and Addie Zierman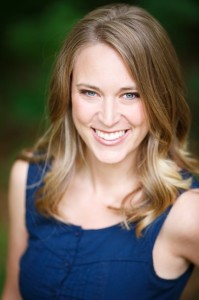 Addie Zierman is a writer, blogger and fledgling speaker.
She has an MFA from Hamline University and is the author of When We Were On Fire: A Memoir of Consuming Faith, Tangled Love and Starting Over – which was named by Publisher's Weekly as one of the best books of 2013.
In addition to her book, Addie has been published in a variety of magazines and journals, including The Literary Bohemian, Rock & Sling, and Relief. Her work has also appeared in more mainline magazines, including Relevant online, MOPS magazines and on Christianity Today's women's blog Her.meneutics.